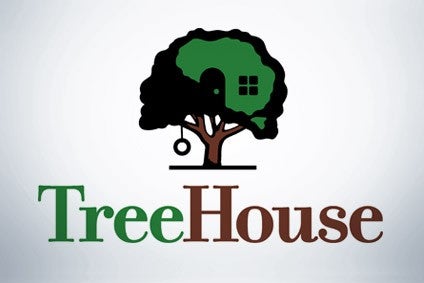 TreeHouse Foods has hired industry veteran Steven Oakland to rescue what has become a sinking ship under the weight of its acquisition of the then ConAgra Foods' private-label arm in 2016. Simon Harvey looks at the job in hand for the former J.M. Smucker chief executive, who inherits a transformation programme still in its infancy and losses last year of more than US$200m.
One would assume Steven Oakland thought long and hard before taking the chief executive role at TreeHouse Foods, which became the largest private-label supplier to US grocers in 2016 when it bought the bulk of the then ConAgra Foods' own-label assets.
Oakland had planned to retire from J.M. Smucker on 29 June after 35 years at the predominately branded food products firm but instead has opted to take the hot seat at TreeHouse on 26 March.
TreeHouse CEO Sam Reed will retire on 1 July, ending a tenure that dates back to 2005, when the company was spun off from Dean Foods to become Dean Specialty Foods. He will stay on as non-executive chairman of the TreeHouse board until then.
The CEO job at TreeHouse comes with its own challenges, mainly how to drive a predominantly private-label business forward in a US market dominated by brand names, where a plethora of fledgling, on-trend brands are gaining traction and where the perimeter of the store is gaining share from centre-aisle categories – as well as how to continue the process of integrating the old ConAgra business and get the company back on-track to deliver profits.
"No company is better positioned than TreeHouse to capitalise on the growing importance of private label in today's dynamic retail landscape, which is a credit to Sam Reed and his vision," Oakland commented following his appointment.
TreeHouse has acknowledged the difficult environment ahead. "Our business faces intense competition from large branded manufacturers and highly competitive private-label and foodservice manufacturers," the company noted in its earnings statement for 2017. "The industries in which we compete are expected to remain highly competitive for the foreseeable future."
Andrew Lazar, Barclays' senior analyst for packaged foods, has a balanced view of Oakland's abilities to lead the company forward, but while he is generally positive, he notes it may take time for the new CEO to make an impact.
"Overall, we view CEO-elect Oakland as a better calibre CEO than perhaps we could have hoped for TreeHouse," Lazar says. "We would note the many parallels between his experience at J.M. Smucker and his upcoming role at TreeHouse. Specifically, Mr. Oakland not only has a strong background managing centre-store categories that closely align with TreeHouse's current portfolio, but has even managed certain businesses that TreeHouse is currently in."
There do appear to be opportunities for Oakland to exploit. TreeHouse noted in its latest earnings release that while overall retail food volume in measured channels contracted by approximately 1.9% last year, branded manufacturers experienced a bigger contraction of 2.9%. Better still, own-label producers saw a 0.2% gain, albeit a modest one.
But there are hurdles Oakland will need to navigate. While the acquisition of the then ConAgra Foods' own-label assets had doubled TreeHouse's revenues by the end of 2016 to more than $6bn, profits suffered, with a $229m loss that year and a further $286m in 2017.
Meanwhile, investors have seen a string of earnings misses and downgrades since the deal with ConAgra, creating what some might consider an overly-enlarged operation with more than 20 product categories, a deal that followed a number of other transactions.
TreeHouse has set a course to reduce SKUs inherited through acquisitions, moves the company has said will have an impact on its sales. In all, the group plans to reduce its SKUs by 25%.
Oakland will need to steady the ship to bring investors on board and augur in a period of calm to regain the market's faith and confidence. But perhaps his key challenge will be to find a way to return the company to profit, without losing competitiveness.
Chris Growe, an analyst at US-based Stifel Nicolaus, says the incoming CEO has the right skills, knowledge and experience to restore investor confidence and turn around the company's fortunes but underlines there will be challenges.
"There is no doubt some heavy-lifting out of the gate as the industry battles rising cost inflation in its categories and TreeHouse battles some market share losses in key categories," Growe adds. "And, while operating in private-label food is a different animal replete with a significant number of SKUs, customers, and operational complexity, we believe Mr. Oakland will be fully capable of operating in this environment and propelling the company forward."
TreeHouse is still stressing the importance of successfully integrating ConAgra's private-label assets two years after the acquisition, and spelt out the associated risks in its latest earnings release.
"Any failure to manage our expanded business or to realise expected benefits of the acquisition, could have an adverse effect on our financial condition, results of operations, or cash flows.
"Our future success depends, in part, on our ability to manage this expanded business, including completing its integration into our existing businesses. The integration process is a multi-year, complex, costly, and time-consuming process."
Back in November, Reed had said the priority was to steer TreeHouse back on course and Oakland says the necessary groundwork has been laid to move forward.
"The initiatives that Sam and the team have put in place are the right ones, and I look forward to hitting the ground running to improve our execution and performance in the near term, while assessing the long-term strategic drivers of the portfolio," the incoming CEO says.
Nevertheless, 2017 could be seen as a flashpoint, with a flurry of initiatives to streamline the business in pursuit of growth – namely the TreeHouse 2020 transformation strategy, which includes the sale of its canned soup and infant food unit known as SIF, the consolidation of its manufacturing operations, and a target to reduce SKUs.
TreeHouse 2020 was launched last August, described by the company as "a comprehensive strategic blueprint intended to accelerate long-term growth", with, at its core, a goal to improve its operating margin by three percentage points by the end of the decade.
Looking at the recent earnings figures, 2016 was a stand-out year for sales in the wake of the ConAgra deal even though profits sank. Top-line growth slowed last year despite a full 12-month reporting period compared to 11 months for the previous year because of the timing of that acquisition.
In 2016, sales grew a whopping 93% to $6.17bn, but then rose just 2.1% last year to $6.3bn. And as TreeHouse's net profits remained in the red, adjusted EBIT decreased by 9% to $319m. That said, TreeHouse incurred a goodwill impairment charge of almost $550m last year, and is hoping to book savings of approximately $30m by the end of 2018.
Based on the EBIT metric and the TreeHouse 2020 target, the company could realise a profit margin of more than 8% by the end of the decade compared to the 5.5% registered in 2017.
However, it looks like investors will have to be more patient before they see significant progress in the shorter term judging by the outlook painted by TreeHouse for 2018, unless new CEO Oakland can enforce a rapid turnaround, which seems unlikely at this juncture.
Full-year sales are expected to dwindle to around $5.9bn to $6.1bn, largely because of the divestiture of the SIF business in May 2017 and the planned SKU reductions.
Adjusted EBIT for 2018 will likely drop to $265-$305m, with a profit margin forecast of 4.5% to 5%. Earnings per share are expected to deteriorate to $2 to $2.4, from $2.81 in 2017.
Still, senior equity analyst Pablo Zuanic at Susquehanna International says the outlook is disappointing, prompting him to lower his share price target for TreeHouse from $44 to $39 and cut his EPS forecast for the business from $3.06 to $2.
TreeHouse says: "The company's restructuring and margin improvement activities are part of an enterprise-wide transformation to improve long-term profitability. Upon completion of our multi-year, multi-phase programmes, the projects are expected to deliver higher margin sales growth and reduced expenses resulting in margin expansion."
Current CEO Reed has called 2018 "a transition year" for the business – but, looking ahead, says private label "absolutely continues to be the right place to be within food and beverage."
"It will take some time for our TreeHouse 2020 initiatives to manifest themselves in our results. However, we are well on our way to simplifying, reshaping, and optimising our manufacturing and distribution footprint so that we can be a more efficient and effective operating company going forward."
In 2017, the company announced plans to shut some of its factories, closures that will be overseen by Oakland. TreeHouse will close its remaining operations in Battle Creek, Michigan, in the fourth quarter and shut a plant based at Visalia, California, by the end of the first quarter of 2019. In the final three months of 2017, production ceased at facilities in Brooklyn Park, Minnesota, and Plymouth, Indiana, while downsizing at another site in Dothan, Alabama, is expected to be completed in the third quarter of this year.
Also, work still needs to be done to incorporate the new business and reporting divisions if the 2017 financial results are anything to go by.
During the first quarter of last year, TreeHouse reorganised its businesses into five divisions based on products rather than geographical locations: baked goods, snacks, condiments, meals and beverages. Those units also rank in the same descending order in terms of the percentage proportion of total sales, with snacks and condiments level at 21% each, baked goods at the top with 22% and beverages on the lower rung at 17%.
With the exception of baked goods, all those divisions saw sales growth slow significantly last year from 2016, most notably within snacks and meals.
Because the baked goods segment was born out of the acquisition of the ConAgra assets, there is no growth comparison to make with 2015. Still, sales grew 9% to $1.4bn last year from $1.29bn in the prior 12 months.
Snacks was hit the hardest; sales growth slowed to just 0.3% from more than 100% in 2016 – culminating in TreeHouse launching a strategic review of the division that will take in IT systems, address under-used capacity and reduce customer count. Sales remained flat at $1.3bn.
It was a similar scenario for the meals segment, which notched up growth of a touch under 11% to $1.19bn versus more than 140% a year earlier.
Condiments fared a little better, with growth of 3.4%, to deliver an end figure of $1.3bn, down from a 17% sales increase in 2016.
It remains to be seen whether Oakland will attempt to further rationalise the business with the longer-term objective of cutting the SKU count and getting the company back into the black. Prior to the ConAgra deal, TreeHouse posted net profits of $115m and $90m in 2015 and 2014, respectively, and $87m in 2013.
The big question remains how quickly Oakland can make a difference, despite having experience managing similar product categories during his tenure at J.M. Smucker.
Jonathan Feeney, a food analyst at US-based Consumer Edge Research shares the view of Barclays that it will take time.
"On one hand, we think the company has now filled its biggest strategic need by hiring an able CEO, which lends increased credibility," Feeney says. "On the other hand, we expect a new CEO from a branded food background to take time before making any sweeping announcements that could reverse its recently unsteady course.
"[But], with a successful branded food executive at the helm, we expect an able application of the values outlined in TreeHouse 2020 – reduced complexity, better mix and better customer service against a backdrop of growing interest in private brands."
Nevertheless, inroads are being made in reducing SKUs, along with a determination to embrace the trend for better-for-you, organic and natural foods, which TreeHouse collectively terms PBFY. TreeHouse says it offers PBFY products in 26 of its categories and increased those offerings from 19.2% of net sales in 2016 to 20.8% in 2017.
The company adds: "While overall volume growth continues to be a challenge, certain retail sectors are experiencing growth as consumers continue to shift their consumption trends towards a focus on premium, better-for-you, natural, and organic foods.
"We believe we have the necessary resources available to address these trends and to continue to focus on consumer's needs by developing new formulations, packaging, and sizes."
Barclays' Lazar said Oakland will still need to make the job his own and will no doubt need time to assess the operational landscape.
"As such, though we believe CEO-elect Oakland would have likely diligenced this role extensively (thus tempering some investor concerns), [he] can bring some much needed stability on the onset, is likely well versed on the TreeHouse 2020 plan, and can hit the ground running, so to speak, as with these types of leadership changes, we would not be surprised if there was still some time needed for him to make his own internal assessment around the go-forward strategy."