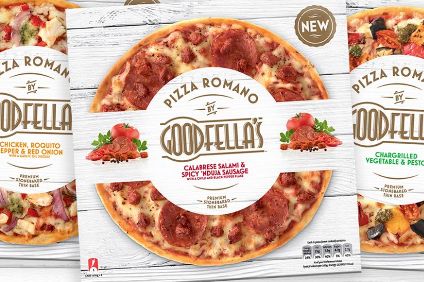 UK-based, US-listed Nomad Foods – a business with M&A at its very origins – has re-entered the fray after pressure on sales and margins caused the company to focus inwards. The owner of the Iglo and Birds Eye (in the UK) brands has snapped up a clutch of pizza assets from UK group Boparan Holdings. Dean Best reports.
It is coming up to four years since FMCG veterans Martin Franklin – the founder of consumer goods giant Jarden – and Noam Gottesman, the co-founder of hedge fund GLG Partners, formed a vehicle to make acquisitions.
Twelve months later, that vehicle – Nomad Holdings – became Nomad Foods through the purchase of European frozen-food business Iglo Group, a deal swiftly followed with the addition of a clutch of Findus Group assets. Then, the deal-making stopped.
The decision of Franklin and Gottesman to venture into frozen food had raised eyebrows. The sector, particularly in western Europe and North America is low-growth and one where margins have been pressured.
On 13 August 2015, when Nomad struck its deal to buy the Findus assets, Franklin and Gottesman, in a joint statement, set out their ambition for their business. "Curating a portfolio of market-leading consumer foods companies remains our core objective and this acquisition furthers our long-term commitment to growing the frozen food sector in Europe through ongoing investments in brands, innovation, and product development."
That summer, Nomad confirmed it was eyeing the US market for possible acquisition targets. It was also reported to be monitoring Quorn Foods, the UK-based, largely frozen-food business ultimately sold to Philippines-based Monde Nissin.
That September, Nomad, then listed in the UK, issued its prospectus to float in New York and again the vision for the business was outlined. "Our goal is to transform our company into an integrated best-in-class, global manufacturer, marketer and distributor of food products, within and outside of the frozen food category and the broader food sector. We believe there are significant growth opportunities in the European and North American markets and that the Iglo acquisition provides, and the Findus acquisition will provide, a strong platform on which to grow our business and expand and enhance our market share in the food industry in key geographic markets," it told investors.
However, until last week, Nomad had put on ice any ambitions it had to add to those two deals. Its management, led by former beer-industry M&A veteran Stefan Descheemaeker, turned its focus inwards and sought to breathe life into a moribund top line and to try to get margins moving in the right direction.
By last November, after heavy-lifting involving a focus on fewer segments and a tightening of promotions, Descheemaeker was able to report Nomad was "pleased by the momentum in the business". The third quarter of 2017 was the third quarter in a row in which the company grew its revenues on an organic basis and increased its market share. Over the first nine months of 2017, Nomad saw its revenue rise 3.3% on an organic basis and its gross margins inch up 10 basis points to 30.3%.
"Six months ago, one year ago, I don't think we were looking actively at M&A," Descheemaeker told analysts on Nomad's third-quarter results call on 28 November. "I think it would have been a big mistake, by the way. So, the first priority was to make sure that the fundamentals would be restored. So, at this stage, we're looking at a few things. At this stage, we're looking at a few things."
It emerged last week one of those things was the pizza assets of privately-owned UK food group Boparan Holdings. Nomad has struck a deal to buy assets including the Goodfella's and San Marco brands, plus two plants in Ireland, from Boparan for EUR225m (US$275.5m), a price tag some industry watchers saw as lofty.
The assets, which include private-label contracts in the UK and Ireland, are still in frozen but Descheemaeker was upbeat about the prospects of the deal. "Goodfella's Pizza creates a new and exciting growth avenue into frozen pizza, a strategic category that is both sizeable and complementary," he said.
One of Nomad's founders underlined the belief at the business the company was in a better position to expand through M&A. "With strong organic revenue growth momentum, the time is right to expand into new strategic categories such as pizza, which offer adjacent avenues for further growth and synergies," Gottesman reflected.
Nomad expects the acquisition to be "immediately accretive" to what it calls its adjusted EBITDA and adjusted earnings per share. The company forecast within two years after the closing of the deal (which is expected to be in the first quarter of this year) the assets will contribute around EUR150m in revenue, EUR22-25m in adjusted EBITDA and EUR0.08 to EUR0.09 in adjusted earnings per share.
Given Nomad's presence in frozen, that its third deal is in the sector is unsurprising and a move into another segment looks reasonable, especially with Goodfella's among the largest of the brands in that part of the freezer.
However, with Boparan a privately-owned entity, it is difficult to gauge the recent performance of the assets joining the Nomad business, although the company does issue brief quarterly results to its bondholders.
In December 2016, when Boparan issued the results for its 2016/2017 financial year, it talked of "operational gains" after investment made at one of the two plants set to move to Nomad. Fast-forward to March last year and Boparan described Goodfella's market share as "solid".
Come June and Boparan's Q3s, the company reported Goodfella's market share "remaining robust over the last 52 weeks". That, however, was the last formal indication given about how Nomad's new assets have fared in recent quarters.
Data from Euromonitor suggests Boparan has managed to grow the market share of Goodfella's from 17.6% in 2015 to 18.3% in 2016 and 18.8% in 2017.
Elsewhere, IRI figures for the research firm's "grocery outlets" data set – which covers UK supermarkets, symbol retailers and independent outlets but not the discounters, Ocado and Marks and Spencer – showed sales of Goodfella's-branded pizza in the country reached GBP71.6m (US$99.7m) in the 52 weeks to 9 December, up 4.1% on a year earlier.
As a whole, the frozen-pizza category saw sales rise 4.6% to GBP394.4m, IRI said. The figures mean Goodfella's category share dipped from 18.3% to 18.2%.
Looking at category sales data by volume, while the amount of frozen pizza sold in kilograms rose, from 92.1m kg to 93.8m kg, Goodfella's saw a decline from 16.3m kg in the year to 10 December 2016 to 16.1m kg in the year to 9 December 2017. Delving deeper, the unit sales of Goodfella's were down faster than when measured in kilograms, sliding 2.3%, indicating the brand lost sales of smaller pizzas slightly faster than the larger ones.
At face value, given Nomad's extensive frozen supply chain, one can expect the company to be looking to synergies to contribute towards much of the return from the acquisition. Frozen pizza is a tough category in which to do business, even if it is faring better than other parts of that aisle, with Nomad up against a formidable competitor in Ristorante and Chicago Town owner Dr Oetker.
However, even under the ownership of the multi-category Boparan, there was some notable product development taking place under the Goodfella's brand, including in gluten-free and, launched just this month, a vegan option. Pizza is also one of the few categories where frozen stacks up well against rival products in chilled.
Clive Black, director and head of research at Shore Capital Stockbrokers, believes Nomad, as a frozen-foods pure-play, could be in a position to grow the business, although he expresses some notes of caution about the aisle more broadly.
"The pre-packaged pizza market is to a great extent a highly commoditised sub-sector dominated by large international players and low cost production. Nomad should have more resource and perhaps capability to apply the business from where Boparan arrived at; it was a bit free standing within the portfolio and in need of constant marketing support," Black tells just-food.
"More broadly, in the UK at least, the frozen aisle often resembles the feel more of a library than a supermarket as stores often encourage folks to spend in the fresh and chilled segments. The category has lacked consistent innovation and become one of relatively low value-added and commoditisation.
"There is no conceptual reason why frozen cannot be more innovative and interesting to supermarket bosses and suppliers alike, particularly in areas of the market that are consistent with well-being; most notably fresh produce. However, there is also much to be done for a materially noticeable outcome in terms of higher footfall, basket participation and store value-added."
It is clear frozen pizza is a category in which growth is difficult to come by. Euromonitor forecasts the category will decline 1.2% in the UK in 2018. Nomad has managed to get its Iglo and Findus assets growing and it will not want to see their performance suffer. However, a move into an adjacent category is on paper a commonsensical way to return to the M&A fray and Nomad should be able to generate returns from some obvious synergies. Top-line growth will be harder to achieve but it is doable.