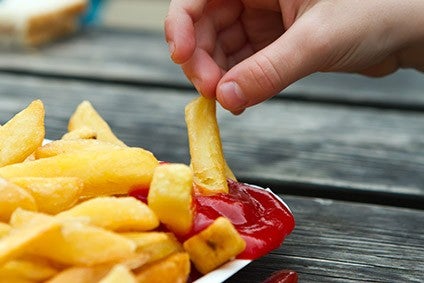 The World Health Organization's REPLACE initiative aims to eliminate industrially-produced trans fats from the global food supply by 2023. Major food manufacturers have set the pace on trans fat elimination but the critical challenge for the WHO and the food industry is how to bring all food companies in all countries up to speed. Ben Cooper reports.
There is no longer any debate about the negative health impacts of trans fats, or trans-fatty acids (TFA), which have been shown to increase levels of LDL-cholesterol, increasing the risk of cardiovascular disease.
While trans fats occur in small quantities naturally in meat and dairy products, the use of industrially-produced or artificial trans fats in processed foods greatly increased the presence of trans fats in the food supply and thereby their impact on human health.
Universal acceptance of the health risks of artificial trans fats has resulted in legislation limiting trans fat content in foods or banning the use of partially hydrogenated oils (PHOs), the principal source of artificial trans fats, in food production, along with extensive voluntary reformulation by food companies. Nevertheless, the trans fat issue is far from being consigned to history.
WHO takes the initiative
The World Health Organization (WHO) estimates trans fat intake leads to more than 500,000 deaths of people from cardiovascular disease every year, and in May it took action by launching the REPLACE initiative, aimed at eliminating industrially-produced trans fats from the global food supply by 2023.
With a particular focus low- and middle-income countries, the REPLACE initiative sets out six strategic actions for governments to ensure the "prompt, complete and sustained" elimination of industrially-produced trans fats.
While these include promoting fats and oils not containing artificial trans fats and increasing awareness of health risks, the WHO places a defining emphasis on the introduction of legislation or regulation to eliminate industrially-produced trans fats from the food supply.
"Our recommendation is to legislate," says Dr Francesco Branca, director of the WHO's Department of Nutrition for Health and Development. "This is part of the REPLACE package." Other policies, such as labelling and awareness-raising, can complement regulation, Branca says, but legislative action is "non-negotiable".
The most recent country to legislate has been the US, with the Food and Drug Administration's ban on PHOs coming into force last month. Canada will enact similar legislation in September. Underlining how long the health risks of artificial trans fats have been a concern, the first country to legislate was Denmark, which brought in a regulation limiting industrially-produced trans fat content in all foods to 2% of fats and oils as long ago as 2003.
The WHO considers Denmark's mandatory limit, mirrored in Iceland, Norway, Ecuador, Chile, Singapore and South Africa, to be "best practice". By the end of the year, 23 countries will have brought in regulations to limit the levels of artificial trans fats allowed in food products.
The WHO recommends total trans fat intake should be less than 1% of total energy intake, which equates to less than 2.2 g/day as part of a 2,000-calorie diet, but the most recent research on TFA intakes on which the organisation can draw is a study published in 2014 as part of its ongoing Global Burden of Disease research programme and based on 2010 data.
Focus on poorer countries
This research estimated average adult trans fat intake in 2010 to be 1.4% of total energy intake but, Branca says, also showed "very large differences" between countries and regions. The countries estimated to have had the highest intake were Egypt (6.5%), Pakistan (5.8%), Canada (4.0%), Mexico (3.6%) and Bahrain (3.2%).
"These are estimates and these are estimates that date from a few years back, and meanwhile the food system has evolved," Branca says, adding the WHO is making "informed guesses" regarding current trans fat consumption. What it does know, however, is that there has been a lack of regulatory intervention on the trans fat issue in low- and middle-income countries, which WHO figures also show account for 75% of deaths from cardiovascular disease. "This issue is not new. It has been known for many years and the high-income countries took action on that already so the response is there, and trans fats are coming down, but low- and middle-income countries have not taken action."
Mexico is a case to point. "Progress on trans fat regulation in Mexico has been slow," says Alejandro Calvillo, director of consumer advocacy organisation El Poder del Consumidor. While the country took a lead on sugar reduction by imposing a sugar tax in 2014, it has only so far introduced labelling measures for trans fats, requiring companies to include trans fat content in the nutritional panel but only if information about other fats and cholesterol levels is also being detailed, Calvillo explains.
Furthermore, Calvillo says there is "very limited information" available to consumers about trans fats, in spite of the fact cardiovascular disease is the leading cause of death in Mexico. "The consumption of trans fat in Mexico is an important public health issue that needs to be addressed."
Calvillo believes WHO's 2023 target can only be achieved in Mexico if there is regulatory reform. "I believe that if we rely on voluntary agreements alone to remove trans fat from the food supply, it is likely that progress will happen too slowly to properly address the epidemic of cardiovascular disease, and chronic disease, more generally, that plagues our country."
India, on the other hand, is considering a further tightening its regulations on trans fats. Regulatory body the Food Safety and Standards Authority of India (FSSAI) announced at the beginning of June it aims to reduce the maximum level of trans fat allowed in vegetable oils, vegetable fat and hydrogenated vegetable oil from its current level of 5% to 2% by 2022 on a phased basis.
Dr Laura Cobb, director of the Cardiovascular Health Initiative at international NGO Resolve to Save Lives, says the lack of data represents "a major challenge", making the task of reducing trans fat intake in poorer countries harder than it has been in wealthier countries.
"Countries like the US and the UK have robust systems to monitor the diet of their populations and estimate the intake of TFA. They also have the resources and infrastructure to test foods for TFA," Cobb tells just-food. Nevertheless, Resolve to Save Lives believes the 2023 target is achievable in all countries. "Political will and support by consumers and health organisations can be key to ensuring that regulations will pass."
Engaging with food companies
Regulation may be viewed as a prerequisite by the WHO but Branca stresses effective implementation of regulation requires governments to consult food manufacturers about the challenges new legislation may pose and how long it will take them to adjust.
"We don't want to penalise companies and embarrass them by impossible targets"
"The challenge is in the implementation and also the timeframe for implementation," Branca says. "Certainly, we don't want to penalise companies and embarrass them by impossible targets. In many of the countries where they have established legislation, there was a period for the companies to adjust. But we know that this can be done in a relatively short time. We're talking about two to five years. So, the target we have of elimination by 2023 is absolutely feasible given the experience other countries have had."
Understanding the particular pressures removing trans fats may create for small and medium-sized food manufacturers is a key priority for the WHO. "We're trying to reach out to the small and medium enterprises," Branca says. "We need to hear what their challenges are and how these can be addressed."
The WHO is also looking to foster knowledge transfer from large food manufacturers to smaller players, working with the International Food and Beverage Alliance (IFBA), a consortium of 12 multinational food and drinks companies focusing on driving collective progress and engagement on health issues.
Two years ago, IFBA members, with exception of McDonald's and Mexican food company Grupo Bimbo, committed to reducing industrially produced trans-fatty acids from partially hydrogenated oils (PHOs) in their products worldwide to no more than 1g of TFA per 100g of product, by the end of 2018. On an aggregated basis, IFBA estimates industrially produced trans fats had been removed from 98.8% of member companies' global product portfolios by the end of last year.
When it unveiled its trans fats commitment in 2016, IFBA committed to work with trade associations to share best practice on PHO replacement and help guide other companies, particularly SMEs, and it is this technical knowledge sharing the WHO is keen to mobilise as part of the REPLACE initiative.
"There is potential for companies such as the IFBA members, and others who have successfully reduced TFA in their products, to contribute to the effort to eliminate trans fat globally by transferring the knowledge they have learned in this process," Cobb says.
Discussions have already begun regarding the creation of a technical expert group bringing together experts from IFBA companies and the WHO to develop a trans fats replacement toolkit for food companies. "It's a pre-competitive issue for IFBA member companies so that's why they're happy to share knowledge," Renaldi says.
A spokesperson for Nestle adds: "Nestle has experience in removing trans fat from its products. We are working with suppliers to provide the right ingredients we need and would like to use. We are also ready to share our experience with others."
The WHO is also in dialogue with oil manufacturers and distributors which it sees as crucial facilitators in low- and middle-income countries. For oil suppliers, meanwhile, the REPLACE initiative represents a business development opportunity, spurring further demand for trans fats replacements.
Replacing PHOs
Developing and marketing products to replace PHOs has been a steady revenue generator for edible oils producers like US-based agri-food giant Bunge since health concerns emerged about artificial trans fats. "This is something Bunge has been working on for well over a decade. It's gone in waves in different parts of the world," says senior vice president for B2B oils Aaron Buettner. "We see ourselves as a critical part of these transitions."
To replace PHOs in the production of food products such as cookies, pastries, cakes, pie crusts and other processed foods, food manufacturers need to use oils with the same property of being solid at room temperature. A relatively inexpensive replacement is palm oil. However, in the context of the REPLACE initiative, palm oil is less than ideal as it contains 50% saturated fat. Coconut oil can also be used but is even higher in saturated fat at 85%.
Instead, oil companies can take an oil that is liquid at room temperature, such as soybean oil, sunflower oil or canola oil, and process it to give it the solid structure required. Full hydrogenation, which unlike partial hydrogenation does not create trans fats, is one process. Interesterification is another process which gives liquid oils a solid structure without creating trans fats. To replace PHOs being used as frying oils with longer stability, high oleic soybean, canola or sunflower oil are often used.
"Palm is the largest vegetable oil in the world and the transition out of PHO is really a drop in the bucket relative to the supply and demand of palm oil"
While its high saturated fat content is a disadvantage, palm oil is a relatively inexpensive alternative to PHO. Buettner does not believe the sustainability issues surrounding palm oil should have any bearing on its use as a cost-effective replacement for PHOs. "Palm is the largest vegetable oil in the world and the transition out of PHO is really a drop in the bucket relative to the supply and demand of palm oil, so I don't think it is going to have a major impact from that perspective."
The trans fat-free alternatives to PHOs are more expensive and cost will naturally be an even more telling factor in the low- and middle-income countries that are the focus of the REPLACE initiative. However, Buettner says the costs of replacement have come down as the elimination of PHOs has gathered pace, and he expects the increased demand spurred by the REPLACE initiative will have a further positive impact on the affordability of substitute oils.
Growing consensus on regulation
The question of price speaks to the issue of regulation and the creation of a level playing-field so manufacturers that have taken a lead on artificial trans fats are not commercially disadvantaged.
In 2015, four multinational food companies, Kellogg's, Nestle, Mars and Mondelez International, signed a joint letter with four NGOs, including the European Consumer Organisation (BEUC) and the European Heart Network (EHN), calling on the European Commission to propose a legislative limit for the amount of industrially produced TFAs in foods of 2g per 100g of fat.
Nearly three years on, the EU is moving towards the creation of EU-wide regulation on trans fats. While a ban on PHOs and voluntary limits are among the options the Commission put out to a public consultation, a legally binding limit of trans fats to 2% of total fat in food products is expected to be the favoured option.
Although some European countries, such as UK, Germany and France, have been very successful at lowering TFA intake, progress has varied and has been markedly slower in eastern European countries including Poland, Hungary and the Czech Republic.
Again showing industry supports regulation, it was a 2% legislative limit which European food trade body FoodDrinkEurope backed in 2015 when the Commission began the process of research and consultation on potential legislation.
Nevertheless, there is still industry support for voluntary limits. Kate Halliwell, head of UK diet and health policy at local trade body the Food and Drink Federation says the industry-led trans fat programme in the country had been "a great example of how a voluntary approach can work and you don't necessarily need to have legislation". Government figures put average trans fat intake in the UK at 0.5% to 0.7% of total average adult energy intake, well below the WHO minimum.
Meanwhile, Canadian trade association Food & Consumer Products of Canada (FCPC) is equally staunch in the defence of its voluntary programme on PHOs. When asked if FCPC supports the ban on PHOs that will come into force in September, a spokesperson says: "FCPC supports the objectives of Health Canada's Healthy Eating Strategy; industry has a critical role to play in the health and wellness of Canadians. In Canada, the food and beverage industry is expected to have successfully completed the removal of partially hydrogenated oils from the food supply by mid-September 2018. We believe that the success accomplished outside of regulations is proof that industry collaborating with the government is the best system."
As for the WHO's drive to see regulation on trans fats introduced in low- and middle-income countries, Alejandro Calvillo at Mexico's consumer advocacy organisation El Poder del Consumidor fears "industry pushback" on any attempt by the Mexican government to introduce legislation to eliminate artificial trans fats. However, if there is industry resistance it is unlikely to come from the largest global multinationals, given IFBA's backing and engagement with the REPLACE programme.
While Renaldi believes the WHO's greater openness towards the food industry may stem in part from the arrival of new director-general Dr Tedros Adhanom Ghebreyesus, it is also a reflection of the trans fat issue itself which is no longer open to argument. "There is an alignment," Renaldi says, "in the sense that everybody is agreed that we need to get rid of the stuff."