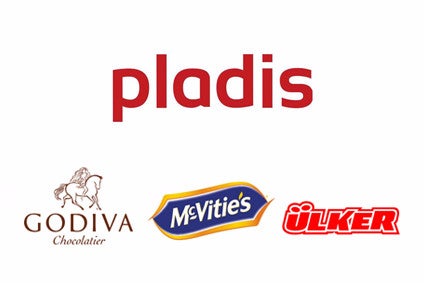 Yildiz Holding is restructuring its confectionery and biscuit businesses, uniting the likes of United Biscuits, Ülker and Godiva under a single umbrella subsidiary. The Turkish conglomerate has some ambitious growth targets for the new unit. Katy Askew takes a look at whether it can deliver.
Yildiz Holding has merged its global confectionery and biscuits businesses into a single operating unit, called Pladis. The move creates a new global giant with annual revenue of US$5.2bn and 26,000 employees worldwide. It brings together the blockbuster regional brands of Ülker, United Biscuits and Godiva as well as a number of smaller businesses.
Pladis, which started trading last week, operates across various geographies with a focus on the northern hemisphere. In order to maintain the culture of the companies and brands that fall under Pladis, Yildiz will adopt a regional management approach. The company will be divided into three regions: Turkey, Middle East, North Africa and Central Asia; Japan and Korea; and Europe, sub-Saharan Africa and South Asia.
Yildiz Holding chairman Murat Ülker said becoming a global company provided "agility and flexibility" and a "unity of purpose". The company, the third-largest global snack maker, has previously indicated it intends to overtake Kellogg and become the world's second-largest snack group after Mondelez International.
Under the new structure, Yildiz said it wants to grow 2018 EBITDA by 17% and achieve a 26% acceleration in EBITDA margin. It is a significant growth target that will require action on both the top and bottom lines.
In many respects, the reorganisation of operations reflects the historical evolution of the confectionery-to-biscuits maker and its rapid expansion via a series of M&A moves. From its majority stake in Ülker, which has a free-float of 43.02% on the Istanbul stock exchange, Yildiz has built up its portfolio through an active acquisition strategy, such as the 2007 purchase of premium chocolate brand Godiva.
The firm's rapid growth led to a complex corporate structure in the biscuit and snack business. The first steps towards simplification were taken at Ülker between 2008 and 2011 when the group embarked on a massive restructuring drive. The company sold off non-core food operations and consolidated its food businesses from four sales companies and four production companies. The merger of the production and sales functions simplified channel distribution. The company also embarked on a process of SKU optimisation, cutting the number of products from 502 in 2010 to 330 SKUs in 2014.
This streamlined base was once again expanded via M&A when Yildiz took control of UK-based biscuit maker United Biscuits in 2014. Michael Weiss, partner at AT Kearney in Turkey, says the formation of a single operating platform was a "very logical next step after the United Biscuits acquisition".
In a strategy with echoes of Ülker's prior simplification drive, Weiss suggests if the restructuring is well executed there are many margin benefits to be had. "There are opportunities within that to simplify the business through EBITDA synergies, purchasing opportunities and the like… These are international brands that are in good shape but synergies are easier as an umbrella, to take a more orchestrated approach."
Synergy opportunities lie in joint cocoa, palm oil and packaging material procurement, with lower costs driven by increased scale. In integrating the businesses, the group also plans to leverage cross production at United Biscuit's 16 facilities and Ülker's eight production sites, Ülker management revealed at a recent investor event. Lower costs will be supported by "lower logistics, sales and distribution costs", the Ülker executives predicted.
Savings are also expected to come through the integration of sales and distribution networks. Benefits will be found in the "combination of the two supply chain networks particularly in sourcing and distribution, given Ülker's vertically integrated supply chain," Ülker explained.
Greater integration will enable the group to capitalise on each company's brands and route-to-market expertise across complementary geographies in order to boost sales, Ülker suggested.
Weiss believes that the top line advantages are the main motivation for the reorganisation and suggests that the umbrella corporation will prove more effective than the sum of its parts. "I see a very significant cross-selling opportunity. There are fantastic opportunities to have a customised approach in go-to-market strategies and play the portfolio. Top line synergies are the first priority and bottom line synergies are not to dominate. The umbrella brand will make market communication easier. Individual brands will not need to compete for shelf [space] because you can act as one group."
By cross-selling its brands, the combined business can also utilise its extensive geographical footprint in both developed and emerging markets.
Ülker is Turkey's largest producer of confections, biscuits and crackers with a stable of well-known and trusted brands. It has a 45% market share in the biscuit category, a 46% share of the chocolate sector and a third of the cakes market. The group is also expanding in high-growth economies in the Middle East and north Africa, with businesses in countries such as Saudi Arabia, Kazakhstan and Egypt.
Godiva offers a gateway to the premium sector, an area Ülker has increasingly been targeting in order to improve its product mix. Since its acquisition by Yildiz and Ülker, the brand has built on its base in the developed markets of North America and Europe, expanding into China, South Korea, Indonesia, Saudi Arabia and Turkey. Godiva plans to open 50 new stores a year, it was revealed at the end of last year, with a focus on growth markets in the Far East.
For its part, United Biscuits is the UK's largest biscuit maker with a presence in continental Europe and highly recognised brands including Jacob's and McVitie's. The company has been ramping up sales in emerging markets and recently forecast a 50% rise in exports from the UK by 2020. The integration of its business within Pladis looks set to accelerate this growth.
However, for all the regional strength of its brands, unlike global confectionery leader Mondelez, Pladis finds itself lacking powerbrands that can be leveraged internationally in the way Oreo, Ritz or Cadbury have been. This is likely to be a limiting factor to any cross-selling opportunities and the group's ability to ramp up sales by moving existing brands into new markets.
As Euromonitor analyst Jack Skelly notes: "I don't think the Yildiz's portfolio complements itself that well. I can't imagine, for example, Godiva working in conjunction with McVitie's. This is something Mondelez has been really successful at but that's because its portfolio works well together – it has a wide range of biscuit and mass-appeal chocolate brands such as Dairy Milk."
For Mintel analyst Jody Monotto, of equal importance is the revenue and earnings stability that combining United Biscuits brings to the enlarged portfolio. "The deal provides Ülker with access to relatively stable markets, strong brands and a wide network of production facilities. The stability is particularly important given the volatility they face in the Middle Eastern and African markets they are expanding into," she suggests.
"UB has a solid revenue and production base in the UK and Europe, which will provide stability as the newly expanded Ülker biscuits business expands into the Middle East, Africa and Russia, which remain volatile. UB also provide Ülker with the number two position in the European biscuit market, a significant achievement given their goal of becoming a global leader in the category."
As Yildiz works to grow its Pladis snacks business, the group is therefore ultimately likely to look to further M&A in addition to the organic expansion of its existing brands. AT Kearney's Weiss expects the group will strike a balance between organic and inorganic growth, with augmenting Pladis's production footprint likely to be high up the M&A agenda.
Meanwhile, Minotto believes further acquisitions will be used to grow in new markets. "Ülker have also stated their plans to enter the Latin American and Russian markets… Ülker have also indicated they are planning further acquisitions and these are likely to be focused on delivering them an advantage in these two important biscuit markets," she predicts.