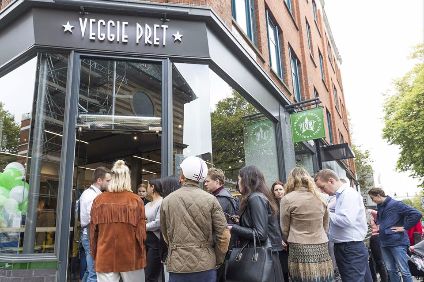 The number of vegans in the UK has rocketed in the past decade, while the number of meat-eaters looking to reduce their consumption of meat continues to rise. Both trends represent an opportunity for foodservice operators in the country and their suppliers but how can ride the wave? David Burrows reports.
Over the last ten years, the number of vegans in the UK has, according to The Vegan Society, jumped from 150,000 to 542,000 – and next month thousands more will try to eat no meat, dairy, fish, eggs or honey.
Veganuary – a campaign in which supporters go without any livestock products for a month – began in January 2014 with just 3,300 participants. By 2017, the number had ballooned to 60,000 and the target next month is 150,000.
And yet this represents the tip of the iceberg of growing demand for meat and dairy-free options. The number of UK meat-eaters looking to reduce their consumption continues to increase, leading to rising interest in vegetarian and vegan products.
According to Mintel, 11% of Brits say they have tried to follow a vegan diet at some point. What's more, YouGov this year said 25% of millennials are either vegan, vegetarian or flexitarian, while 44% of all consumers are willing or committed to cutting out meat.
How are UK food retailers and foodservice operators responding? It is, at best, a mixed picture and, broadly, it could be argued retailers have responded more quickly, although even in that sector progress is uneven.
In the fragmented UK foodservice sector, there are examples of vegan-focused restaurants, largely in the country's major cities and notably in London.
Among the chains, there are some bright spots. Leon and Zizzi have more than ten dishes suitable for vegans. Last week, Pizza Hut announced it would roll out a test conducted in some of its restaurants using vegan cheese in some of its pizzas following "huge customer demand".
Pret A Manger remains the pin-up: the high-street, food-to-go chain's sales last year were driven by plant-based products and the company now has three veggie-only outlets in London. "The top selling eight new products at Veggie Pret are all vegan, which either shows that vegan dishes can be just as delicious as veggie dishes, or we have underestimated how strong the vegan movement is," Pret CEO Clive Schlee said recently.
It's probably a bit of both – and more of Pret's peers in UK foodservice should be considering how they can grasp the growing vegan opportunity.
A look at the UK food-to-go market – valued by research organisation The IGD at GBP17.4bn (US$23.3bn) – shows manufacturers, foodservice operators (and retailers, which are looking to take a bigger bite out of the channel) should be doing more if they want to capture the gains presented by what is a buoyant part of the industry.
Derek Sarno, chef and co-founder of the Wicked Healthy food blog, was recently appointed to a newly-created role at Tesco as chef-director of plant-based innovation. His job is to fill a "gap" in the UK market for on-the-go vegan and vegetarian food – in other words to feed demand coming from meat-eaters.
I've been marketing plant foods to meat eaters for the past ten years and that is the approach that will win
"I've been marketing plant foods to meat eaters for the past ten years and that is the approach that will win," Sarno argues. "There are no current options other than falafel wraps," he suggests, "and there's only so many of those you can eat." He is in do doubt vegan food-to-go is ripe for a refresh – and he has a point.
According to The British Sandwich and Food-to-go Association, UK consumers spent GBP7.85bn munching their way through 3.5bn sandwiches last year but research conducted by the Eating Better campaign showed how those after a vegan lunch had to look hard.
Only 19 of the 535 options assessed from eight major retailers by Eating Better did not contain any meat, fish, cheese or eggs, with only Pret and Marks and Spencer stocking more than four different vegan options. "There's a pitifully low number of mainstream meat and dairy-free choices," says Sue Dibb, the campaign's director.
So, what's holding things up? For a start, substitution can be far from easy and way too expensive. "There is a bunch of companies jumping on the bandwagon because they think it's trendy but what they're making is not from the soul," says Sarno. "It's not as simple as taking a dairy cheese out and popping a vegan one in."
Cheese is a product full of tasty fat and made in huge quantities using a cheap commodity. "When 90% of your product comes from milk, then everything else is going to come in more expensive," notes Rachel Rowntree, the UK spokesperson for Field Roast Grain Meat Co.'s vegan cheese brand Chao. Incidentally, in a sign of the growing interest Big Meat is taking in vegetarian and vegan companies, it was announced last week Field Roast Grain Meat Co. had been sold to Canada-based meat processor Maple Leaf Foods.
Rowntree says Chao took years to develop – "it's like making a cake when you're not allowed to use eggs, flour and milk" – but after a successful launch in the US in 2015 it has now arrived in the UK. This month, products were delivered to a handful of foodservice suppliers, including those doing business with Pret.
However, Chao has its eye on more products than sandwiches. Chao sees opportunities in the wider foodservice sector and wants its products to be used for everything from risottos to pizzas. And the brand argues that, while many vegan cheeses play the health card, it believes to take a slice of the UK's growing flexitarian market the product's flexibility and fat content are key.
"What is it in meat and dairy products that make them taste good? It's the fat," says Rowntree. "You have to add fat back in [using coconut oil, for example], otherwise the cheese just sweats when it's cooked. Are we trying to shake off the stigma vegan foods have as being tasteless and healthy? One hundred per cent we are."
It appears a sensible ploy given foodservice remains a treat industry. Research by The NPD Group showed just 4.1% of people choose a lunch outlet because they want a healthier option. Consumers – especially flexitarians – need to be convinced that meat- or dairy-free is not taste-free.
However, that will not be easy. Meat substitutes have an image of "blandness", according to Mintel research published earlier this year. In fact, 50% of consumers think the products lack exciting flavours.
And yet Quorn posted a 19% lift in global sales in the first half of this year, thanks in the main to its flexitarian fans. "Quorn is a success story, despite how it tastes," says London-based, food-tech investor Niccolo Manzoni.
However, Manzoni suggests to see what could be coming next in the UK one should look across the Atlantic.
Silicon Valley has made plant-based meats sexy. Companies like Impossible Foods and Beyond Meat have spent millions of dollars creating a new wave of alternative meats. In January, the Beyond Burger will be rolled out in 465 TGI Fridays in the US – its largest restaurant partner yet – and soon after the plant-based patty should arrive in the UK, too. Could such products open the floodgates in vegan fast food? "It'll certainly get others thinking about it," Manzoni ventures.
The US has set the pace. Sarno says arriving in London from Portland is "like stepping back five years". However, there is the capital and talent to catch up. "I'd love to find an alternative protein company and make it the poster child for Europe," Manzoni says. "I'm confident it will happen."
For now, the US has the big, bold and potentially billion-dollar brands like Impossible Foods and Beyond Meat, while the UK focuses on smaller, funky, hipster-inspired vegan outlets.
In London, for instance, the market for "junk" vegan food has exploded in the past 12 months. "If you're looking for chickpeas and chia seeds, you're in the wrong place," reads the website of Club Mexicana, which offers an "all-vegan brunch menu to rival the very best, carnivore-focused offerings".
There are plenty of others tapping into this trend. Make No Bones is based in Sheffield and sells comfort food like kebabs, pizzas and burgers. "We're attracting people who are not vegan to come and try it … because they're excited about it," its founder Dave Shaw told The Guardian recently. "Generally it's the unhealthy, junky stuff that sells the best."
That is hardly surprising given taste buds are tuned in to fat rather than fennel and fava beans. There is a balance to be struck, given the obesity crisis, but with diners getting roughly half a portion of veg for every three meals they eat out of home there is scope for more enticing fare. "The mainstream catering industry has to make vegetables more indulgent," says David Read, chairman at foodservice supply chain consultancy Prestige Purchasing. "Palates are used to fatty foods so companies need to deceive customers."
How to market vegan products is a question many companies are grappling with. "There is a tension between maintaining satisfaction among [vegan and vegetarians] while also marketing to a broader audience," admits Erin Ransom, marketing director at Tofurky, which launched pre-packed vegan sandwiches into the UK market in September and supplies UK foodservice businesses via Leathams.
Use of the term vegan on UK menus increased 107% this year, compared to last year, according to foodservice consultants MCA Insights. However, it is still way behind vegetarian, gluten-free and low-calorie and some think it's better to keep it that way.
Gabriella Roberts, head of nutrition at independent hospitality provider Baxter Storey, says the shift to vegan and meat-free diets is no fad – "It's massive and it's cultural" – but says labelling a product as vegan can turn flexitarian customers off and dent sales. "Some people think we're just cost-cutting."
Experts at John Hopkins University have reportedly found the word vegan can cause sales to dive 70%. Positive, indulgent language, expressing taste and flavour works much better, according to work being carried out at the Yale Centre for Customer Insight with companies including Quorn, and Sainsbury's. Research at Stanford, published in July, also showed how diners chose vegetables with indulgent labelling ("sweet sizzling green beans") 25% more than those with basic labelling ("green beans"). Attaching a health message actually discouraged diners, the team found.
The general rule seems to be: scrap the word vegan. "You don't need a label or to segregate," Sarno suggests. "Vegans are 1% of the population so why put up the banner? Just make food that's good for everyone."