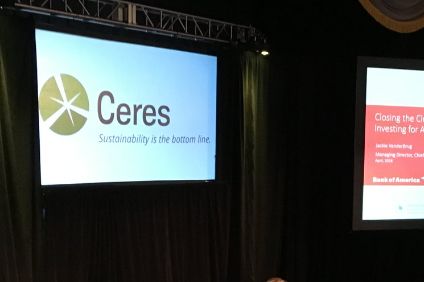 Major food multinationals are often mentioned as being among those taking a leadership position in the drive to make global businesses more sustainable and engage the corporate sector constructively in collective efforts to tackle global sustainability challenges.
A new report from US-based sustainability non-profit Ceres appears to provide empirical evidence the food industry is among the top performers across the corporate sector when it comes to sustainability.
Ceres' Turning Point report, the third iteration of its Roadmap for Sustainability, assesses how more than 600 of the largest, publicly-traded companies in the US are performing on sustainability criteria relating to areas such as water, carbon, board oversight of sustainability and human rights.
The company performance and key findings were published in February but Ceres has only just released its sector analyses. The food and beverage contingent, comprising 21 companies, is revealed to be well ahead of the overall performance for the entire group of companies on a number of criteria that reflect companies are further along their sustainability journeys than others.
For example, some 90% of the food and beverage companies analysed have set quantitative, time-bound targets to manage water impacts, versus a figure of just 20% for all sectors combined.
"For the food sector, it's clear the companies are seeing sustainability as critical to the success of their businesses long term, and that's showing up in our data, that the sector overall is one of the leading sectors in terms of performance against the Ceres Roadmap," Mary Ann DiMascio, senior manager of the Ceres Company Network tells just-food.
It could be said food companies have achieved a comparatively strong performance in spite of facing some of the heftiest sustainability challenges of any of the sectors included in the research, not least in relation to their agricultural supply chains. On the other hand, the presence of particularly challenging issues will also have been a factor in the sector's leading performers prioritising sustainability at an early stage.
DiMascio alludes to this when she says there is "a certain level of urgency" on the part of food companies in relation to key sustainability challenges.
"There is quite a lot of variation amongst the companies that we assessed"
However, DiMascio is also quick to point out the findings also show a significant variation across the 21 companies. "There is quite a lot of variation amongst the companies that we assessed. Some have been moving forward with more ambitious actions and innovations, and yet there are some that have not taken those steps yet. So, we have loved to see a lot of the leading examples that are highlighted here but would acknowledge that there is a long way for some of the companies to go."
Strong on water and carbon
Among the key criteria where the food and beverage sector was found to be ahead of the game were water and carbon emissions targets and accounting for risk associated with climate change.
In addition to the far better performance on setting quantitative, time-bound targets to manage water impacts, the food and beverage sector outscores the combined sectors in setting context-based water targets. Some 38% of the food and beverage companies set targets focused on areas of the value chain with highest water risk, against just 15% overall.
While food has outperformed the group as a whole on context-based water targets, it has not done so by such an impressive margin as on some other criteria. That speaks to the challenge taking water strategies to that next level presents to food companies with agricultural supply chains extending into the developing world and into many countries where water scarcity is a major issue.
"There's just a small number of companies so far that have taken that step to go beyond a general water reduction goal to a context-based approach, and we do hope to see that become the norm, and in order to solve these issues we do really need to see that level of commitment and sophistication."
With regard to greenhouse gas (GHG) emissions targets, food and beverage is also well ahead of the norm, with 86% of companies having set quantitative, time-bound targets to reduce GHG emissions compared with 36% overall.
Ceres also points out three of the food and beverage companies, namely General Mills, Kellogg and PepsiCo, have science-based targets for GHG emissions. These are targets that are aligned with the scale of reduction required to keep global temperature increase below 2°C compared to pre-industrial temperatures.
Interestingly, one area where food and beverage companies do not outperform the average for all sectors is on commitments to boost use of renewable energy, with 32% of the 600+ companies committing to increase renewable energy procurement against 33% of food and beverage companies.
Once again underlining the climate change exposure represented by their agricultural supply chains, as many as 95% of the food and beverage companies include climate change-related risks to operations and supply chains in annual financial disclosures, compared with 50% for all sectors combined.
This could also be seen as part of the general trend observed for some time for food companies to extend their sustainability strategies and goals beyond their own operations into their supply chains.
Kristen Lang, director of the Ceres Company Network, says: "What has shifted is that over the past decade an increase in terms of both the level of sophistication internally within companies and their understanding and recognition that it's not only enough for them to be setting targets and goals within their own four walls of owned and operated facilities. They have to look beyond that deep into their supply chains." In addition to that recognition by companies, Lang continues, there is "an increased level of public awareness, consumer awareness and investor awareness that the majority of these impacts are embedded in these global supply chains".
DiMascio adds a common feature of the approaches of the companies leading the way on sustainability in the food sector is an emphasis on supplier engagement. This is "not just gathering data but taking the next step and engaging with suppliers on solutions", she says. DiMascio also points to increased collaboration among peers and with NGOs on the part of food companies as they seek to address challenging sustainability issues in their agricultural supply chains.
There is the potential for a strong link between increased focus on water context and efforts to make agricultural supply chains more sustainable. A notable example of a context-based target is PepsiCo's goal to increase the water-use efficiency of its direct agricultural supply chain by 15% in high water-risk sourcing areas by 2025.
A feature of the Turning Point analysis is it assesses companies' performance on governance and organisational issues connected with sustainability. On these criteria, food and beverage companies are also performing above the general standard for all companies.
According to the report, some 48% of food and beverage companies formally integrate sustainability into board committee charters, against 31% for all sectors. Meanwhile, 90% hold senior-level executives accountable for sustainability performance, compared with 65% for all sectors. Only 8% of all the companies assessed in the Turning Point report link executive compensation to "beyond-compliance sustainability performance metrics", whereas the figure for the food and beverage companies is 43%.
That the food and beverage companies score well on the environmental and social sustainability criteria the Turning Point report examines, and are also revealed to perform above the overall average on areas of sustainability governance, such as board oversight and management accountability, is unlikely to be coincidence.