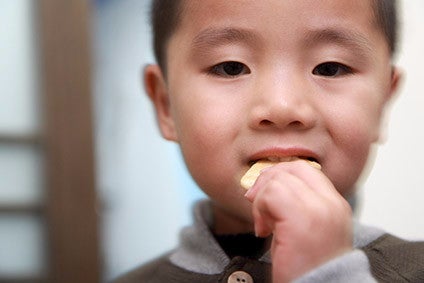 Jens Kastner looks at how international food businesses selling their products in China are responding to the country's plans to target obesity.
International food majors have told just-food how they are meshing their recipe development with Chinese government plans to reduce salt, sugar and edible oil consumption in the diets of the country's consumers.
Their comments follow the mid-July reveal by China's State Council (effectively its Cabinet) of a 'Healthy China Action Plan (2019-2030)' targeting food processors and consumers.
While not yet containing any concrete new regulation for food processing, the plan does list ambitious goals to reduce adults' daily average intake of edible oil by between 30% and 40%; sugar by at least 17%; and salt by 50%, by 2030, using 2012 as a statistical base year.
Jiang Wei, nutrition strategy and communication manager for Mondelez International's business in Greater China, said: "In the China market, Mondelez has already provided some no/low/lower-sugar products to consumers." These include its Stride-branded sugar-free chewing gum and mint confectionery products; its low sugar Pacific Soda biscuits; and a purple sweet potato flavour soda biscuit under the same brand.
"Moreover, Oreo Light Sweet, which is a low-sugar line of Oreo sandwich cookies in China, was reformulated this year to reduce its sugar by 25% compared with the classical Oreo sandwich cookies," she added.
Jiang Wei added Mondelez has reduced the proportion of sodium and saturated fat in its ingredient mixes for products sold in China. Oreo cookies sold in China have 25% less sodium today than ten years ago; Pacific Soda lines have 10% less sodium than in 2012 and the company's new Chips Ahoy! Double Chocolate Soft Cookie launched this May has 20% less saturated fat than past Mondelez soft cookies sold in China.
And, to inspire Chinese consumers to snack mindfully, she stressed Mondelez has been offering an increasing number of more individually wrapped, portion-controlled packs of snack options that are under 200 calories, communicating this dietary benefit on the pack fronts. An example (albeit a global one) includes how the company has reduced the calorie content of Cadbury Mini Fingers and Cadbury Animals per bar below 100 calories in August to meet a new target of 100 calories per item, down from a 250 calorie cap imposed in 2014.
Lillian Liao, the corporate affairs officer for Nestlé's operations in China, tells just-food the company is also changing recipes and will reduce sugars, salt and saturated fats by 5%, 10% and 10% respectively and add more than 750 million portions of vegetables and 300 million portions of fibre-rich grains and pulses to its products by 2020. This will include its China-targeted products. "We believe the future of our company lies in helping people adopt healthier diets and lifestyles," Liao said. "There continues to be room for a variety of products in a balanced diet, including confectionery."
These changes in formulation appear to dovetail with the new Chinese government policies. Citing a 67.6% increase in the Chinese adult obesity rate between 2002 and 2012, the plan aims to halt the increase and turn around this obesity rate's trajectory. The country's Centre for Disease Control (CDC) cited survey data of 2012, showing the per capita daily salt intake in China was 10.5 grams, higher than the World Health Organization (WHO)'s recommended 5.5 grams. The per capita daily intake of edible oil was 42.1 grams, compared to the WHO's recommended 25 grams to 30 grams.
Following the plan's unveiling in Beijing on 18 July, State Council vice premier Sun Chunlan noted how government-backed industry associations could play a role in improving diets. "Especially the salt industry association – let the salt sellers let everyone talk about using less salt and turning to a healthy diet," she said.
The Chinese government's concern about poor health and obesity has been sharpened by the ageing demographic profile of the country, the action plan text citing the importance of reducing preventable diseases associated with increasing consumption by increasingly wealthy Chinese consumers, who have been eating more meat, sugar, and processed foods, as their wallets have fattened.
Dan Wang, a Beijing-based analyst at the Economist Intelligence Unit (EIU) and expert on the Chinese food and agricultural sectors, said the Chinese government is right to be concerned. "Chinese people eat too much salt, which translates into greater burdens for the healthcare system as high salt intake is affiliated with strokes and heart problems," she tells just-food.
She suggested one short-term inspiration for the push on edible oils is linked to the ongoing trade war with the US, until recently China's source for a third of its soybean imports, 80% of which are imported. After imposed a 25% retaliatory tariff on US soybeans last July, American soybean sales to China collapsed until shipments resumed at the start of this year. "The push against high oil intake can also be tied to the trade war to some extent," Wang argued.
She added sugar could be a softer target, given older Chinese people usually "demonise" it as poor for their families' health. Nevertheless, the popularity of sugar, especially when in integrated in western-style snacks, is increasing among Chinese children, she stressed.
Wang added food processors should easily cope with the action plan-related review of pre-packaged food nutrition labelling rules, so that salt, sugar and edible oil content is better highlighted, alongside more mandatory labelling of sucrose. She predicted the changes would "most likely not involve any additional certificates granted by third-party evaluators of the sort organic food labelling does," so the regulatory burden would be light.
Companies that might suffer under the Healthy China Action Plan could be small-and-medium sized players, she suggested, predicting the plan and its associated reforms and campaigns might promote the role in production of larger producers, deemed easier to regulate.
This would mesh with the Chinese government's long-standing commitment to promote major manufacturers through its 'national champions' initiative, as encouraged in China's tenth and 11th-five-year plans (2001-5 and 2006-10). As well as being helped to grow to create jobs, technology and skills – building competitive advantage – the government has in the past stressed how food majors can aid food safety.
Among the national champions in the food sector are Mengniu Dairy and Inner Mongolia Yili. "The many small down- and mid-stream food processors are hard to regulate, so the 'national champions' initiative has been driving consolidation in the food industry," said Wang.
This encouragement of mergers and takeover maybe intensified by the new action plan, she suggested: "If a lot of attention is now going to be paid to intake of salt, sugar and oil, it may help the government to get rid of some of the smaller food processors, with a failure to meet any new standards on salt, sugar or oil content possibly becoming one justification next to others in closing down an enterprise."
Surveys of families in China coming together to feast during the Lunar New Year celebrations this February by one well-known market research company suggest that Chinese consumers are already cutting down on their salt intake amidst rising health concerns. Its data suggested 94% of urban Chinese consumers had reduced their salt intake in the six months prior to the survey, while 37% and 36% had been consuming less monosodium glutamate (MSG) and soy sauce respectively.
In addition, 38% consumers had reduced their salt intake by consuming less processed food, for instance in instant noodles, sausages and chips.
The research also found that when it comes to the nation's much-loved soy sauce, as many as 33% of Chinese consumers who are married with one child, considered if a light or dark soy sauce contains GMO ingredients before making a purchase, while 25% of married couples without children do the same. Meanwhile, 25% of married consumers with one child consider the level of sodium/salt content and 24% whether it contains MSG.
"There is already growing consumer awareness around leading healthier lifestyles and consuming a healthier diet, so the change is happening. But the fact that the government is attempting to turn this into policy should greatly speed up any changes," Benjamin Cavender, the Shanghai-based managing director with China Market Research Group (CMR), says.
"Most companies doing major food R&D work are already thinking about these issues, and they should be thinking very carefully about how they expand their product portfolios to offer more foods that use less sugar and less sodium."