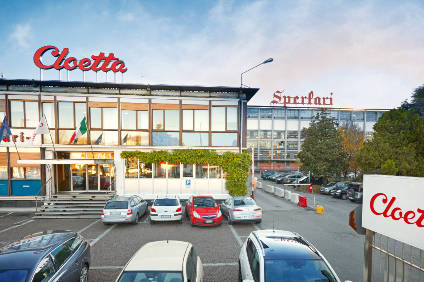 Cloetta, the Swedish snack maker, reported a loss for 2016 this morning (1 February) primarily due to an impairment charge related to its Italian business. Speaking to analysts during a conference call, however, management was upbeat on the progress it has made in strengthening profitability. Cloetta said it hopes to continue to expand its margins over the coming 12 months and revealed that it wants to grow sales – both organically and through M&A – during 2017. Here are the key takeaways from Cloetta's 2016 results.
2016 swings to loss but underlying margin improves
Cloetta booked a loss of SEK191m (US$21.8m) for 2016, compared to profit of SEK386m in 2015. The company said the bottom line was hit by an impairment charge of SEK594m it registered for its operations in Italy, forcing its operating margin down to -1/4% versus 11.8% in 2015.
On an adjusted basis, however, Cloetta stressed its performance was actually stronger than 2015. Adjusted operating margin expanded to 13% versus 12.2% while full-year gross margins increased to 39.6%, up from 30%.
Gains were driven by Cloetta's Lean 2020 operational efficiency drive, interim president and CEO Danko Maras suggested. Lean 2020 sees Cloetta focusing on both day-to-day and long-term efficiencies in its production.
The business scaled up as a result of its 2012 merger with Leaf International. Since then, the group has completed a number of other acquisitions, including UK free-from candy maker Goody Good Stuff, snack nuts firm Nutisal and Ireland's Aran Candy, the group behind The Jelly Bean Factory.
These mergers afforded Cloetta the opportunity to rationalise its production network and boost efficiency. The group has, for instance, closed factories in Alingsås and Gävle, in Sweden, and Aura, Finland. Cloetta now operates 12 factories in Sweden, Italy, the Netherlands, Belgium, Slovakia and Ireland.
Maras said Cloetta expects further gross margin progress to be made in 2017. "The gross margin is a component of many variables. We believe the Lean 2020 programme will continue to yield benefits," he revealed.
Price hikes to offset higher inputs
Maras added Cloetta will need to raise the price of its confectionery products in order to offset the impact of higher input prices and protect its operating margin during 2017. "We need to do price increases to mitigate input costs and that should be fairly neutral [on gross margin in 2017] but there could be some lagging on that," he predicted.
Cloetta started pricing negotiations with many of its customers in September and October. Maras said while securing pricing is "not an easy task" the company has "managed to get those price increases through in most markets".
"We feel very firmly that the consumer should pay for any input cost increases and it should not effect our EBIT margin," the acting CEO explained.
However, he revealed the group's pricing strategy is determined on a market-by-market basis. In countries where Cloetta is not a leading player, the group has to take a more cautious approach to pricing. "In some markets where we are market leaders [we push pricing through first] and people are following us with price increases. In other markets, we are following. If you think about the UK, we are not market leaders so we are more modest about price increases, we need to follow what others are doing."
In the UK, food deflation is moderating, with prices up by 0.8% in November-December according to the Consumer Price Index. The depreciation of sterling post-Brexit referendum is putting upward price pressure on food makers. Although Cloetta is a "follower" of pricing trends in the market, it seems the group will be able to secure gains in what remains a rational pricing environment.
Recovery in Finland?
Cloetta said its fourth-quarter sales, which increased by 3.8% year-on-year, were dented by its performance in the Finnish market. The group declined to provide a market-by-market breakdown of its execution, but Maras did reveal the company found de-stocking from Finnish customers was a significant headwind in the quarter.
"It was not easy for our Finnish colleagues to manage the situation. It was a de-stocking happening in December… that caused a lot of triggering moments between suppliers and customers in Finland. We could see quite a material impact in December," Maras explained.
The company has, however, seen "some" recovery over the past 30 days. "We are seeing some recovery in January… not fully," Maras said.
Maras said Cloetta expects to benefit from the repeal of the sugar tax in Finland. "Ninety-seven euro cents per kilo has been taken out from the confectionery products in Finland and we believe that it will be a positive for sales. I believe we will see a positive impact for 2017."
However, forecasts from research firm Euromonitor International do not point to a significant up-tick in volumes for the Finnish confectionery sector, while the end of the sugar tax is expected to depress unit pricing.
"The Finnish government is removing the sweet tax in January 2017 following talks with the European Commission. Therefore, a fall in chocolate confectionery unit prices is expected to be seen in 2017. Based on Euromonitor International's estimates, average unit price is predicted to decline by 5% overall," the research group predicted.
While pricing looks set to deteriorate in Finland, Euromointor suggested volume could edge up by around 2% in the coming year.
Volumes support modest organic gains
More broadly, while Cloetta said it expects to pass cost increases on in 2017, the group claimed its top-line expansion in 2016 was largely the result of higher volumes.
On an organic basis, organic sales increased by 1%. Revenue grew in Sweden, Denmark, the Netherlands and export markets but decreased in Finland, Italy Germany, Norway and the UK.
The organic sales increase was "predominantly" due to "volume growth" in markets where Cloetta was able to deliver gains, Maras told analysts.
"We have done some pricing but [this was] fragmented in the market and we are going to do another price increase in 2017. If you look at our business over ten years, what you see is Cloetta establishing share positions… any component of price tends to be cost adjustments."
Cloetta said the confectionery market "was unchanged or negative" in all markets except the Netherlands, where the sweet producer increased sales of sugar confectionery and chewing gum. In Sweden, higher sales were supported by pick 'n' mix and seasonal products.
Euromonitor analyst Jack Skelly told just-food that he expects volume sales of sugar confectionery to remain constrained in western Europe, where it is viewed as an unhealthy product targeted at children.
"The outlook is fairly bleak for these countries. Sugar confectionery is falling out of favour as it is viewed as being quite exploitative of children and there is increasingly wariness about the negative effects of over-consumption of high sugar products," he explained. "Unlike chocolate, sugar confectionery has not identified a legitimate premium product that it can sell, and this is causing Cloetta trouble. Finding a premium sugar confectionery product could be the holy grail for Cloetta, as we expect volume growth to remain sclerotic in western Europe in the next five years."
Cloetta's strategic review in Italy
Cloetta continued to progress the strategic review process for its Italian operations that it launched last month.
The company had hoped price cuts in the market would deliver volume growth and enable the unit to return to profitability in the fourth quarter, Maras revealed. This did not transpire and, although there were signs of recovery, progress was "nowhere near" expectations.
"We held our market share but the market did not recover," Maras noted. "We didn't get that price elasticity that we were hoping for. We did recover volume but it was not enough to offset the price decrease."
In 2017, the company hopes to find a "good solution" for its problematic Italian brands and the company is considering "all options" – including a sale. The company has not yet started to receive bids for the business and Maras declined to fuel further "speculation" until the strategic review process is complete.
Maras, who is heading up Cloetta on an interim basis until Henri de Sauvage Nolting takes over as CEO this month, said the handover to a new chief executive would not slow the progress of the review or the implementation of its conclusions. "This discussion has been ongoing and the board is fully involved," he said. "Obviously we would like to do this as fast as possible."
If the company does decide to sell the Italian business, Maras revealed that the disposal would have a positive impact on Cloetta's group-wide operating margin.
More M&A?
Cloetta successfully boosted its cash flow during the fourth quarter, increasing cash flow from operating activities to SEK406m from SEK367m. However, cash flow for the full year was down on 2015, dropping to SEK889m from SEK927m.
The company has made expanding cash flow a priority and is working to increase this in order to lift shareholder returns and gain financial flexibility for future M&A, Maras revealed. "Our ambition is to use future cash flow for dividends while at the same time providing financial flexibility for future acquisitions," he explained.
According to the executive, there are a number of potential acquisition targets in the European – and specificity Nordic – confectionery sector. However, it is a question of identifying the "right" company, at an attractive multiple, delivering good synergy opportunities.
"We have one person working on M&A in our team. There is no lack of work, the challenge is to find the right opportunities for us. There is a lot of consolidation in Europe, a lot of family-owned businesses… we just have to make sure they come to us at the right synergies, the right price. I think multiples are a little high [although] they have come down a little."
Given the challenges in Cloetta's core sugar-based confectionery business, it is also possible that the group could look to M&A as a means to diversify its product portfolio. Certainly, some of Cloetta's recent acquisitions – such as nut maker Alrifai Nutisal and fudge to chocolate group Locawo – suggest that the group could be eyeing increased exposure to the broader snacks sector.