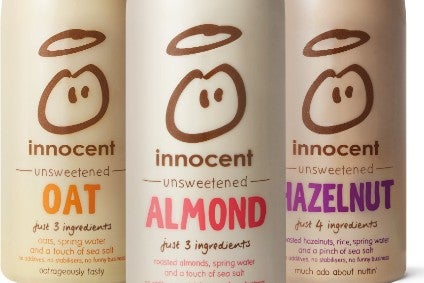 Coca-Cola Co.'s decision to take UK smoothie and juice brand Innocent into the dairy-alternative drinks market raised eyebrows but the move has garnered a largely positive reaction. Dean Best reports.
Having become almost synonymous with the market for smoothies in UK, Innocent Drinks is moving into pastures new, with the Coca-Cola Co.-owned business' sights set on the country's growing market for dairy-free beverages.
In an eye-catching move, Innocent has announced it would roll out a range of three drinks, first with upmarket retailer Waitrose and online pure-play Ocado in April, with the UK's Big Four grocers following at the end of the month and during May and June.
Almond and oat drinks contain three ingredients – almond or oat, plus spring water and sea salt. A hazelnut variant has four ingredients, with it also including rice.
In the UK, the big beast in dairy-free drinks is Danone's Alpro, the largest brand in chilled and in ambient.
Alpro markets a wide range of dairy-alternative drinks, from its core, soy, product through a range of nut-based beverages.
However, after outpacing some major brands in smoothies and juices in the near two decades since its launch, Innocent has its eye on usurping another – but in a certain part of the category.
Building on its heritage in smoothies and latterly juices, Innocent's dairy-free play is squarely in chilled, where, according to IRI, sales were worth GBP118.3m (US$168.3m) in the year to 3 March, up from GBP109.6m a year earlier. The ambient side of the category saw sales reach GBP95.8m in the year to 3 March, versus GBP82.8m the previous year.
Innocent, then, is moving into a solidly-growing segment and, with the might of Coca-Cola behind the business, could become a formidable competitor.
"I think it's a very smart move. It's a good market to be in and it's a logical extension of the brand. It fits," David Jago, director of innovation and insight, says.
Jago argues the ingredients on which Coca-Cola and Innocent have chosen to focus could stand the new products in good stead and argues that, even though Alpro has its own range of nut-based 'milks', the perception of the Danone-owned brand compares less than favourably.
"Alpro has still got this base in the old-fashioned part of the market, largely built around soy milk and is seen as quite traditional, mundane and everyday, not really terribly contemporary," Jago asserts. "They've tried to get out of that; they've made some moves to try and modernise and branched out into lots of other alternatives to soy milk but I still think that's probably broadly what they're seen as.
"Innocent is coming at it from a completely fresh angle and quite smartly picked on almond, hazelnut and oats, which potentially have got a lot more growth behind them than soy has. If you look at soy milk, the number of launches of soy milk has gone down steadily year-on-year across the whole of Europe because the consumer's not really that interested in soy milk any more. They are looking for other alternatives.
"Soy-based dairy alternatives were, in terms of NPD, 40% of all dairy alternatives drinks launched in Europe. Now it's down to 20%. Taking its place are almond, oats, coconut, hazelnut. Those are the ones that are rising. Some older consumers have still got a bit of a hang-up around soy because most soy milks a few years ago tasted awful. They were not very good quality. They had a bit of weird after-taste and looked a bit grey and brown. They weren't very appealing on an organoleptic basis, where as almond milk and coconut milk in particular have done a really good job positioning themselves around taste. It's about the flavour."
On the face of it, however, Alpro – and other, smaller brands that have nut 'milks' in their portfolio – should still stand to be able to ride to those trends. They are not, on their own, factors that should necessarily mean Innocent's new products fly off the shelves at the expense of their incumbents.
Where Innocent could gain a march, some say, is with the recipe for its new 'milks'. Announcing their launch, the company touted the fact the products contain three (four for one variant) ingredients and, in the brand's typically easy vernacular, "no stabilisers, no gums, no funny business".
"Innocent's real point of difference is a short ingredient list, staying very close to their brand heritage," Jago tells just-food. "That's what Innocent is known for. If you look at some of the Alpro standard soy milks, there's all kinds of ingredients in there that consumers don't understand. Innocent has got a serious point of difference against their mainstream competitors certainly. They may struggle to compete against some of the organic variants but will not probably struggle particularly against the more mainstream offer from Alpro."
Elsewhere, industry watchers are less sure. Hamish Renton, managing director of UK-based food and drink consultancy HRA, suggests Innocent's new 'milks' and their recipe do not sit quite flush against the heritage of the brand. "Innocent for me is not about the absence of the nasty, it's the presence of the goodies," he says.
Renton argues purveyors of nut-based 'milks', even those using fewer ingredients, may not really be offering what some consumers believe they are getting. "Having looked at this formulation, I think they're nice products but the trouble is they suffer, as a lot of these products do, from the fact that it's not a natural thing to do to, in inverted commas, 'milk' an almond. There's not a lot of the nut, or the dairy alternative, in the actual product. You're talking single-figure percentages. A mum in Barnsley would quite rightly it's mostly almond and actually in products terms it's a sniff of almond," he says.
"Innocent have very high standards and I just worry that the product category can't live up to those standards. It's less about what they have or haven't done – and I accept this is one of the better formulations – but I just wonder back to the point that do consumers realise it's a sniff of an almond in their almond milk. I get why they're doing it. They're just chasing the dollar, people have moved into that, they've done it for all the right reasons but I think this is a category they're struggling to maintain the Innocent brand promise."
For all that, it will be interesting to see whether Innocent can make inroads into the market for dairy-alternative drinks in the UK, a market expanding and one that looks set to continue to enjoy solid growth for a number of years to come but one with a strong incumbent that will be unlikely to rest on its laurels.