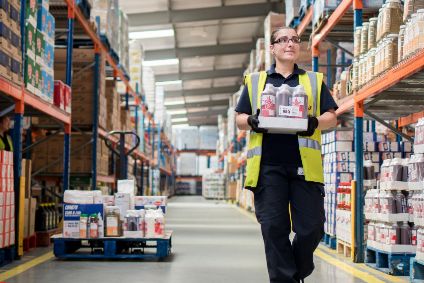 In late-March, the UK's lockdown meant, overnight, wholesalers' bread-and-butter foodservice market dried-up, forcing them to rethink their businesses. Some jumped straight into supplying the public direct, others sold into supermarkets. David Burrows looks at whether these strategies could stick.
It was the third week of March when pubs, bars, cafés and canteens in the UK closed their doors as part of a country-wide lockdown. Overnight, some wholesalers lost their entire customer base.
"It was catastrophic," says Julie Dunn, operations director at Dunns Food & Drink and president of the Scottish Wholesale Association (SWA). Some were sitting with millions of pounds of debt and suppliers to pay.
What happened next is a bit of a blur as 25% of the country's calorie intake shifted from out-of-home to in-home, according to stockbrokers Shore Capital. Supermarkets were overwhelmed: shelves were stripped bare and the waiting time for home deliveries stretched to weeks rather than days. Wholesalers moved to plug the gaps.
Brakes, for example, began supplying products into Sainsbury's, the UK's second-largest grocer. Initially, it was canned goods and dairy, but frozen vegetables, eggs and flour soon followed. "It was always going to be difficult for retail supply chains to cope [and] we had products available," Stuart Smith, UK merchandising director at the Sysco-owned Brakes, says.
The product sizes didn't suit everyone – wholesalers deal in primarily larger packs, designed for professional kitchens. Customers were initially "surprised", admits a Sainsbury's spokesman, but the new lines have "proved popular", he adds.
"For families or larger groups they've gone down really well," Brakes' Smith adds. "Given we are offering restaurant-quality ingredients, we've had some really positive feedback from consumers."
With a deep recession on the cards, perhaps such moves could play well in the longer term? Possibly. But if larger sizes proved particularly popular when pitched against smaller ones, supermarkets would "shift pretty quickly to offer those", says Rosalind Hunter, partner at consultants Simon Kucher & Partners. "The competitor pressure and the negotiation position of the large supermarkets is unlikely to make for an appealing long-term opportunity."
Others agree, seeing such moves as a short-term stopgap rather than long-term solution for either party. "When foodservice shut down and retail went crazy it was a great opportunity for wholesalers," explains Patrick Mitchell-Fox, senior business analyst with UK-based industry researchers The IGD. "The retail situation has stabilised now."
That may be the case in-store, but how about delivery? Only 14.6% of households reportedly received an online delivery in the four weeks to the end of March, up from 13.8% in March 2019 – proof that supermarkets were not coping initially. Check out availability now and patience and planning is still required, leaving some wholesalers keen to keep picking up the slack.
"There's still huge demand for home deliveries," says Mushtaque Ahmed, chief operating officer at JJ Foodservice, one of the firms that rapidly set up a fully functioning B2C delivery service (in its case within the space of one working day). The minimum order was also dropped from GBP125 (US$159) (set for foodservice business customers) to GBP79 for consumers. Sales rocketed.
Within four weeks, JJ Foodservice was delivering to more than 30,000 households, offering next-day delivery and then a "same-day" service from three branches around Greater London. Turnover is now actually 85% of what it was pre-lockdown and the way Ahmed sees it, the service isn't just for coronavirus. "We have let some customers down and we didn't do everything right … [but] people have loved what they've seen. I feel very optimistic."
"The products you buy from wholesalers are better than those from retailers. Our products are for restaurants"
JJ Foodservice's current focus is on a range of 3,000 products, with additions based on demand. Ahmed is not interested in increasingly the range significantly because "we wouldn't make any money out of it". But he can compete on quality with the supermarkets, he says. "The products you buy from wholesalers are better than those from retailers. Our products are for restaurants. I genuinely hope consumers will realise this."
One of the biggest challenges for JJ Foodservice is to market the benefits of the range, whether that's value for money, quality of produce, the service – or ideally all three. Creating a relationship between the brand and the shopper is no mean feat, though, especially when just 12 weeks ago only commercial kitchens knew you existed. "We are still getting queries about whether we are open or not and it's 1 June," he says. "There is a long way to go."
While food manufacturers spend millions on advertising, sponsoring sports and raising the profile of their products, wholesalers have traditionally "done nothing", says Ahmed. "We are trying our best. We can't just relax and think it's job done – the investment has to be there."
Dunns also set up home delivery. "In three weeks, technologically we achieved more than we might have achieved in three years," says Dunn. With the supermarkets' well-publicised delivery issues they also "rapidly gained custom". It wasn't only the IT that needed to be adapted, either: they had to very quickly change products to split cases. "Twenty-four chicken breasts in a 5kg pack is a lot for any household."
Some manufacturers didn't help the situation. SWA members reported massive supply chain problems as suppliers galvanised to ensure the supermarkets were stocked. "Our members suffered severe shortages from very mainstream suppliers," says Dunn. "Whilst Heinz played a blinder with the consumer – ensuring direct delivery to your home – their wholesaler customer base was suffering shortage after shortage. Many suppliers changed their minimum order requirements leaving our smaller members unable even to place an order for much sought after foodstuffs."
Supply did settle quite quickly. However, the challenge more recently has been to predict demand. "Customer order patterns are constantly changing," Matthew Hall, commercial director at Butlers Farmhouse Cheeses, which supplies supermarkets and restaurants, explains. "There is no weekly trend – something goes big one week and then dies the next, making planning tricky."

As lockdown is eased and the dust settles, home delivery sales have steadied for Dunns and, while it might not represent a meaningful replacement for the business lost, it's prompted discussions about "eggs being moved into different baskets".
Ahmed at JJ Foodservice is doing the same, it seems. "As a traditional foodservice company we never went out aggressively to look at this and neither did the consumer," he explains. "As restaurants open up, our foodservice [sales] will increase but this new avenue we've explored … I think we would like to have that as a complementary business."
More of the high street chains are beginning to pull up the shutters, offering takeaway, drive-thru and delivery options as a precursor to wider openings across the UK hospitality sector scheduled for early July. This is good news for wholesalers, but "the demand isn't returning quite as expected", says Hunter at consultants Simon Kucher & Partners. "The only certainty at the moment is the constant shift in customer demand."
Food-to-go has been outstripping grocery for the past few years but just how far back this crisis sets the sector is impossible to predict. Simon Stenning, an analyst and founder of FutureFoodservice, reckons 22% of all hospitality outlets will remain closed at the end of 2020, with revenue dropping GBP23bn in the second half of the year. "This is a cautious, not-overly ambitious forecast, but not the worst-case scenario," he explains.
Clive Black, an analyst at Shore Capital, says somewhere around 37-38% of calories consumed were outside grocery before the onset of Covid-19. That slumped to 10-15% and is now creeping up as the economy reboots and some manufacturing and construction sites reopen. Forecasting demand going forward is far from straightforward, though: there are likely to be shifts in commuting patterns and anxiety amongst consumers facing pandemic-proofed outlets for the first time.
"There could be hundreds of thousands fewer people going into city centres," says Black. "That's people not buying coffee, not buying sandwiches, not using work canteens. "Going back to 37 or 38% is a long way off. It's going to be around 15-20%."
Bidfood is another wholesaler that, with revenues down 60%, pushed into the B2C space. CEO Andrew Selley says: "If we have a good range, a good price and a good delivery service is it sensible for us? For the medium term – yes," he says. However, Selley looks forward to the day when distribution to his traditional foodservice customer base is at such a level that he needs to decide whether B2C is "still worth it".