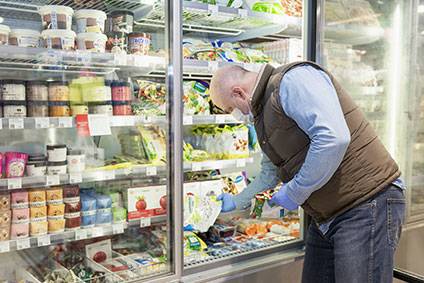 Demand for prepared meals, including pre-packed ready meals, was already growing in Russia's major cities before the onset of Covid-19 but the pandemic has given the market a shot in the arm – and growth is expected to continue in the years ahead.
At retail, Russia's prepared meals market is, according to Evgeny Raguzin, principal advisor for retail and consumer goods at management consultancy Oliver Wyman, divided into three distinct segments. The larger part of the market – accounting for around 70% of sales, Raguzin says – is generated through sales of prepared dishes made by retailers in-store and sold over the counter.
The second segment comprises pre-packed ready meals of the kinds found in countries in North America and Europe, a growing area as Russian consumers seeks convenience and as demand for international cuisine expands.
A third, newer, part of the market is prepared meals ordered online from grocers and delivered to consumers at their homes or workplaces, an area that took root before Covid-19 but which has gathered steam during the pandemic.
"The growth in the popularity of ready-made food, including from stores, is the trend of recent years," Tatiana Rakhmanova, managing director of the ready-food business of one of Russia's leading retailers, X5 Retail Group, says. "This year, with the pandemic in the background, these trends became especially strong. In part, this can be explained by the restrictions on the operations of cafes and restaurants, and the redistribution of demand from horeca to retail."
Raguzin, who underlines how Russian demand for prepared meals remains a trend only largely seen in the country's major cities ("and mainly in Moscow and St. Petersburg"), says grocers have been using the category as a way to stand out from the competition.
"Before, big retail chains in Russia were more focused on primary things, developing assortments, or pricing, or promotions – on the basic offer to the customers," he explains. "For example, fruit and vegetables was a problem but now, if you compare different chains, then you would not find too much differentiation in the basic offer. Many have them have chosen ready meals as a destination and, this, plus Covid-19, has accelerated this demand. They are rapidly expanding both the assortment and offerings as well as their operational capacity, setting up more kitchens in their stores, as well as offering deliveries themselves."
Russian retail chain VkusVill launched a delivery service for prepared food in Moscow in spring 2019. The company offers a variety of dishes made from its own branded products, including restaurant-style dishes and special menus for school children.
Looking at the broader, prepared-foods universe, ready-to-eat salads and sandwiches have seen stronger demand in recent years among Russian consumers. However, Anna Tischenko, founder and lead expert at the St. Petersburg-based Retail Practical Management consulting agency, points to growing demand in urban Russia for prepared ready-to-heat meals – ranging from soup through to meat-based dishes and boxed sets, such as lunches that include a main dish like meat and a side dish like potatoes. Retailers have stepped up their focus on products with a longer shelf-life, so sales in the prepared frozen-foods sector are growing too, she says.
Tischenko agrees Covid-19 has strengthened the demand for ready meals. Many Russian cities, including Moscow, were under strict lockdown from late March until early June, with restaurants closed and people needing an authorised QR code to move around. Instead of going out to eat, more people substituted restaurant meals ready-to-cook products from retailers, as well as delivery services (provided by both foodservice outlets and, notably, grocers, too). Russians still wanted to eat restaurant-style food and turned to grocers' ready-meal ranges while dining in at restaurants was out of bounds.
"In large cities, Moscow and St Petersburg, there was an increase in prepared food because people started spending more time at home and going out less to public places," Oliver Wyman's Raguzin says. "It is not always possible to cook three times a day at home, so consumers chose prepared dishes."
The growth of Russia's ready-meals market has attracted entrepreneurs. One start-up that has enjoyed notable growth during the pandemic is Restoran iz Banki (https://restoranizbanki.ru) (which translates as Restaurant from a Jar), a business launched in Moscow shortly before the capital went into lockdown.
The service offers Muscovites unable to leave their apartments restaurant-quality meals, such as beef stroganoff and rabbit sausage in broth, in glass jars. There are more than 100 dishes to choose from, in a variety of cuisines, including Armenian, Uzbek and Indian. The meals, which can be stored up to a year, were such a hit in the spring of 2020 the company's then 12 chefs struggled to keep up with the demand.
Aleksander Khasanov, the owner of Restoran iz Banki, expects demand to remain high even after the lockdown as Russians seek out more convenient food options and he is planning expansion into other cities.
At Oliver Wyman, Raguzin agrees demand in Russia for convenience food will continue to grow after the pandemic and suggests there remains a preference among Russian consumers for buying prepared meals made in-store – "If a customer has a choice between buying something over the counter and the same item in a tray, they would buy over the counter – but he believes the shape of the overall market will change in the years ahead.
Raguzin forecasts the share of sales generated by purchases over the counter in larger grocers will decline due to the growth of the convenience-store and online retail channels in Russia's major cities, boosting the chunks of the market taken up by pre-packed meals and delivery.
"Over-the-counter requires space and this is mainly in supermarket chains. Since the ready-meal trend is becoming popular, the convenience channel will start building this offer and this will become the main driver," he says. "The second [driver] would be e-commerce, people will be ordering more online and [retail] chains will be delivering it. Overall, the convenience [channel] would be the primary driver."
Raguzin estimates there are 60,000 convenience stores in Russia but says not every outlet offers prepared meals. "This segment is under-penetrated in convenience where people visit stores for convenient occasions and a ready meal perfectly meets this occasion. The base of stores is there already – you just need to make an offer."
The question is what kinds of prepared meals Russians will want to buy. While domestic recipes remain a top choice among consumers, there is also strong interest in foreign dishes.
"The market is becoming more and more diverse, including international cuisine," Raguzin says. The consumer wants to try new dishes from different countries around the world, as well as more complex dishes from Russian cuisine, such as chicken kiev. For the most part, it is Russian cuisine and then Asian."
Russian dishes also top the list at X5 Retail Group's stores but products using recipes from Italy, Japan, central Asia (such as pilaf), and the Caucasus (for example, manty – dumplings popular in many Turkic cuisines – and the Georgian prepared-bean dish lobio), are popular too, Rakhmanova says.
"We are working to develop taste and experience among our consumers by introducing various thematic and seasonal offers," she adds. "Among the latter is a new line of ready-made dishes for the New Year celebrations … ready-to-cook offers for the New Year table, that you just need to put in an oven for five to ten minutes until they are completely ready."
One note of caution is the unemployment rate in Russia, which like in many markets worldwide, rose during the pandemic. President Putin said this week the jobless rate was now falling but remains higher than before the virus.
UK-based data and analysis group GlobalData is forecasting a compound annual growth rate for Russia's prepared-meals market of 2.3% between 2020 and 2024, when it predicts sales will hit US$2.7bn.
"The pandemic has created opportunities for manufacturers as lockdown periods meant that consumers shifted from foodservice and eating out, resulting in a reliance on prepared meals at home," GlobalData consumer analyst Ahsaan Iqbal says. "However, similarly, as disposable incomes for some have fallen, aligning with unemployment rates, lower-income consumer groups will likely be less inclined to spend on non-essentials such as prepared meals, opting to cook meals themselves as this is generally cheaper, hindering the sector's overall growth potential."
Perekrestok – one of the retail chains that's part of X5 Retail Group – opened its own smart kitchen in the Moscow region in May 2019. At 26,000 square metres, it's the largest production facility for ready meals in Russia. Perekrestok offers more than 200 different items of prepared foods, such as Russian lunch sets with fish and meat patties plus potatoes; pasta Bolognese; pilaf; pasta carbonara; and beef stroganoff.
"We are confident that this segment will continue to show dynamic growth and we will strive to satisfy the demand for ready-made food among our consumers," Rakhmanova says.
Additional reporting by Dean Best.