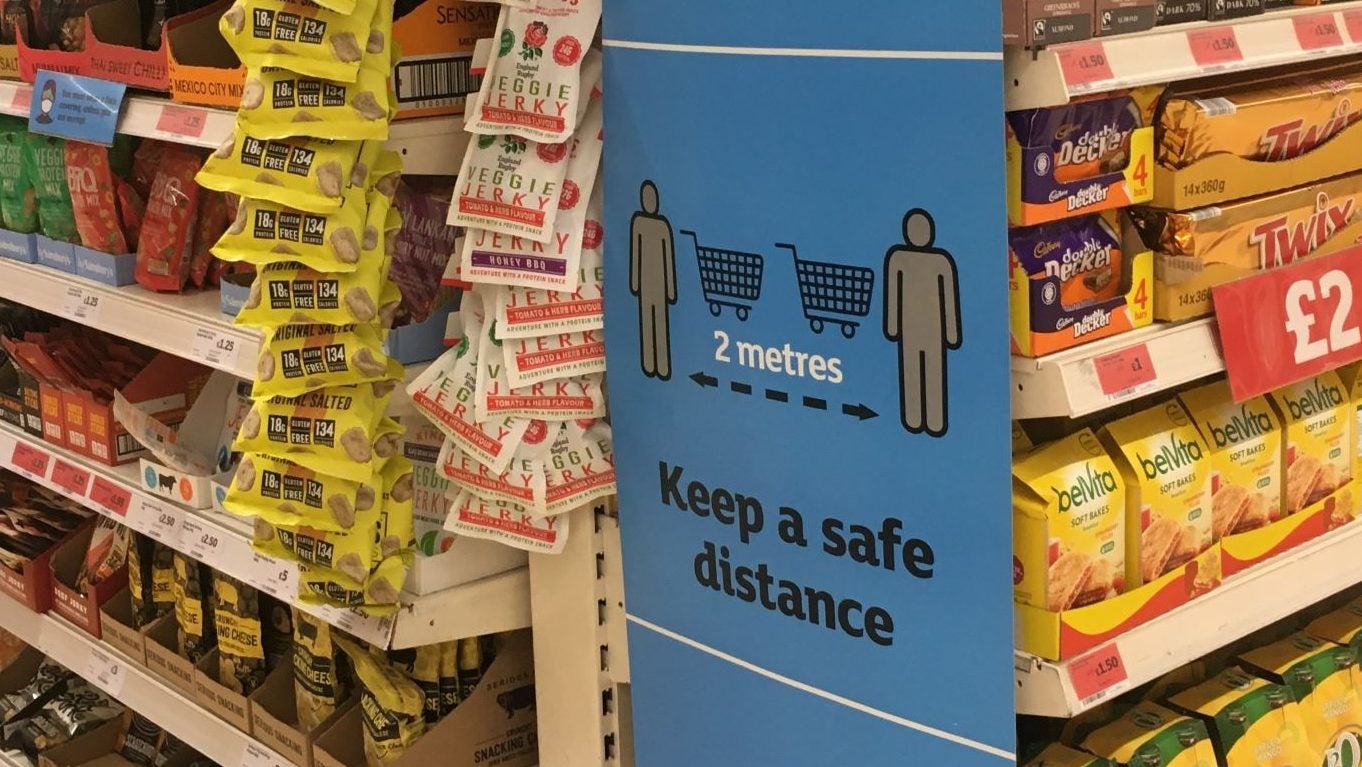 Covid-19 has had an impact on all food manufacturers but arguably small- and medium-sized enterprises (SMEs) have had it the hardest. There are signs, though, of opportunities re-emerging.
The panic-buying and stockpiling seen over the early weeks and months of the pandemic shook supply chains. When suppliers got to grips with the demands of consumers, retailers often prioritised the grocery staples of bigger manufacturers and consumers sought the familiarity of the brands and products they knew.
Some SMEs, many of them at the cutting edge of product innovation and sold at a premium, fell out favour, with seeing their products dumped from supermarket shelves, losing the listings they had worked so hard to win.
The shake-up became a possible existential threat to smaller companies. Some suffered, while others sought to quickly pivot to find a new strategy and a new route to market.
The cliff edge
Dispatches from the Covid frontline in 2020 detail just how much of a shock the arrival of the pandemic was and how the operating environment for SMEs changed overnight.
Maiko van der Meer, a co-founder of Netherlands-based alt-seafood start-up Novish, which had only been going since 2019 and was targeting the foodservice channel, says: "We went to a big show in the January [2020]. It was very successful. We told our manufacturers to produce 35,000 kilos for us and two days later the whole world collapsed. It was the worst possible timing."
Gardar Stefansson, the CEO of no-added-sugar jam business Good Good – which targets the US market with its keto diet-friendly products – tells a similar story. "We had just finished a financing round in February 2020 and then everything closed."
Theadora Alexander, co-founder of London-based SMEs network and consultancy Young Foodies and small brands 'supermarket' Mighty Small, paints a picture of an extremely difficult operating environment for food start-ups.
"A lot of non-core products got kicked off the shelves and SMEs were seen as almost the glitter around the core," she says.
"For the first three to four months, retailers needed to buckle down and feed the nation. The shutting down of out-of-home was also key. That was a bigger cliff edge than major retail."
Ben Vear, general manager of UK oat milk SME Minor Figures, founded in 2015, concurs. "Some 70% of our revenue was from foodservice and that changed overnight," he reflects.
However, proving the picture could vary depending on the category, Vear says his London-headquartered firm saw a "huge leap" in retail sales in early 2020. "People were stockpiling UHT milk and when there was not enough supply they were buying dairy alternatives," he says. "That offset a lot of lost sales in coffee shops which were closed in the first lockdown.
"There was also a sea change in our online platform. We might have had 20 to 50 sales a week pre-Covid and overnight that went up to several thousand a day.
"Virtually the whole team parked their jobs so they could go into the warehouse and pack boxes so we could keep up with demand."
But while there were undoubtedly winners and losers, business consultant John Stapleton, co-founder of UK food businesses New Covent Garden Soup Co. and Little Dish, suggests the overall scene was pretty confusing.
"In February 2020, nobody knew what was going on. Retailers were focused on staples. If you didn't get de-listed there were often spacing reductions," he says. "The only root to consumers was retail as foodservice died overnight."
Stapleton suggests some of the businesses that collapsed were at risk anyway. "Perhaps the ones that went under didn't have a great business model in the first place. It was a sort of Darwinism," he says.
Many SMEs had to face up to the conclusion they might have become less important overnight to retailers and consumers.
Susie Fogelson, a New York-based food marketing strategist who runs her own consultancy, F&Co., says: "People wanted trusted brands and innovation wasn't so important."
Investors also backed off. "In the first year of Covid, big capital was focusing on existing investments. Most brands switched to the government as a source of grants and aid," Alexander says.
Coping mechanisms
SMEs reeling from the shock of channels closing to them as a result of the pandemic had little time to reflect – it was a case of adapt or die.
Novish, with its 35,000 kilos of products intended for the foodservice channel, is a case in point. "We realised we had to focus on retail, online and conventional, from then on and so we put the product into retail packaging," van der Meer says. "We had got some supermarket listings but only the smaller, innovative ones. Our focus became direct-to-consumer [D2C] and e-commerce with some business in foodservice on the takeaway side."
E-commerce was the go-to route to market for many SME but, as well as a new channel, what they needed was advice.
"They were contacting us on everything from managing their team to how to slash their costs, raise capital and robust their revenue," Alexander says. "From early on we hosted regular community calls to keep people moving in the right direction. Those with online or D2C sales were booming. That was why we launched the Mighty Small D2C platform."
Nevertheless, some SMEs found their days serving major grocers were not yet numbered.
"We surfed the Covid wave," Stefansson at Good Good says. "We focused on the supply chain from day one. We bulked up on products as we expected it to worsen. So we were ready for it. Having a product with good shelf life has also helped. No supermarkets discontinued us. We secured our space. Critically, we had a supply when people were asking if we had stock."
That said, he adds: "We couldn't grow in retail because buyers didn't want to take new brands but we had a lot of inventory so we focused on e-commerce and we hit revenue targets. For every problem there was a solution."
Where SMEs had to change course, there was often a steep learning curve.
"Some businesses had to make dramatic infrastructural shifts. That could mean into areas where very specific skill sets were needed," Fogelson at F&Co. says.
Food business entrepreneur Stapleton agrees. "It is always beneficial to spread your risk but if you are a retail expert and the majority of your revenue is from that, it is a whole different set of skills to pivot to online," he says. "These are half-food, half-technology businesses and take a lot of time and effort."
Stapleton notes another coping mechanism. "Some businesses converted their cash into stock so they had availability when they were back on shelves. They anticipated what might happen," he says. "It's not sexy to convert shareholder cash into product but it is the smart thing to do."
Lessons learned and the road ahead
It is said that what does not kill you makes you stronger and SMEs emerging from two years of Covid-induced pain may well have gained business life lessons that will stand them in good stead.
"The big lesson will be around profitability. SMEs are starting to focus on profit now more than ever seen, rather than revenue," Alexander at Young Foodies says.
"It's also about controlling overheads. It's a big trend, particularly in light of the challenge around hiring. It might mean outsourcing more. Cash burn has got to stop.
"And [the need for] product diversification, serving more occasions, especially in food-to-go."
Vear at Minor Figures agrees. "The key lesson was the importance of diversifying revenue streams, of not putting all your eggs in one basket," he says.
"The importance of planning, forecasting and hedging is also really important. Also we learned the importance of having sufficient stock in place. We were able to react very quickly to spikes in demand."
Stapleton has this advice: "Cut products back, drop the ones with lowest margins. Be ruthless and save your marketing spend until you are back on the shelf," he says.
"And often [SMEs] don't manufacture their own products – a lot of this business is outsourced. So have honest/transparent conversations with your supply chain."
Notwithstanding SMEs' ability to find new routes to market, one of the signs the sun was emerging from behind the Covid cloud was when supermarket buyers started taking their calls again.
Alexander says: "About a year ago, people started re-engaging and looking forward. Retailers have realised the importance of a diverse supplier base and diverse products that drive margins."
Stefansson at Good Good concurs. He says: "Six to ten months ago, buyers started to open up again to category reviews.
"I'm heading out to the US for the first time in two years [following that country's ban on passengers from Europe]."
Ultimately, the innovation and freshness SME food firms bring to the grocery sector meant it was likely there would always be a way back onto shelves.
Van der Meer at Novish says: "Now things look very bright. If you bring a very exciting product people like to sample it. When we hit the shelf, we create enough traction to make them [buyers] happy."
There is a belief among some SMEs those that have done well in e-commerce over the last two years have something with which to impress buyers.
Minor Figures has just won listings with UK grocery major Tesco and Vear says: "We are very data-rich so we can show them things like the profile of our consumers, where they live and where they buy the products. We can prove our case."
Good Good's Stefansson agrees. "Buyers are also now looking at brands with success in e-commerce. They see an item trending on Amazon which they can purchase for a lower price and make a margin," he says.
His theory is backed up by the fact Good Good's products are soon to be stocked in 3,000 Walmart stores in the US.
"We have momentum. Consumers want a healthy product. Keto is growing and no-added-sugar is not a trend," Stefansson explains.
Fogelson agrees. "It [health and wellness] is coming back like an avalanche. People hadn't been taking care of themselves and the power of immunity is being realised," she says.
Brigitte Wolf, head of snacks giant Mondelez International's innovation and venture unit, also sees a bright future for SME food firms that bring something new to the market.
"I think there's going to be a bit of a consumer exploration that emerges out of this … we'll see a level, hopefully, of more interest and more conversion where you'll get more traction to the start-ups that are just starting out," she says.
Fogelson adds: "The benefit of small brands is it feels more personal. The names might be quite cute and the imagery brands use has a resonance that feels a bit more small-batch, home-made, hand-made.
"Also people are excited again by taste and global flavours. Innovation is where the magic is."