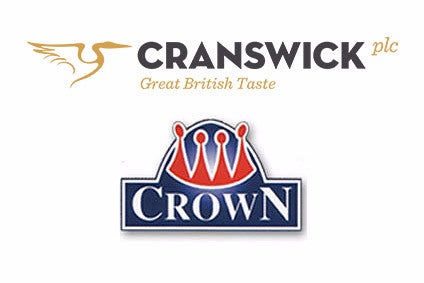 Cranswick, the UK meat processor, has its origins in pigs but this week the company struck its second deal in the country's poultry sector in 18 months. The new asset, Crown Chicken, does not yet supply the UK's major supermarket chains but the market reacted positively to the deal. Dean Best reports.
Shares in Cranswick had already taken flight in 2016, up a healthy 14% at the close of trading on Friday (8 April) – but the stock soared on Monday after the UK meat processor announced its latest move in the poultry sector.
Cranswick, founded in 1974 as a business supplying pig feed, is one of the UK's major pork processors, supplying the country's major supermarkets including Tesco and Sainsbury's.
The Hull-based group has, broadly speaking, performed consistently in recent years and, even in the company's last full financial year, which ran until the end of March 2015, when its reported revenues were flat and reported profits down, City analysts were cheered by the group's underlying numbers.
Cranswick's growth has come in part through acquisitions, snapping up pig breeder East Anglian Pigs in 2013, for example, or UK cooked meats business Kingston Foods a year earlier. However, the company has not been hugely acquisitive and has seen solid organic growth drive its annual sales, which broke through the GBP1bn (US$1.42bn) barrier in the 2014/2015 financial year.
Last week, in a trading update for the year to 31 March 2016, Cranswick said its underlying revenues were up 5% year-on-year. A year ago, Cranswick said underlying revenues were "comparable" with those generated in the previous year, which stood at GBP980.6m. Like-for-like volumes, meanwhile, jumped 10%. "It's been a stunning year for them," Charles Pick, director for equity research at Numis Securities, says, reflecting on the last 12 months.
That 5% underlying growth excludes half a year's contribution from Benson Park, the UK poultry business Cranswick acquired in October 2014. Before the Benson Park deal, Cranswick did produce a small amount of cooked poultry but the transaction marked Cranswick's entry as a serious player in the UK poultry sector. And the group has marked the start of its new financial year with another poultry acquisition in the UK, announcing on Monday it has swooped for Crown Chicken.
Cranswick's latest deal in poultry gives it a business that breeds, rears and processes fresh chicken, supplying retailers, foodservice operators and manufacturers. With annual sales of GBP83.8m, Crown Chicken is the sixth-largest poultry business in the UK, according to analysts at Shore Capital, one of the stockbrokers for Cranswick.
Adam Couch, Cranswick's CEO, said: "Crown … represents an excellent opportunity for Cranswick to continue the development of its UK poultry business. This acquisition represents important progress in our long term growth strategy of developing new product channels in both pork and other proteins."
Shares in Cranswick jumped over 16% on Monday, with the market welcoming the deal. Analysts reacted positively, too, with Damian McNeela at HSBC saying the deal "adds scale and capabilities to underpin long-term growth
within its relatively new poultry division".
Given the volatility in pork prices, Cranswick has wisely sought to diversify its operations and, with two acquisitions in 18 months, has now formed a poultry business generating (should we just take the annual sales of the two assets at the time of acquisition) revenues of over GBP120m. In the 2014/2015 financial year, Cranswick's turnover was north of GBP1bn. Pork and pork products still make up the majority of Cranswick's business, while the company does business in areas such as pastry products and sandwiches, but broadening the group into another area of a protein has been a sensible move. "It narrows down their reliance on the pig cycle. They've now got two strong protein sources within the group," Pick tells just-food.
However, Crown Chicken is not a supplier to any of the UK's so-called Big Four food retailers – Tesco, Asda, Sainsbury's and Morrisons. Crown Chicken's retail customers include Iceland, wholesaler Booker and convenience store chain Nisa. That said, the lack of one of the major supermarket chains has not been seen as a negative. "That's an opportunity for the future," Pick insists. "Cranswick has long-established connections with Sainsbury's and Tesco in particular."
One benefit of acquiring Crown Chicken is the new business sells animal feed to a Cranswick pig-rearing unit, Wayland Farms. By buying Crown Chicken, Cranswick can bring those purchases in-house and potentially use the new asset to serve other parts of the business. Crown Chicken could also act as a supplier of chicken to the Benson Park unit, which, Pick says, buys in chicken breast to sell to industrial customers like Greencore and Pret a Manger.
Looking ahead, the deal will give Cranswick's top line a bit of a boost in a new year when it will be lapping 12 months of notable growth. Cranswick is set to publish its full results for the year to 31 March next month but there are some indications emerging of the expectations for the business for the months to come.
At Cranswick's brokers, Shore Capital, the analysts have forecast a circa 4% rise in underlying sales, a rate of growth down markedly on last year but, given the comparison and the trading conditions in the UK grocery sector, still relatively solid.
Cranswick itself said the Crown Chicken deal is expected to be "modestly enhancing" to its earnings for this new fiscal period. We should expect to hear more about its plans for poultry next month.