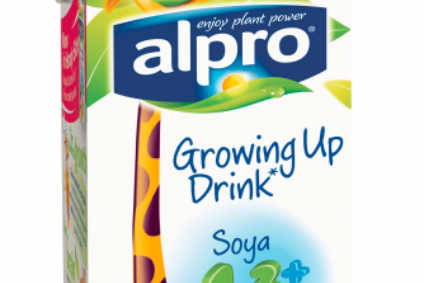 Danone's first-quarter update hit its shares – and it is likely the fall in its stock price was only part due to the numbers. The French yogurt maker reported meagre like-for-like sales growth as its challenges in fresh dairy continued. The company upped its forecast for its annual underlying earnings but still its shares declined, with some analysts frustrated at the way Danone plans to report on its new asset, WhiteWave Foods.
A soft start to 2017
Danone reported muted growth in its underlying sales in the first quarter of the year, a result the Activia maker described as a "low start" but one "in line with expectations".
The company behind brands including Actimel yogurt drinks, Cow & Gate baby food and now Alpro soy milk saw its sales rise by 0.7% on an organic basis in the first quarter of 2017, down sharply from the 3.5% growth seen in the first three months of 2016 and the 2.9% reported for last year as a whole. In the round, the growth Danone did see came from pricing, with the volume growth it generated from its early life nutrition and medical nutrition divisions offset by greater declines in volumes from fresh dairy and bottled water. In total, Danone's volumes fell 2.6% in the first quarter, more than the consensus forecast among analysts, who expected a decline of 2%.
Sanford Bernstein analyst Andrew Wood said: "We expected a soft start to 2017 for Danone, and that was what it delivered, even if it slightly beat expectations on some measures. Volume growth was below consensus and was negative for the 3rd straight quarter, while pricing was strong and ahead of expectations."
Virginie Roumage, an analyst at European investment bank Bryan, Garnier & Co., said Danone had had "a poor start to the year", describing the 0.7% rise in like-for-like sales eked out by the company as "unsurprisingly weak". She trimmed her forecast for annual like-for-like sales growth from 2.2% to 1.9%.
However, MainFirst analyst Alain Oberhuber said Danone had "published a good set of numbers", pointing to the higher growth from the early life nutrition and medical nutrition divisions. He acknowledged, however, the "slower" growth from Danone's fresh dairy business, the company's largest business, at least when looking at its reporting structure prior to the acquisition of WhiteWave, more on which later.
Danone's new reporting structure raises questions
The acquisition of WhiteWave Foods was completed earlier this month, a deal Danone believes will inject growth into its business as it benefits from the US organic and dairy alternatives supplier's exposure to faster-growing categories.
The finalisation of the transaction prompted Danone to up its forecast for recurring earnings per share at constant exchange rates. It is expecting "double-digit" growth, compared to an earlier forecast of growth of "above 5%".
Danone said the US$300m in synergies it expects to generate from the deal, the stand-alone performance of WhiteWave and the lower-than-expected financing costs linked to the deal were the reasons for its new forecast. However, Danone's shares closed down more than 2% on Friday (21 February), with the market perhaps reacting negatively to the way the company plans to report on its performance from the second quarter.
The new forecast for Danone's earnings per share is in part based on what the company's expectation of "moderate" growth of what it called "like-for-like New Danone sales".
With that new metric, which starts from the second quarter and runs to the end of next year, Danone is immediately including WhiteWave's results in its organic, or like-for-like, growth, a move different from the usual practice of including acquisitions a year after a takeover.
"We were somewhat surprised by – and sceptical investors may be frustrated by – Danone's decision to start including WhiteWave in its like-for-like measures for 2017, by establishing a "New Danone" including both Danone and WhiteWave in the base, rather than treating it as M&A for a year as is standard practice," Sanford Bernstein's Wood said.
Another analysts went further. "Amalgamating reporting of the two from day one in organic growth does Danone no favors," Gerry Gallagher, an analyst at Deutsche Bank AG, wrote in a note, according to Bloomberg . "We believe it will only make the market question why it should own the stock."
In a conference call analysts on Thursday afternoon after Danone issued its results, CFO Cecile Cabanis defended the move. "It's a new chapter for Danone, it's a new way of organising the way we do business," Danone CFO Cecile Cabanis told analysts on Thursday afternoon after the company issued its results. "The dairy business per se will not exist anymore. Internally, to make sure that, from day one, we follow the performance in a good manner, to make sure the organisation has a clear target, for us it's a really important way to monitor it like this. Otherwise, we will spend our life making reports and working on the numbers and we won't work on selling our products."
Dairy still has sour notes
On a reported basis, the three Danone divisions monitored by just-food – fresh daily, early life nutrition and medical nutrition – all reported higher sales in the first quarter.
However, like-for-like sales from Danone's fresh dairy business fell 2.3% amid a 5.3% fall in volumes. Danone pointed to "difficult market conditions" in Europe and the performance of Activia, two factors that have been affecting its fresh dairy sales for a number of quarters. The company reported "stable growth" from its fresh dairy businesses in its combined CIS and North America division but said it saw "a slightly negative performance" from fresh dairy in its ALMA arm.
Sanford Bernstein's Wood said: "Fresh dairy remains the biggest disappointment, by far, given the failed relaunch of Activia in Europe. Following six consecutive quarters of positive like-for-like growth, fresh dairy saw a sharp sequential slowdown this quarter, falling back into negative territory, and seeing its worst quarter in over a decade."
During 2016, Danone relaunched three of its major dairy brands in Europe, with its push behind Activia in September following similar moves on Actimel and Danonino in the second quarter of the year.
Danone held up the relaunch of Activia in Europe as central to its bid to "stabilise" the performance of its fresh dairy business in Europe. However, by December, Danone acknowledged the relaunch of Activia had not gone entirely smoothly, causing it to admit its 2016 group organic sales would be below its target.
The company is working hard to try to turn the performance of Activia around but its struggles were a key factor in the decline in its overall dairy sales in the first quarter of this year. Elsewhere, growth was subdued in a competitive North American market, while sales in the ALMA markets fell as "consumption trends in Brazil worsened".
MainFirst's Oberhuber said: "In Europe, Danone has two priorities, namely the relaunch in Activia to regain this product's consumers and to accelerate local brands. It also focuses on improving packaging identification for clear differentiation, becoming more local and achieving a specific renovation in taste. The new execution will be implemented in Q2-17 in France, Spain, Germany and the UK. In Europe the agenda is the success of local brands and to keep working to drive the acceleration."
Early life nutrition a positive surprise
Like-for-like sales from Danone's early life nutrition business rose 4.1%, a result the company described as a "solid performance" and one welcomed by analysts.
"Danone's ELN had a better than expected organic growth rate, which came as a positive surprise," Oberhuber said.
The growth came from pricing, with volumes up 0.1%. Nevertheless, Danone said it had seen "major gains" in developing a direct distribution model in China, the key market for the division and one where the sector can be buffeted by the volatility of indirect sales, especially as the market adjusts to new regulations due to come in at the start of next year. Danone said its "direct" sales rose at a double-digit rate, thanks to growth in "specialised stores" and via the e-commerce channel.
Sanford Bernstein's Wood said: "ELN was robust and ahead of expectations as Danone continues to manage the transition to the direct channel in China. The strong growth this quarter indicates that Danone is successfully weathering the transition from indirect to direct sales in China."
Asked for Danone's outlook for its early nutrition business in China for the rest of 2017, Cabanis was cautious but said the company remained confident about the prospects for the sector.
"In terms of the indirect business, we expect the volatility will last until the regulation is fully in place in 2018. It can vary from one quarter to another. Q1 happened to a lesser extent than we anticipated even if it continued to drive negative sales on that front. It could be higher or the same in Q2. It's very difficult to predict from one quarter to another but quite certain to happen until the regulation is fully in place in 2018. That's the assumption we take. That's why we're really making sure we're fully focused on pushing on the direct China part of the business, which is growing very nicely, both on specialised stores and on e-commerce. And we are really confident of the continued potential for China and for the business after this volatile period."