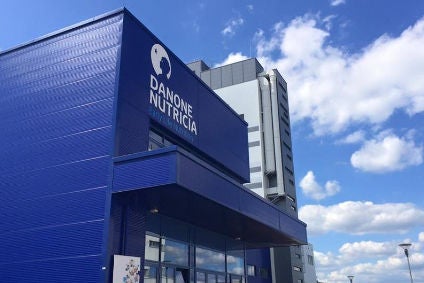 Danone's underlying third-quarter sales fell below market expectations amid challenges in China. Regulatory changes in China are weighing on Danone's infant formula business in the country but, broadly, analysts are comfortable about the prospects for that part of the French giant's business and, overall, the group's wider prospects. Here just-food presents a flavour of what equity analysts covering Danone thought of the Aptamil maker's results third-quarter trading update today (18 October).
Andrew Wood, Sanford Bernstein
"We expected that Q3 would be subdued due to issues in China Waters and early life nutrition but that the FY2016 targets would remain – and this is exactly what transpired but the results still missed our lowered expectations. Specifically, like-for-like growth in Q3 (+2.1%) was marginally below consensus (+2.2%), further below our expectations (+2.9%) and was the lowest quarterly growth since Q1 2009 (+1%). Furthermore, as with Unilever last week, volumes (-0.7%) were weaker than expected, while pricing (+2.8%) was higher than consensus.
"Danone delivered a fifth consecutive quarter of positive growth in fresh dairy in Q3. However, this growth was once again underpinned by volatile price/volume dynamics, with negative volume growth (-2.3%) offset by strong pricing (+4.5%). Within fresh dairy, Danone continued to perform well in the US due to sustained investment and successful innovations, gaining market share despite a strongly competitive environment…and, it continues to focus on the transition in Europe, having relaunched the Activia brand in mid-September.
"Early life nutrition saw low single-digit growth in Q3, driven by a decline in volumes (-0.4%) as changing regulations are driving traders to sell-down stocks of baby formula bought in Europe to sell to China. On the positive side, excluding indirect sales to China, growth for the division would have been in the mid single-digits, with management indicating that local sales in China picked up sharply in Q3, and already make up 50% of total sales in China early life nutrition, suggesting that, over the medium-term, Danone should be able to successfully manage the transition from indirect to direct sales in China."
Alain Oberhuber, MainFirst
"Danone gave a solid outlook for the remaining of the year. The company focuses more on improving the overall product structure, margin improvement and free cash flow generation.
"[In] fresh dairy, we expect organic growth rate for Q4-16E to be +3.5%, up from +2.2% and based on the turnaround in Europe. Danone confirms that the company is fully on track to get growth back despite negative volumes in Q3-16, which was mainly driven by slower volume growth in Russia. In Europe the Activia roll-out is on its way and first signs could not be discussed yet. The roll-out is a milestone for the company as Danone wants to improve the emotional link with consumers, to have a more contemporary packaging and improve recipes. We believe that the development is vital for Danone's future organic growth rate in Europe fresh dairy.
"The early life nutrition division remains in transition and the Q4-16E organic growth rate will have the same dynamics as in Q3-16, i.e. +1.7% due to a high base and the transformation from indirect to direct channel. This is what we currently have in our assumptions as well. Despite the current low visibility, Danone expects that some improvement in organic growth rate for FY-17E should be possible as base is lower and the indirect channel contracts at a fast pace and therefore will have a lower negative impact next year. Danone continues to develop a worldwide leading position with growing new markets with for instance Brazil which grew by more than +10% as well as new products with accelerating tailored nutrition, which grew organically by +10%."
Jon Cox, Kepler Chevreux
"Q3 organic sales growth of 2.1% was behind consensus amid worse-than-expected trading in water and early life nutrition due to a slowdown in China. Both divisions disappointed.
"Danone see the weakness in baby caused by regulatory changes in China which is leading to sales weakness in unofficial channels.
"Danone reiterated full-year guidance for 3-5% organic sales growth and a 50-60bp improvement in the underlying margin. It said its WhiteWave transaction was on track for completion by year's end but noted competition concerns and said it was co-operating with authorities to get the deal done."
Damian McNeela, HSBC
"Q3 like-for-like sales growth of 2.1% broadly in line with expectations. Progress continues in strengthening its business in core areas.
"Danone has made good progress in developing its direct channels [for early life nutrition] in China, which now account for 50% of Chinese sales. Fresh dairy delivered organic sales growth of 2.2%, with stronger price/mix (+4.5%) helping to offset weaker volumes (-2.2%) in Latin America and Russia, in particular. Competition appears to have eased in the US market and Danone continued to take market share, now at an all-time high of 35.8%.
"Admittedly the Q3 organic growth is low but we believe that the two main factors driving this are temporary in nature. Longer term we believe in the fundamental attractiveness of Danone's categories and are encouraged by the progress Danone has made in improving its competitive position. We reiterate our 'buy' rating but lower earnings per share forecasts mean that our target price falls from EUR74 to EUR73."
Robert Waldschmidt, Liberum
"Danone hosted a mixed 3Q'16 call, guiding for trading operating margin uplift at the upper end of +50-60bps and like-for-like sales growth at the lower end of 3-5%.
"Danone noted the move from indirect infant formula sales to China via Europe is declining rapidly due to regulatory and taxation changes in e-commerce. Indirect sales in China were down 25% in 3Q'16 and accounted for 50% of the company's China early life nutrition sales, compared to two-thirds of sales in 3Q'15. Danone believes that one-third of the indirect business is driven by friends and families purchasing infant formula in Europe for consumption in China and that this behaviour is fundamental and will persist beyond the end of the transition to direct sales. The company expects the decline in indirect sales to continue in the coming quarters at a higher pace than the parallel shift to direct sales, resulting in a negative impact on market growth in the next few quarters.
"Management confirmed the group still targets volume stabilisation in fresh dairy in Europe by the end of 2016. After the re-launches of Actimel and Danonino in Europe in 2Q'16, Danone re-launched Activia in September. The company introduced a new premium and contemporary packaging and the marketing campaign aims to create an emotional link with the consumer with greater engagement with women. The re-launch aims to create a more premium positioning for the brand.
"Danone remains our top pick in food. In our view, Danone is on the path to profitable, sustainable growth with a clear strategy to deliver sustainable top and bottom line growth through 2020."