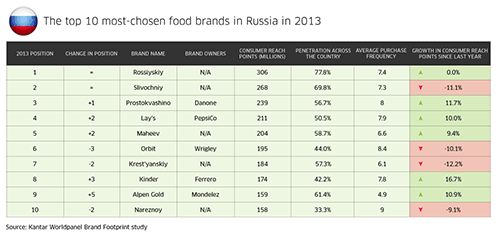 Working with Kantar Worldpanel, just-food provides a data set showing the ten most-chosen food brands in the BRICs in 2013.
The data is from Kantar's latest study into the "footprint" of brands around the world – a measure of how many households chose brands and how often.
In Russia, five of the top ten – including the top two – are not brands in the conventional sense but what the local industry calls trademarks.
It's a legacy of the former USSR, when the same brand could be produced by all manufacturers. Locally it is called a trademark, although it does not belong to anyone specifically, but is a brand in its own right.
Brands owned by multinationals made up half the list, with PepsiCo's Lay's snacks brand at number four.
Orbit, the Wrigley-owned gum brand, tumbled three places to six.
Ferrero's Kinder and Mondelez International's Alpen Gold were new entrants into the list at eight and nine respectively.
just-food and Kantar has published data on Brazil, India and China. By clicking on the names of the countries, just-food subscribers can see the results.
For 30 days' full access to just-food for only GBP1, EUR1 or US$1, click here.