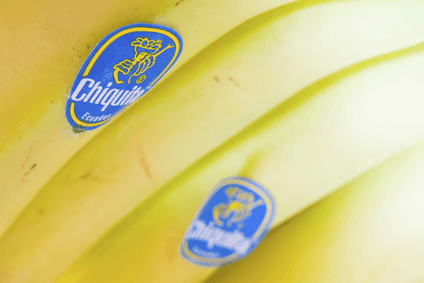 Chiquita Brands International has rejected a takeover approach from Brazilian juice maker Cutrale Group and investment firm Safra Group in favour of a prior agreement to merge with Ireland's Fyffes. However, the share price reaction suggests investors are betting a higher offer will come in for the US produce group. Katy Askew reports.
Brazil-based juice maker Cutrale Group teamed up with investment firm Safra Group to launch a US$13-per-share takeover bid for US banana-to-salads company Chiquita Brands International last week. The offer values Chiquita at $610.5m.
Announcing the move on Monday (11 August), the consortium insisted they were offering a "highly compelling" 29% premium on Chiquita's share price, which closed at $10.06 on the last day of trading before the announcement. The proposal values Chiquita at about 12 x adjusted EBITDA in the last 12 months, according to Cutrale and Safra.
The would-be acquirers added Chiquita would prosper under this arrangement, pointing to their "significant" financial clout and industry expertise.
"The Cutrale Group's global business operations include oranges, apples, peaches, lemons and soybeans. This platform offers Chiquita extensive experience in all aspects of the fruit and juice value chain. After the acquisition, Chiquita will benefit from the vast experience and knowledge of farming, processing, technology, sourcing, distribution, logistics, and marketing of the Cutrale Group," the companies wrote in a letter to Chiquita's board.
After considering the offer, Chiquita's board rejected the proposal as "inadequate" and "not in the best interests of Chiquita shareholders". Chiquita declined to open its books to Cutrale and Safra or hold talks with the bidders "at this time".
The company also stressed it remains committed to its proposed merger with Irish banana group Fyffes.
"Chiquita remains committed to completing its transaction with Fyffes, which it believes will create a combined company that is better positioned to succeed in a highly competitive marketplace, while driving strong performance and value for shareholders," the company insisted.
The Fyffes merger, announced in March, would see two of the world's largest banana brands brought together creating the largest global supplier of bananas. Chiquita and Fyffes believe that the combined business will benefit from an extended geographic presence, a wider product portfolio and a broader supply base.
Athlos Research analyst Jonathan Feeney concurs a solid strategic rationale underpins the tie-up between Chiquita and Fyffes.
"If the merger with Fyffes continues as planned, it will enhance Chiquita's global market share (14% from 10%) and bring a critical industry structure improvement to the vital European market," he wrote in a recent investor note.
Feeney added "most importantly" Fyffes' clean balance sheet would offset Chiquita's heavy debt burden, moving the debt to EBITDA ratio "in the right direction".
Chiquita shareholders would control 50.7% of what would become ChiquitaFyffes.
However, according to Gimme Credit's Kim Noland, a significant number of Chiquita shareholders are likely to be more interested in the value-creation presented by an immediate cash payout versus the longer-term promise of future returns from the all-shares merger arrangement.
"The Cutrale proposal may be deemed a superior offer given its cash terms, lack of financing contingency and the strength of Cutrale's position in orange juice and other fruits," wrote Noland.
Chiquita's shares were trading above the offer price at $13.89 at 4.26pm ET, representing a 38% increase from its share value prior to the launch of the takeover bid.
This compares to the 11% increase in Chiquita's share price on the day it announced its plans to merge with Fyffes, implying the market prefers a more expedient way to lock in gains.
The jump in Chiquita's share price would suggest speculative investors are willing to bet Cutrale and Safra will either come back with an improved offer or another bidder could come into play.
Analysts have touted a number of other potential suitors from pure-play fruit group Fresh Del Monte to PepsiCo, which produces Tropicana orange juice and has been expanding in the healthy snacks sector.
Given the investor reaction and obvious interest in an immediate payout, Cutrale and Safra may have played their hand wisely when they called for a proxy vote at Chiquita's special meeting to approve the Fyffes deal, scheduled for 17 September.
The Brazilian partners urged Chiquita shareholders to vote down the proposed merger with Fyffes in documents filed with the US Securities and Exchange Commission on Friday.
They characterised the Fyffes merger as "an inferior transaction" and pointed to Chiquita's past difficulties in integrating acquisitions, such as the Fresh Express business which it took over from Performance Food Group in 2005. This past performance – and the complexity of integrating two global businesses – throw Chiquita's cost-savings target of $40m by end-2016 into question, they argued.
"Given the difficulty and costs inherent in integrating diverse, global businesses such as Chiquita and Fyffes, there is no assurance that the expected synergies, cost savings and other benefits of the proposed Fyffes combination will be realised fully or at all," Cutrale and Safra wrote.
The groups concluded: "We believe that the Cutrale-Safra proposal offers holders of Chiquita shares a superior alternative to the value of Chiquita on a stand-alone basis as well based on past performance. Chiquita's management articulated a turnaround plan for the company over two years ago, but has struggled to achieve the targeted cost savings or improve profitability to execute the plan. Chiquita has consistently provided overly optimistic guidance that has resulted in its missing Wall Street quarterly consensus earnings estimates in each of the past four quarters."
However, BB&T Capital Markets analyst Brett Hundley is more upbeat on the ability of a combined ChiquitaFyffes to deliver on its synergy and cost reduction targets. In a note to investors this morning, the analyst said that he sees value creation potential of $14-17 per share "over the short term".
"We think there is real, sizable synergy opportunity between the two, and we expect regulatory approvals from related parties," he wrote. "The sooner that regulatory hurdles are cleared, the more likely that value creation potential between Chiquita and Fyffes can be realised in 2015… earnings scenarios for Chiquita/Fyffes are of course, uncertain; however we have faith that current Fyffes CEO, David McCann, would cut costs significantly and clear shareholder return expectations."
Hundley argued the $13 a share bid from Cutrale and Safra undervalues the group and suggests a $15-plus bid is "more appropriate".
If Chiquita's earnings are adjusted for the impact of recent bad weather on the bottom line – and assuming Cutrale-Safra can cut corporate expenses by a "not aggressive" $20m – the Brazilian groups would be obtaining a banana business for just 5.2x potential earnings, Hundley stressed.
Will the certainty of a cash payout be enough for Chuiquita investors? The alternatives are to stand by the Fyffes tie-up or hold out for a sweetened offer. Much now hangs on September's vote.