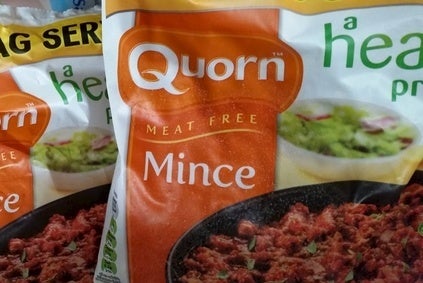 Rumours that private equity-owned Quorn Foods could have piqued the interest of the US's WhiteWave Foods caused a stir this week. Neither company was prepared to comment and it may be Quorn's owner Exponent Private Equity has yet to kick off an auction process but, nonetheless, the speculation highlights the potential the meat-free sector could afford branded food manufacturers. Katy Askew examines Quorn's appeal and who could be tempted by this tasty takeover target.
While it remains a niche category, demand for meat-free proteins is nevertheless on the rise. According to research from Visiongain, the global meat-free market is expected to hit US$3.86bn in value this year.
Karina Sventitskayte, analyst at Visiongain, observes: "We expect the meat alternatives market to grow significantly by 2025 and to represent a large market for already existing players and those entering the market."
Significantly, the sector is expanding in otherwise largely stagnant developed markets.
Growth has been supported by the convergence of a number of consumer trends. Both push and pull factors are at play: growing awareness of the negative consequences of eating too much meat is prompting consumers to find alternatives, while NPD and growing interest in protein in general is on the rise.
In environmental terms, livestock production requires large areas of land and leads to high nitrogen and greenhouse gas emission levels. "The livestock sector is a major stressor on many ecosystems and on the planet as a whole. Globally it is one of the largest sources of greenhouse gasses and one of the leading causal factors in the loss of biodiversity," the UN's Food and Agriculture Organization says.
The impact high meat consumption – particularly red meat – has on individual health is a more contested area. However, according to the UK's Department of Health high read meat consumption is associated with an elevated risk of bowel cancer and the regulator advises people to limit consumption to less than 70g per day.
"Health perception plays a large role in use of meat alternatives. One third of consumers indicate using products in the category because they are healthy, higher than any other reason," Mintel analyst Beth Bloom observes.
After decades of rising meat consumption in markets like the US, the tide now appears to be reversing as people start to eat less meat. At an average of around 120 kgs of meat eaten per person per year, US consumers eat more meat than anywhere in the world. However, data from the US Department of Agriculture suggests that this level has been in gradual decline over the ten years.
While people are starting to eat less animal protein, consumers are nevertheless trying to get more protein in general into their diets. As an ingredient, protein has broadened its appeal and consumers are now keenly cognisant of the benefits of protein including satiety and muscle development.
As a consequence, the global market for plant-based protein ingredients is particularly dynamic and NPD in the meat-free field is on the rise. Mintel research reveals that innovation in the sector is also increasing. In 2013 12% of global food and drink products launched carried a vegetarian claim, up from 6% in 2009.
Companies operating in the meat-free sector have benefited from these trends, and Exponent Private Equity-owned Quorn Foods can be counted among those.
During 2013, the most recent year that data is publicly available for, Quorn posted a 7% rise in sales to GBP140.9m (US$229.8m).
Higher marketing spend and distribution gains boosted the UK-based firm's domestic business. Internationally the company reported "good growth" in Australia, the Nordics and mainland Europe, although the group's fledgling US business did come under pressure amid increased competition.
For the 12 months, operating profit increased to GBP11.3m, up 4.6%, while higher financial costs meant the group racked up a net loss of GBP15.4m. More up-to-date figures for 2014 are not currently available and Quorn's current levels of profitability are unknown, although the business's turnover is reported to have hit GBP150m last year.
Exponent has owned Quorn since 2010, when the private-equity firm purchased the business from the then debt-laden Premier Foods plc. The nature of the private-equity industry, with an investment life cycle that typically spans four to six years, would suggest Exponent could well be gearing up to unload the business. If this weekend's report from Sky News is anything to go by, Alpro owner WhiteWave Foods could be an interested suitor.
The US-based organic and natural foods specialist, which was spun off from Dean Foods, declined to comment when contacted by just-food. However, it seems fair to suggest Quorn could be a natural fit for the group.
WhiteWave is already a strong player in the free-from sector thanks to brands such as lactose-free dairy drink Alpro. As far back as 2013, WhiteWave management was touting its "fantastic" balance sheet as being supportive of future M&A. But the company has only completed one tuck-in acquisition in the sector – the agreement to acquire Delicious Dairy Free in a US$195m deal last year. Perhaps Quorn has been identified as the firm's next takeover target.
According to Athos Research analyst Jonathan Feeney, a significant upside of the any deal for WhiteWave could be the acquisition of not just the Quorn brand – which is strong in European markets. The company would also be gaining technology that is transferable to its domestic US market, where Quorn brand recognition is weak. WhiteWave could be acquiring techniques and technology that would enable it to manufacture quality meat-free alternatives. This, Feeney says, is the underlying rationale behind the acquisition of US meat-free group Gardein by Pinnacle Foods last year.
"I thought the Pinnacle acquisition of Gardein made a ton of sense from a technological standpoint. There is a wide variety of capabilities in meat substitutes and if one is found that works in a product area, a bigger company like Pinnacle or WhiteWave can generally leverage it in several product areas – so I think that's smart," Feeney tells just-food.
Another suitor tipped for Quorn is Hain Celestial. The highly acquisitive natural food specialist has made a number of acquisitions in the UK including Ella's Kitchen and New Covent Garden Soup Co. However, while a further acquisition to boost Hain's presence in the UK and Europe would fit Hain's MO, the company would not necessarily be gaining R&D expertise that it does not already hold. Hain does, after all, already control pioneering meat-free brand Linda McCartney.
Elsewhere, Nestle has been tipped as a possible buyer. However, a company with Nestle's research might is more than capable of developing its own meat-free products. At a time when Nestle is pruning under-performing parts of its portfolio, would the Quorn brand alone be enough to tempt the world's largest food maker?