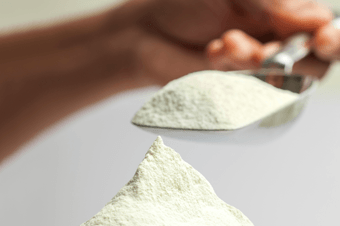 E-commerce has rapidly emerged as a key battleground for multinational infant formula manufacturers in China. In a category that has come under recent pressure, changing consumer patterns and a shift in the way people shop in the country has resulted in the mass migration of Chinese infant formula purchases to online channels. Katy Askew looks at how this fast-paced sector is developing.
Online packaged food sales in China have exploded over the past three years. Sales of grocery items have risen from US$2.83bn in 2012 to $7.26bn in 2014, equating to an average increase nearing 80% per annum, research from Euromonitor International suggests.
Infant formula, in particular, represents a significant category in the growing world of Chinese grocery e-commerce. Research from digital insight specialists Dunnhumby found baby food is the leading product for new online shoppers.
Julian Highley, global director of customer knowledge at Dunnhumby, says the channel is particularly appealing to new parents due to the convenience it offers and stresses that the growth prospects in areas that draw new shoppers to e-commerce are bright. "Baby food and care products not only appear in the top three categories, but these are clearly important gateway products for new online shoppers," he observes.
Demand for infant formula online is growing ahead of the wider category in China, which – after years of strong growth – is now coming up against some significant challenges.
Kantar Worldpanel reported China's baby products market reached CNY34bn (US$5.43bn) in the top 27 cities in China in the 12 months up to 8 August. However, Kantar says the market is slowing. "The total baby market experienced noticeable slowdown, only growing at 2.6% in value compared to 10.8% in the previous year," the researchers note.
Kantar says infant formula pricing came under pressure in the period. Prices started to drop after the Chinese government handed out the largest antitrust fines in the country's history in August 2013 in relation to price-fixing charges against a number of leading international brands.
A further blow to the sector came in the form of Fonterra's botulism scare in the summer of 2013. "The worldwide recall shook the confidence of many Chinese consumers as some well-known brands were affected," Kantar notes.
Nevertheless, the market fundamentals for infant formula in China remain appealing. With a high birth rate – around 16m births annually – a growing middle class and consumer interest in premium products, the Chinese market will be an important force for those seeking to grow in the baby food space.
In the context of a wider category slowdown, new channels including e-commerce have become an area of focus for baby food majors including Mead Johnson, Danone and Nestle.
Of the three infant formula giants, Danone was hardest hit by the Fonterra scare because it was forced to issue a consumer-facing recall of its Dumex brand. While it transpired the scare was a false alarm, Danone's sales in markets including China plummeted.
In its most recent trading update, Danone said its revenue has now returned to pre-recall levels. Pierre-André Térisse, Danone's CFO, explained: "We are back to the level of the pre-Fonterra crisis on the Asian level… It has not been achieved exactly through the same brands we had at the beginning, and namely Dumex has not been accelerating as much as we expected."
In order to regain ground in China, Danone has used international brands, with an initial drive behind ultra-premium brand Nutrilon China, Térisse revealed on a conference call. He also stressed the importance of the online channel to Danone's recovery in the market.
"The second leg has been, of course, taking advantage of online [sales]. The development on the online channel has boosted finance of our European brands. And you will see that this shows in terms of the way you can read the performance in Europe and in the ALMA region, both in terms of top line and margin," he said.
In particular, Danone has seen a jump in online sales of its European-made infant formula in China. This is because of the widely-held perception in China that infant formula produced in Europe is safer than product made in China.
While Danone and other infant formula makers have confirmed the general trend, detail on the scale of sales from Europe have remained thin on the ground. One indication of the widespread nature of this practice came in the results of Netherlands-based postal group PostNL, which attributed a 10% increase in full-year international revenue in part to "a strong increase in our international volumes, especially milk powder to China".
In order to capitalise on this, Mead Johnson recently announced it is expanding its production capacity in the Netherlands and the US. "We are expanding capacity at our plant in the Netherlands. We are also adding capacity in our US facilities as we begin to see the e-commerce channel between the US and China open up as well," CEO Kasper Jakobsen said in an investor presentation last month. "We've… seen that the consumer has increasingly migrated to imported product and away from locally-produced products."
Jakobsen also commented on the rapid development of the e-commerce sector and its growing importance to infant formula manufacturers. "The marketplace has changed very fast in the last couple of years, particularly the proliferation of new sales channels. It's a very important trend. Most dramatic has been the emergence of e-commerce within China but even within e-commerce there are changes taking place. It is increasingly becoming about business-to-consumer as opposed to consumer-to-consumer and we believe that trend will continue for the years to come," he told the Consumer Analyst Group of New York investment conference in Florida.
Last year, Mead Johnson opened an e-store on Tmall, the Alibaba-hosted online site and has seen a "tremendous explosion" following the launch of a branded "destination" on instant messaging service WeChat, Jakobsen said. These efforts saw a 5% increase in underlying sales in China and Hong Kong during 2014 despite the market slowdown.
Likewise, Nestle has reacted to the sector slowdown and changing consumer habits by launching its own B2C platform.
"Due to fast development on e-commerce and consumer's changing behaviour, online sales is an important growth driver for Nestle in the market," a spokesperson for the world's largest food maker told just-food. "E-commerce is an important model for Nestle to better serve our consumers and have more close engagement with them online. We have established a flagship shop at Tmall."
Engaging with consumers online is likely to become increasingly important for infant formula makers as they vie to stand out in the online space. As Dunnhumby's Highley tells just-food, the new route-to-purchase offered through e-commerce can present companies with an opportunity to engage with consumers on an emotional level.
"A lot of the online platforms tend to be functional," Highley notes. "Particularly in the area of baby food and care you have a natural market that is hungry for information. If you think about new parents, which we have seen are very much looking to online because of the convenience factor, they are also a group of people who are very hungry for information about childcare. Providing an information platform around their products, but in an engaging way, coupled with e-commerce is a way to stand out versus the much more functional retail offerings that there are."
This kind of platform should not be viewed as 'soft' marketing but should lead to direct purchase opportunities, Highley continues. "It is not necessarily creating a proposition on your brand's website and hoping that will translate to brand awareness. Make that link far more direct. You don't necessarily need to have a direct distribution channel to direct people on your website to your products online. You can do a very strong job of giving people the information they are looking for, creating a website that is a destination and also making sure that directly links to sites where products are stocked online."
Chinese consumers have rapidly migrated online and infant formula makers have adapted their strategies accordingly. However, the fast-paced shift in consumer habits means that food companies must step up their e-commerce efforts by thinking about digital strategy in a holistic manner if they are to get ahead of the curve.