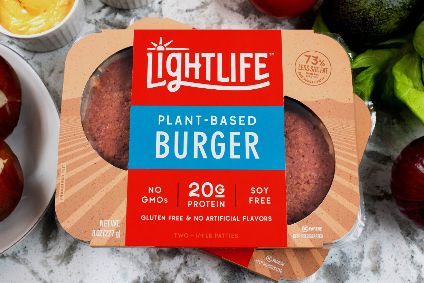 Questions about the processing behind plant-based alternatives to meat and dairy are growing. Is the criticism justified or is the buoyant industry being unfairly targeted? David Burrows reports.
This time last year, McKinsey published an interview with David Lee, chief financial officer at Impossible Foods. In it he was asked about criticisms that the firm's plant-based burgers are 'unhealthful'. Detractors of Impossible's products, as well as those of others in the growing plant-based meat and dairy alternatives sector, had started to swell in number.
Stories in the media began to take a negative turn – from the salt content of those burgers to the use of genetically modified (GM) soya. Academics had begun publishing papers calling out plant-based meat alternatives (PBMAs).
"… it will be important to remain vigilant to ensure that these new products are beneficial to human health as well as the health of the planet," wrote Frank Hu, professor of nutrition and epidemiology at Harvard TH Chan school of public health, in an opinion paper for the American Medical Association in October 2019. "… there is no evidence that [PBMAs] can substitute for healthy diets focused on minimally processed plant foods."
For the likes of Impossible's Lee there was a simple, stock response. "The Impossible burger was never designed to compete with the health benefits of, say, a piece of broccoli," he told McKinsey. "It was designed to compete in the $1.7trn global meat and dairy market in which meat eaters want to eat meat not just every week but at every meal." Switch to Impossible's products and they "forgo cholesterol" and consume fewer calories, without compromising on taste.
The criticism, however, has persisted – and has even started to emerge from within the category. In August, Lightlife, the meat-free brand owned by Maple Leaf Foods, announced a "clean break" from brands using "hyper-processed ingredients, GMOs, unnecessary additives and fillers, and fake blood".
This is an issue that isn't going away. Some feel Lightlife's left hook – focusing on the length of ingredients lists – carried no weight and cast all food processing in a bad light. Fewer ingredients doesn't mean a product's healthier and better, says Eugene Wang, CEO at Sophie's Bionutrients, which is working on a food grade protein from microalgae in Singapore. "And if you really find a 100% healthy plant-based burger, chances are you won't like the taste and texture of it."
"Consumers will see the next stage of plant-based is weeding out the junky brands"
Others welcome the scrutiny and the spotlight. "Consumers are not stupid," says Gem Misa, CEO at Fullgreen, which produces low-carb veg-based alternatives for UK and US retailers including Sainsbury's and Kroger. "Eventually they will see the next stage of plant-based is weeding out the junky brands."
There is an argument this could be the perfect time for brands to play the health card – if they can. Grocery sales of plant-based foods that directly replace animal products have grown 29% in the past two years to $5bn, according to The Good Food Institute (GFI).
Covid-19 is widely expected to accelerate growth further. In April, 59% of UK consumers said they had become more conscious about their health and wellbeing; by July it was 64%, according to FMCG Gurus. A One Poll survey of 28,000 people in 30 countries showed almost half (47%) of Americans have started eating more plant-based food during the pandemic.
Even in frontier markets for plant-based alternatives, there are signs demand is there. Ipsos research showed three in ten consumers in India want to try products that contain plant proteins.
Taste is king
However, while ethics, health and environmental concerns have brought meat-eating customers to the plant-based category, what's kept them there is taste. "It's the moment of truth," says Takoua Debeche, SVP research and innovation at Danone North America. "You can never compromise on taste."
GFI India managing director Varun Deshpande told just-food recently: "You cannot rely on a health or sustainability halo for someone who isn't thinking in those terms."
GFI and Mindlab International, a research company based out of the University of Sussex that specialises in testing of implicit, non-conscious decision-making, surveyed more than 2,500 US consumers and found health and nutrition was among the "influential attributes" when deciding whether to buy a plant-based product but "positively correlated only weakly with purchase intent". Taste was top and "should be prioritised above all else", the researchers concluded.
"Our focus is on taste and texture first"
New shoppers are the biggest driver of category growth and they are much more likely to start with meat mimics before they consider vegetable-based equivalents or unrelated formats. Turning someone from beef steaks to broccoli won't happen overnight. It's what Simon Day, marketing manager at UK chilled food supplier Winterbotham Darby, calls meat-free progression. "We are not pushing the [health] agenda," he says of the firm's brand Squeaky Bean, which includes chicken-style pieces. "Our focus is on taste and texture first. We want to bust the myths that these products are all chickpeas and terrible."
Version 1.0 of plant-based products was dull and lacking in any brand bling, catering solely for the small numbers of dedicated vegans and vegetarians. Version 2.0 blew the category wide open, with burgers that 'bleed' and 'dirty vegan' products. Meat eaters were now the target.
As the sales figures show, it's working. However, the trade-off has "to a large degree" been health, says Melissa Abbott, director of culinary insights at Seattle-based market research firm The Hartman Group.
Is the honeymoon over? Plant-based brands need to prepare for more questions about both the nutritional profile of their products, as well as impacts on biodiversity and the environment. Niccolò Manzoni, founding partner at Five Seasons ventures, which has invested in a number of plant-based brands, sees a new generation of products that have clean labels, fewer ingredients and greater supply chain transparency. Plant-based 3.0, if you will. "Someone will set the standard for that and others will follow," he explains. Demand will polarise to those with these "better" products.
Could there be a clear-out of brands and ingredients? Lightlife appears to be pushing for one – why else would it have called out its competitors? Greenleaf president Dan Curtin says research among 11,000 consumers in the US and Canada highlights the need for fewer and more recognisable ingredients. Its burgers were stripped back from "17 or 18" components to 11. Sodium and saturated fat contents both fell. "We're not done," he says.
By the end of the year, Lightlife's entire range will have fewer ingredients. This is what consumers are looking for "loud and clear", Curtin says. "Other guys are doing the meat mimicking and the 'bleeding' [but] consumers told us that isn't what [they're] looking for."
Others have already started marketing their brands on the basis of cleaner labels. Spain-based manufacturer Heura launched into the UK last month touting its short ingredients list – its plant-based chicken has seven ingredients (soya, water, olive oil, salt, spices, aromas and vitamin B12) compared to a global average of 8.43. Its burger has 40% fewer ingredients than the market average, the company claims.
"We don't do that to say others are doing wrong," Heura CEO Marc Coloma says, "[it's] to push the category and bring more consumers in." Hartman research shows 19% of US consumers think plant-based products are highly processed and 13% are confused about what they're made of. UK consumers are also beginning to voice concerns. The category has "focused a lot on replicating the meat experience [and] also replicated some of the problems [with meat]," Coloma says.
The focus for Heura has been saturated fats, with a new analogue created using extra virgin olive oil. This is the product being tested on the UK – the most mature market for plant-based foods. Heura's 'chicken' has 3g of fat per 100g, against a global average of 5.34, according to figures supplied by the company. The beefburger has 6.5g of fat and 1g of saturated fat, against averages of 13.7g and 6.65g across its competitors. A 'real' beefburger at Tesco weighs in at 26.7g and 11.6g of fat and saturates respectively, though the salt content is slightly lower (1.2g versus 1.3g). The ingredients list also stretches well into double figures. "We are trying to create products you could eat every day," Coloma says, echoing that interview with Impossible's Lee.
What do consumers think?
Can a plant-based burger a day keep the doctor away? There is very little research to prove that, but a study published in August in the American Journal of Clinical Nutrition showed that eating a Beyond burger instead of a beef one "improved several cardiovascular disease risk factors". As the diversity of products increases and popularity blossoms, further research into the health of these products will follow. But do consumers yet care?
For those just entering the plant-based category the images of vegetables and whole grains put together by well-meaning people persist, according to Hartman's Abbott. For those more engaged in health and wellness, plant-based is recognised as no guarantee of a healthy product, she says. In fact, the halo of plant symbolism is in danger of being "washed out". It could well suffer a similar fate to the word 'natural'. "The novelty factor of just being plant-based doesn't feel economically sustainable," says Ruairí Ó Dochartaigh, financial advisory director at Deloitte.
Last year, Ó Dochartaigh co-authored a report on M&A in the plant-based sector, which described the category's growth "spiral". But there was also warning – of "growing awareness" in issues such as the high salt contents and the use of GM. "Negative media coverage could potentially have an impact on the future growth of certain products," the consultants wrote.
Some manufacturers are mindful of their ingredients. Winterbotham Darby opted not to use titanium dioxide – an additive that would have further whitened the 'chicken' slices – in its chicken-style pieces. The ingredient is authorised at EU level but France has decided to ban it.
Danone, meanwhile, says it applies a "kitchen cupboard test" to ingredients. Debeche and her colleagues are working on a plant-based cheese – "a huge opportunity" – in a bid to improve the texture. This isn't easy without casein – the protein that makes brie smooth and mozzarella melt. The investment in time and resources that goes into products that mimic meat is considerable but it there is another cost.
To match the taste, texture and appearance of animal products, manufacturers have used ingredients that sound unfamiliar to most consumers to fulfil a need or function, explains Verena Wiederkehr, head of food industry and retail at ProVeg International, an NGO based in Berlin. "Consumers might assume that some of [these] make the products less healthy."
One focus is methyl cellulose, a common binding or thickening agent. "It's the holy grail at the moment", says Wiederkehr. "There's nothing bad about it – it's just an ingredient that sounds unfamiliar. Plus it's not available in organic." Potato protein is one option but that prohibitively expensive.
"Conventional meat labels don't list all the inputs that went into the cow"
Long ingredients lists don't mean products are unhealthy, but plant-based products have become an easy target, suggests Juliet Gellatley, founder of animal welfare campaign group Viva. "If you're concerned about health credentials and processed foods, you should be scrutinising meat and dairy products." Plant-based purveyors also point to the long list of chemicals and antibiotics used to rear livestock that are nowhere to be seen on labels. "Conventional meat labels don't list all the inputs that went into the cow," says Emma Ignaszewski, corporate engagement strategist at GFI.
There is a nagging doubt Lightlife's move will feed this gut reaction – that food processing is all bad and long ingredients lists are unhealthy. It's overly simplistic, but that will only help it gain traction. "This was a debate that needed to be had," Greenleaf's Curtin insists. Consumers shouldn't be underestimated though. "They know that plant-based can mean anything from an organic backyard tomato to highly-processed foods," says Hartman's Abbott. There is general consensus, she adds, that the more meat-like a product is, the more processing it's been through.
And, as well as removing ingredients, manufacturers are investing time and money to retain the nutrient content of the ones that are left. Indeed, criticism of plant-based foods doesn't stop at calories or salt content: processing can lead to the loss of some nutrients and phytochemicals naturally present in plant foods.
At Danone, crop selection and production are critical, insists Debeche, while work is ongoing to ensure extraction of any ingredients "keeps the natural goodness". What does she think about the additional scrutiny and the notion plant-based foods are overly processed? "When people cook at home they are processing their food," she says, "and what we do on an industrial level is exactly the same. This whole question of 'processed' needs to be clarified for consumers."
Whether Lightlife picked a fair fight or not, deeper probing of plant-based products is underway. As Deloitte's Ó Dochartaigh suggests, packaged food companies are used to it. "Health and nutrition claims are as old as the industry," he explains, "and debates about them are just as old."