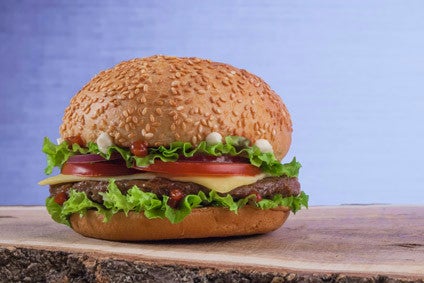 Laboratory-grown meat has moved from a distant sci-fi concept to a realistic idea that could be commercialised and mainstream in just a few years, according to industry experts. However, whether in-vitro meat is an answer to some of the issues around food security and sustainability facing the food sector – or whether it will gain consumer acceptance – remain up for debate. Mandy Kovacs and Barbara Barkhausen investigate.
Lab-grown meat could be on sale within a decade. That's the prediction of the academic who created the first lab-grown hamburger patty.
"We aim to commercialise in four to five years, and it will become mainstream in the two to three years after that," Professor Mark Post, professor and chair of physiology at Maastricht University, in the Netherlands, tells just-food.
Prof. Post created the first lab-grown patty in 2013 by using muscle stem cells from a cow to grow muscle tissue, making what looked and felt like a traditional burger. At the time, the burger cost more than US$300,000 and lacked flavour, but Prof. Post explained that based on the expected up-scaling of production in the next few years, the calculated price of producing an edible burger could fall to around US$11.
Prof. Post envisions lab-grown meat as a large-scale mass produced product that can act as "a solution to the food security threat and environmental burden imposed by livestock beef." Any type of meat, including that from mammals, birds and fish, can be grown in vitro, said the academic. However, he said that, for commercial purposes, beef is probably the best target.
The market for meat alternatives is growing, albeit from a low base. Richard Brown, director of the France-based food-focused Gira Consultancy and Research, said the global market for meat alternatives, which includes everything from lab-grown meat to soy and vegetable-based proteins, is only about half of 1% of the overall meat market. But, according to Brown's research, the alternative meat market is growing at around 7-8% per annum, adding while those numbers look tiny, the market "is growing substantially", thanks to high-profile investments by people such as Microsoft's Bill Gates, who, along with several other investors, invested over US$108m in Impossible Foods in 2015, a US-based food company looking to make meat products with plant proteins.
For the lab-grown meat industry to expand, Brown says the sector needs to ensure its products are cheaper, more ethical and as healthy or healthier than traditional meats, and they need to be advocated by leading high-profile experts, regarded as trustworthy by consumers.
Brown sees this innovation having particular relevance in the processed meats sector with products such as hot dogs and frankfurters, which could substitute meat proteins with lab-grown proteins – if cheaper – into their products.
Could the rise in lab-grown meat be bad news for the traditional meat and livestock industry? Prof. Post says when the product becomes commercially viable, radical changes could destroy a lot of jobs. Professor Keith Belk, professor of meat safety and quality in the department of animal sciences at the US's Colorado State University, and holder of the Ken & Myra Monfort endowed chair, agrees lab meat could harm livestock and traditional meat production and processing. That said, he remains slightly sceptical that commercialised lab-grown meat is the future of meat production, questioning how consumers would react.
"I am sceptical not because I question the ability to produce protein in this fashion, but because I believe that it will be a difficult sell to consumers. Consider the number of consumers that are more concerned with local and sustainable production today, the growing demand for organic and natural production practices, the fear of [genetically modified organisms], and all other trends in our modern society," he explained. "Are people that are continually more concerned with method of production also likely to purchase cultured meat products?"
One of the pioneers of developing in-vitro meat Prof. Oron Catts, who heads the world-renowned biological laboratory SymbioticA at the University of Western Australia, thinks lab meat is more likely to become a luxury product. Working at the US's Harvard University, Prof. Catts helped create the very first in vitro meat in the year 2000. Three years later, he tasted the lab-grown food source for the first time for an exhibition in France.
Dismissing some arguments lab-meat could help solve food shortages, he says: "I personally don't see it as a solution but as a symptom of our consumer society." Contradicting some supporters of in vitro meat, Prof. Catts does not agree the product would be more ethical compared to "real meat".
"In order to grow cells and tissues from any organism outside of the body of an animal it requires foetal calf serum which is the blood plasma of an unborn cow," Prof. Catts says. He points out scientists from all over the world have tried to find an alternative and claims that many people who have a commercial interest in in vitro meat often play down such issues. "Science is not magic. The lab is no black box. Usually the way it is portrayed in the media is you start with a stem cell and you finish with a steak. But the process requires huge amounts of resources."
However, Prof. Catts remains fascinated by the potential of the new product, which he views as a novelty protein and a "great technologically excessive luxury product". He adds: "You can grow it and process it in different ways."
Theoretically in vitro meat could be offered in the supermarket any time soon, Prof. Catts argues, as no additional health regulation would be needed given, he says, most of the substances involved are approved for human consumption already. But Prof. Catts is against large-scale production, which could raise scepticism from consumers similar to genetically-modified food. His approach would be more to market to a specific demographic and trickle down.
"The rich and famous would eat it," he says, arguing that could then attract other consumers. However, he does not want to see in vitro meat as a standard steak or hamburger but rather as a refined, artisan product. "I would like to see a chef who is willing to work with it and play around with it and sell those dishes for a ridiculous amount of money."
—
Today (31 March) is the final day of our membership offer, through which you can get 15 months of access to just-food.com for the price of 12 – and, along with giving you three months for free, you will also receive two exclusive research reports. Full details can be found here.