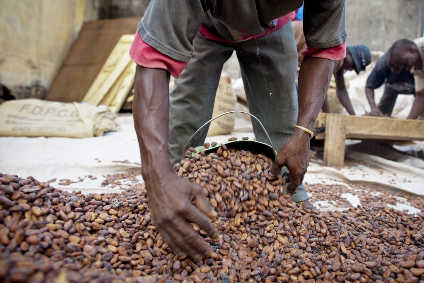 As Fairtrade Fortnight gets underway in the UK, Ben Cooper examines ten attributes of the Fairtrade system that define what it offers to farmers, food companies and consumers.
A development organisation supporting farmers
The concept of 'fair trade' has been around for over 40 years but a formal labelling scheme was not launched until the late 1980s. However, with global sales in 2014 of EUR5.9bn (US$6.43bn), Fairtrade is now unquestionably big business. The mark appears on many mainstream brands and is there in no small part because, in today's market, companies know it boosts the consumer appeal of the products and enhances their reputation.
However, the reason the Fairtrade movement came into existence was to provide farmers with a fair price for their crops. In that sense, while Fairtrade has always had an extremely open view to working with major international corporations and its preparedness to do so has been the key factor in its growth, the body regards itself primarily as a development organisation, providing support to agricultural communities primarily by facilitating trade.
A fair price and community investment
The Fairtrade model is based on the application of both a Fairtrade Minimum Price and a Fairtrade Premium, which is an additional sum used for community investment. There is flexibility to vary the precise model for different commodities. For example, there is no minimum price for Fairtrade sugar, only a Fairtrade premium.
The minimum price is pitched at a level the Fairtrade Standards and Pricing Unit believes ensures farmers can cover average costs of sustainable production. When the market price is higher than the Fairtrade Minimum Price, the buyer must pay the higher price. The system allows for farmers to negotiate above-minimum prices with buyers.
The Fairtrade Premium is designed to foster longer term and collective investment on the part of farmers and farming communities. How the Fairtrade Premium is spent is decided democratically by farmers' organisations or workers' committees on plantations, and is typically used to fund education and healthcare projects or initiatives to improve yields or quality.
Development through trade and partnership
So, Fairtrade is primarily about seeking a fair deal for farmers but the "trade" element is also significant in determining its priorities and how it works. While representing farmers' interests, the Fairtrade movement has placed emphasis on partnering with major companies and making the system adaptive and flexible so that major brands can benefit from Fairtrade, and farmers can benefit from those sales.
Perhaps the defining example of this is the mass balance system, which allows a product to be labelled as Fairtrade provided the manufacturer has purchased the requisite amount of a commodity to cover the volume used but without having to ensure the product itself is produced solely using Fairtrade sources.
More recently, the organisation launched Fairtrade Sourcing Programs which provide a commodity-based purchasing approach to cocoa, sugar and cotton, running in parallel with the primary Fairtrade system. Cocoa sales grew by 24% in 2014, the year the new system was launched, with the Fairtrade Sourcing Programs driving nearly 50% of the increase in volume terms, according to Fairtrade International figures.
Fairtrade's raison d'etre to support farmers is reflected in its governance. Fairtrade International groups together the Fairtrade organisations in consumer countries and has responsibility for setting Fairtrade standards and operating global certification and auditing processes. Since 2013, Fairtrade producer networks have held a 50% share of the voting rights of Fairtrade International's general assembly. As Fairtrade has moved increasingly mainstream, this ownership structure has undoubtedly helped to preserve its credibility.
Growth and scale
On the back of partnership with big business, Fairtrade has grown enormously. Global sales rose by 10% in 2014 to EUR5.9bn, according to figures from Fairtrade International. Among fast growing markets were Sweden and Germany, where sales were up by 37% and 27% respectively, and Canada and Hong Kong where sales grew by 40% and 42% respectively.
On the producer side, according to Fairtrade International, Fairtrade now reaches some 1.65m smallholder farmers and workers across 74 countries.
As it begins Fairtrade Fortnight, the Fairtrade Foundation in the UK has just reported that the country'sFairtrade sales fell slightly in 2015, from GBP1.7bn (US$2.4bn) to GBP1.6bn. The fall, which also followed a dip in 2014, was attributed largely to a 36% decline volumes of Fairtrade sugar. With sugar excluded, sales were up by around 4% in volume, with retail values showing around 1% growth. The problems facing sugar farmers that precipitated the decline in the UK arguably underline the continued need for organisations such as Fairtrade.
An established player and recognised name
The slowing growth in the UK, the world's largest Fairtrade destination, also underlines that the Fairtrade market is maturing. Furthermore, while Fairtrade is one of the most established ethical certification marks in existence and the largest, there is more competition in the market today, with both UTZ and Rainforest Alliance growing strongly.
In 2013, Fairtrade International commissioned research to assess consumer recognition of the Fairtrade label across 17 countries in which it was present. Across all the countries, six out of ten consumers said they had seen the Fairtrade mark, confirming Fairtrade's position as the most recognised ethical certification mark. Fair Trade USA has just published research, conducted by the National Marketing Institute (NMI), showing that 59% of US consumers recognise the Fair Trade Certified label, up from 55% in 2013.
That the Fairtrade organisation is now a large, international entity in its own right with substantial resources and administrative capacity is significant and advantageous, both for farmers and for corporations working with Fairtrade. While it boosts the movement's capacity to represent farming communities and organisations effectively, it allows the organisation to provide major corporations with the administrative support that they would need and expect.
The experience and expertise Fairtrade organisations have acquired means their representatives are often seen at conferences addressing issues around sustainable agriculture. This is not only good for the global profile of Fairtrade but is also valuable in terms of outreach to the business community and other stakeholders. Fairtrade representatives generally espouse a collaborative approach to tackling development issues, based on multi-stakeholder partnership.
International coverage
Fairtrade International now groups together some 34 national entities: 25 National Fairtrade Organizations and nine Fairtrade Marketing Organizations.
Last year saw the addition of three further Fairtrade marketing organisations. Fairtrade Brazil is the first organisation to be set up in South America, while the new organisations in Taiwan and the Philippines reflect the growth of Fairtrade products in the Asia Pacific region. Fairtrade organisations are already in place in South Korea, Hong Kong and Japan. In 2013, a Fairtrade organisation was opened in India and there are two national organisations in Africa.
The growing international scope of Fairtrade and the availability of Fairtrade-certified goods in emerging markets underlines the Fairtrade movement no longer sees itself simply as an organisation representing developing-world farmers selling into developed countries but also recognises the role south-south trade must play in establishing a sustainable future for farmers.
Multiple categories but no palm oil
As the largest sustainable certification, Fairtrade certifies more product categories than any other. In 2014, Fairtrade International listed some eighteen commodities licensed within the Fairtrade system, with bananas, cocoa, coffee, sugar and tea among the largest food and drink categories.
Given that the Fairtrade movement has focused on agricultural commodities with particular sustainability challenges it is interesting to note that it has yet not created a Fairtrade standard for palm oil, although Fairtrade pioneer Traidcraft has launched its own Fairtrade palm oil called FairPalm. Fairtrade certification rules require that for a processed food product to be certified all its ingredients for which a Fairtrade standard exists must be Fairtrade.
Over the years, Fairtrade has sought to grow by expanding into new commodities. Broadening its coverage has allowed it to reach more farmers and has brought other advantages, for example in fostering best practice and the cross-fertilisation of ideas and innovation from one commodity to another.
However, under its new five-year strategy, Changing Trade, Changing Lives 2016-2020, Fairtrade will prioritise the development of coffee, cocoa and bananas. These commodities have been chosen because they are significant in volume terms, are present in all Fairtrade's producing regions and are staple products in all Fairtrade markets.
The Fairtrade system, however, allows for some adaptation and tailoring of the global strategy to suit national requirements. For example, in the UK, where the strategy is to be launched later this month, the focus will be on those three staple commodities along with flowers and tea, which are particularly significant products for the UK Fairtrade sector.
Helping farmers cope with climate change
Environmental criteria have always featured in Fairtrade standards but as climate change becomes an ever more pressing concern, the need for certification systems like Fairtrade to help smallholders cope with the impact of climate change specifically has grown.
Last December, Fairtrade International launched Fairtrade Carbon Credits with the aim of helping agricultural communities in developing countries reduce emissions while also strengthening themselves against the effects of climate change. The credits are regulated through the Fairtrade Climate Standard and have been developed in partnership with the Gold Standard, an organisation specialising in climate security and sustainable development. In 2014, Fairtrade trained some 14,000 farmers in climate change adaptation, according to Fairtrade International's 2014-2015 annual report.
A vision in harmony with global goals
The Fairtrade Carbon Credits were launched during the COP 21 conference and the Fairtrade movement's five-year strategy incorporates other elements which it believes underpin and support global sustainability efforts. In its new strategy, Fairtrade International claims Fairtrade can make a "specific contribution" to eight of the UN's Sustainable Development Goals.
These are:
Goal 2: End hunger, achieve food security and improved nutrition and promote sustainable agriculture;
Goal 5: Achieve gender equality and empower all women and girls;
Goal 8: Promote sustained, inclusive and sustainable economic growth, full and productive employment and decent work for all;
Goal 10: Reduce inequality within and between countries;
Goal 12: Ensure sustainable consumption and production patterns;
Goal 13: Take urgent action to combat climate change and its impacts;
Goal 16: Promote peaceful and inclusive societies for sustainable development, provide access to justice for all and build effective, accountable and inclusive institutions at all levels; and
Goal 17: Strengthen the means of implementation and revitalise the global partnership for sustainable development.
Going beyond certification
The degree to which Fairtrade can contribute to addressing these issues will naturally depend on many factors and perhaps providence, too. Sound judgment and making the most of the experience the organisation has built over many years and across different commodities will be vital. As shown with the Fairtrade Sourcing Programs and Carbon Credits, the organisation has been prepared to innovate and a continued readiness to adapt will also be important.
While Fairtrade is by definition an organisation focused on product certification, there is a general acceptance that certification can only be part of the solution to the sustainability problems facing global agriculture. Fairtrade's success underlines how effective certification has been in engaging consumers and brands alike but the organisation sees itself as far more than just a certifier of sustainable products. Fairtrade's education and training programmes aim to help producers themselves in tackling issues such as climate change, gender inequality and child labour, while through its very market presence and public profile Fairtrade still functions as an effective campaigner for change.
Fairtrade's broader vision of its role is reflected in the five-year strategy to 2020. Among the strategy's five overarching goals, Fairtrade aims to deepen its impact through services and programmes, build Fairtrade markets and influence government policies.
Finally, it could be said the vital component in Fairtrade maximising its contribution to the UN Sustainable Development Goals will be a continued and ever strengthening relationship with major companies. While the movement has sometimes been viewed sceptically by some activists and campaigners for what they see as an overly cosy relationship with big business, it is Fairtrade's preparedness to partner with major food companies which has allowed it to grow in a fashion which its early pioneers would not have dreamt possible.