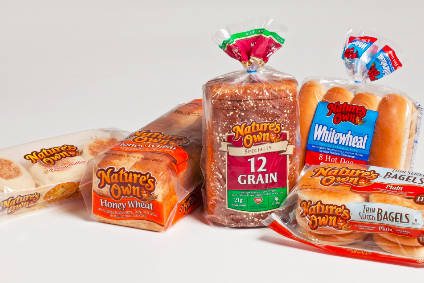 Flowers Foods' share price fell almost 20% yesterday (11 February) after the US bakery group booked fourth-quarter earnings that failed to hit analyst expectations. Sales softness and pending litigation prompted some to question whether the firm is overreaching. The real concern, however, is Flowers is pursuing a fundamentally flawed strategy. Katy Askew reports.
CEO Allen Shiver was the first to admit Flowers Foods' fourth-quarter performance was below par, with reported sales dropping 2.2% to US$858.4m in the three months.
Unveiling the group's results yesterday, the chief executive said: "We are not satisfied with our performance in the fourth quarter… While we continued to make significant progress on our strategic initiatives, our earnings in the fourth quarter were impacted by sales that were below plan. In line with channel data for the total store, the pace of Flowers' retail sales in the fourth quarter slowed relative to trends we observed in the first three quarters."
Lower sales had a negative impact on earnings at the group, Shiver revealed. "Due to the lower than anticipated sales, our earnings for the quarter were negatively impacted by approximately $0.03 per share. Additionally, certain costs originally planned for the first quarter of 2016 were incurred in the fourth quarter of 2015, impacting EPS by $0.01," he explained.
Adjusted EBITDA decreased 6.7% to $86.7m and adjusted net income decreased 20% to 16 cents per share, well below analyst expectations of 21 cents a share.
Unsurprisingly, Shiver was not alone in his disappointment. Flowers shares had plunged a massive 19.75% by close of play yesterday. The company faced downgrade after downgrade following its failure to hit fourth-quarter sales and profit expectations and – significantly – its weaker-than-hoped outlook for 2016.
The company forecast 2016 sales in the range of $3.99-4.08bn, representing growth of approximately 5.5% to 8%. Acquisitions are expected to account for 5.2% to 5.7% of this growth. Earnings per share are forecast to rise to $0.98 to $1.04, representing a year-on-year increase of 6.5-13%.
"We are of course disappointed by the Q4 print and forward guidance," BB&T Capital markets analyst Brett Hundley noted. "We had become decidedly more positive on fundamentals for Flowers, as we expected benefits from pricing, a more rational competitive set, commodity cost tailwinds, improving stales/efficiencies, and margin accretion from plant conversion related to organic bread expansion. In recent years, it seems something has always cropped up to derail positive momentum."
So what is going wrong?
The US bakery sector is notoriously cut-throat when it comes to pricing. However, it has undergone a recent process of consolidation that many analyst expected would lead to a more rational pricing environment. It would appear that, to date, this has failed to materialise.
As Deutsche Bank analyst Eric Katzman observed: "With more rational category pricing suddenly elusive, a key positive behind our thesis is logically under question. While we think category dynamics can improve long-term, it is unclear when this will occur."
Overall market dynamics can go some way to explaining pricing trends in the US bakery sector. In years gone by, Flowers' strategy of geographical expansion had it essentially moving into white space on the map, where it could out-compete smaller players with weaker margin structures due to lower volumes. But as Flowers has deepened its drive to expand market share and grow its regional footprint in the US – and the sector itself has consolidated – the group is increasingly pitting itself against a strong national competitor, Grupo Bimno.
In its most recent financial update, for the first nine months of 2015, Bimbo revealed it generated a 29.2% increase in North American sales thanks to foreign exchange and acquisitions. While the group noted pricing action in the period did result in "limited volume gains", it is nevertheless clear Bimbo will not give up market share easily. And, with only 50% of total sales generated in North America, the group performance is somewhat insulated from market pressures.
Typically, in scenarios of sector consolidation (as we are currently witnessing in US bakery), pricing becomes more rational. However, as Flowers butts heads with Bimbo, while some positive pricing movements have been seen, what is an intensely competitive environment puts a limit on just how much pricing either group can take. And that in turn serves to dampen Flowers' margin outlook.
The consumption outlook for US bakery also remains soft. According to data from IRI, for the year the category was up 1.1% in dollar terms and down 0.8% in volume terms. Speaking to analysts during a conference call, Shiver conceded: "Fresh packaged bread volume growth has been soft for several quarters while overall dollar growth has been positive."
In response, Flowers has used M&A to attempt to refocus its portfolio on brighter spots in the category. "To capitalise on the changing consumer, we added new growth opportunities through key acquisitions this year of Dave's Killer Bread and Alpine Valley Bread," Shiver explained. The group is also gearing up for the nationwide rollout of its now expanded organic business.
But this added complexity in itself could present problems, BB&T's Hundley suggested, pointing to an increase in pending litigation the company is facing. Flowers is being sued by truck drivers in more than 12 states who say they were improperly classified as independent contractors, in violation of the federal Fair Labor Standards Act.
"We think recent year acquisitions have added too much complexity to the system. As we've written previously, we think this is what has led to the proliferation of driver lawsuits as of late. We wonder if legal issues and business complexity are affecting management execution," Hundley pondered.
According to the analyst, now could be the moment to put the brakes on Flowers' pursuit of market share growth and instead take some time to reduce complexity from the business – a move that would in itself have positive implications for earnings.
Management would seem to rebuff this thesis. Shiver insisted "good progress" has been made on the integration of recent acquisitions. He claimed the organisational structure is in place to move Alpine and Dave's products into Flowers' broader distribution networks and pointed to progress in utilising additional capacity at Alpine as proof of the group's effectiveness.
In spite of the disappointment surrounding the fourth-quarter showing, Shiver sounded an optimistic note for the 2016 outlook. "We expect 2016 to be a year of strong growth for Flowers. Our brands are performing well relative to the category, which helps us grow share across our geographic reach. In addition, we are working to realize the growth potential from our recent acquisitions."