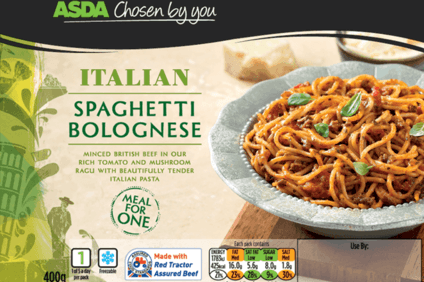 Chilled ready meals is big business in the UK and it's a business still in growth. But only just about. Last year's horsemeat contamination scandal hit sales of chilled ready meals in the UK and the industry is looking at how to reignite the category. Innovation in packaging and emphasising provenance are being held up as ways to re-boot the sector. Dean Best reports.
It is a category worth around GBP2.5bn a year in the UK and, on the face of it, set to continue to benefit from increasing consumer demand for convenience – but the chilled ready meal sector is dusting itself down after the latest blow to the business.
In recent years, concerns around salt content and thrifty consumers more interested in scratch cooking have had an impact on sales of chilled ready meals in the UK. But, in the last 12 months or so, the category has had to deal with another jolt – that of the horsemeat contamination scandal.
Ireland-based Greencore is one of the top three manufacturers of chilled food in the UK and a major player in ready meals, being the largest producer of own-label Italian meals in the market.
Back in November, London-listed Greencore, announcing its financial results for the year to 27 September, underlined the sharp slowdown seen in chilled ready meals.
"Following several years of near double digit growth, the chilled ready meals market experienced growth in fiscal year 2013 of just 1.4%," Greencore told investors. "The Italian ready meals market, our major sub-category, declined by 3.7%. This was predominantly driven by the impact of the horsemeat scandal, which affected the broader processed beef market from late January. Although all industry tests on chilled ready meals were negative for the presence of horsemeat, the chilled ready meals market, and in particular Italian ready meals, was negatively impacted in the second quarter – and remained in year on year decline in the second half."
In January, the first anniversary of news of horsemeat contamination in the UK supply chain, Kantar Worldpanel issued data it said showed sales of frozen ready meals were still in the doldrums – down 6% – to the benefit of chilled products.
Come the end of March, Greencore posted results for the first half of its new financial year and said the chilled ready meals category had grown year-on-year but underlined how anaemic growth remained. "The chilled ready meals market grew by 0.9% in the period," the company said. It did note a recovery in the Italian segment (good news for a business accounting for 38% of that particular market), with sales up 2.8% year-on-year, although this was behind the 3.1% growth seen in the first half of 2012/13.
According to some industry watchers, it is a category in need of a boost. "Chilled ready meals is a big and important market," Diane Teer, chief marketing and innovation officer at US-based food packaging group MWV, says. "It's not only an attractive category but it also drives daily traffic and cross-selling opportunities – in categories like desserts and beer, wine and spirits. This cat has suffered some significant and highly-publicised headwinds over the past several years – salt levels, economic recession and, last year, horsegate, which has slowed growth significantly."
Teer argues changes to the way ready meals are packaged could help "get the category back to profitable growth". MWV has developed SmartFare, dishes and bowls made from paperboard on the outside – which allows for the packaging to carry bespoke designs – and plastic on the inside. SmartFare is not yet in market but MWV, which has invested in its plant in Bristol to produce the items, says it will be ready to roll out the packaging from the autumn. The company has had discussions with retail customers and Teer is confident about its prospects.
"SmartFare offers colour, design and significant techincal expertise that can fundamentally change the consumer experience in chilled ready meals," Teer says. "The current trays don't match the quality of the foods or, I would say, the quality of most brands. [Consumers] describe standard black trays as boring, flimsy, that it feels like hospital or aeroplane food and are embarrassing to eat from."
Greencore agrees the way ready meals are currently packaged could be holding back sales. "When you talk to customers, there is a stigma around the black plastic tray that has been around for the last ten years. That has connotations of being a bit heavier and a bit more processed," Dan Foster, category manager at Greencore, tells just-food. "A different pack will help transform opinion and experience."
However, Foster cautions the impact new packaging could have on consumer interest in ready meals could "potentially be over-played", especially if innovation means higher prices. "You can improve the customer's experience but if it means putting the price up, customers will react in a certain way I'm sure," he says.
In the wake of the horsemeat contamination, it appears customers have reacted positively to moves to emphasise the provenance of the food in ready meals – at least according to Asda.
Throughout 2013, UK retailers moved to source more domestically in reaction to heightened consumer concern over what is in food. In February this year, Asda, alongside UK certification body Red Tractor, launched a logo to appear on convenience products containing meat. Asda own-label meals including spaghetti bolognese, lasagne and cottage pie now have the new 'Made With' label on their packaging.
"The farm-to-fork assurance schemes are recognised by consumers as a sign of quality in the areas of primal meat and produce. But there were was nothing really available for added-value products," Darina Hall, head of food at Asda, says. "At Asda we were the first retailer to work with Red Tractor to develop the 'Made With' assurance logo. This now appears on our chilled beef ready meals. In the three months since we launched this, customers have given us feedback that this gives them more confidence around the product, the quality," Hall says. "It has also had a commercial impact. We've seen a 6% increase in sales on that product range directly as a result of that logo."
At Greencore, Foster is less sure about the importance consumers – at least those shopping for standard meals – place on provenance. "The fact we've had an horsemeat scandal and Italian sales appear to have come back says that provenance is very much a nice-to-have but the driver in ready meals in convenience. Yes, at the premium end you can see the retailers are all pushing on the premium message. There's probably something in it but for the masses convenience is the driver," he says.
Nonetheless, both provenance and packaging are being touted as ways to boost sales in a significant category in UK grocery. Asda already claims to see a benefit from its Red Tractor initiative and MWV, with its capex investment, has demonstrated its confidence in its packaging plans.