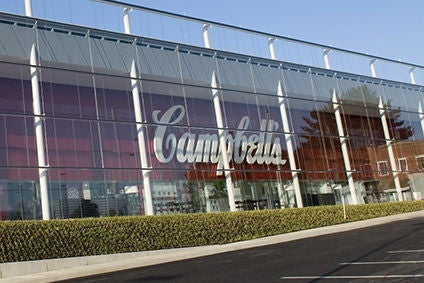 Campbell Soup Co.'s domestic soup business has often been the focus of analyst questions in recent years when the US food manufacturer has announced its financial results.
And it has often been in the doldrums, seeing with sales down in eight of Campbell's last nine financial years.
With the Campbell's, Swanson and Pacific soup maker set to jettison its fresh-foods and its international businesses after a review of its operations this summer – and with that review called into question by an activist investor – it was no surprise the group's US soup arm was under the microscope when the company spoke to analysts after reporting its first-quarter results yesterday (20 November).
In the three months to 28 October, sales of US soup fell 6% year-on-year when excluding the benefit from Campbell's acquisition of Pacific Foods in December and the impact from a change in revenue recognition. Campbell said the decline was due to lower sales of ready-to-serve and condensed soups, although it saw "gains" in broth.
Campbell said its latest fall in US soup sales "reflects continued competitive pressure across the market and increased promotional spending". The decline contributed to a decrease in the first-quarter underlying EBIT from Campbell's wider meals and beverages business.
However, speaking to analysts after Campbell's results were published, the company's senior management said the performance of the unit was picking up.
"Despite the sales decline in the quarter, there are many reasons we're optimistic about soup, including greater operating disciplined, improved merchandising and a new management team, that is moving quickly and decisively to improve performance," Keith McLoughlin, Campbell's interim CEO, said.
"Our emphasis on adjusting price gaps is showing signs of progress, despite the challenging retail environment. This year we have more competitive pricing on key segments as we enter soup season versus a year ago. Second, we are optimising our merchandising with increased frequency and breadth compared to a year ago. And, third, we have refocused our marketing efforts around a new campaign with the iconic Campbell's brand front and centre."
CFO Anthony DiSilvestro added: "We are encouraged by the improved trends through the quarter as we implemented our promotional plans for the upcoming soup season, while consumer takeaway dollar sales declined 7% in the quarter, they were comparable to the prior year in the last four-week period."
One four-week period does not, of course, make a successful soup season – and, to be fair Campbell, nor would they argue so. Moreover, Campbell is not predicting stellar growth for its US soup business in the rest of the financial year, forecasting another year of decline from the unit.
"As we said last quarter, in fiscal 2019, we will rebase soup and strengthen our value proposition in the marketplace. We have made progress against that objective to start the year. That said, we acknowledge that there's much more work to be done and it will take time to fully stabilise the business," McLoughlin said.
That said, the US soup market will proportionally become a more significant part of the Campbell portfolio as and when the company offloads its fresh-foods and international businesses. There is also likely to be some scepticism in the investment community about the long-term growth prospects for the soup market in the US.
Add to that Campbell facing questions about its overall strategy from activist investor Third Point and it was little surprise the analysts on the call pressed Campbell on how it will try to get consumers interested again in its soup products in an overall category where sales are under pressure.
McLoughlin emphasised the importance of innovation. "At the end of the day, what we're going to get paid for in soup is relevant consumer innovation. We've got to bring more relevant innovation at a faster rate to consumers. We're going to do that in a couple of ways," he explained.
"One is a big theme, as you know, is focus. How do we focus on those core brands, those core categories, where we have strength, where we got more competition and so deploy the R&D dollars against those key categories. It's [also] going to be in areas like convenience. It's going to be in areas like meal preparation, right. How do you take away that 4pm to 6pm nightmare that happens in every household, like what's for dinner."
Campbell's interim chief said the company has also embarked on a marketing campaign targeted at millennial consumers to emphasise how condensed soup can be used for meal preparation.
There is, of course, always risk in innovation and it remains to be seen whether that marketing campaign will pay off.
Where there appears to be some certainty is on Campbell's search for a new chief executive and its plans to dispose its fresh-foods and international assets.
McLoughlin, already a Campbell board member, stepped in when Denise Morrison left the business earlier this year.
Campbell's board is having "extensive discussions" with a number of candidates "who possess deep experience in consumer packaged goods and a strong track record of proven results", McLoughlin said. "The board continues to expect to name a permanent CEO by the end of the calendar year."
Meanwhile, there has been speculation about the companies eyeing some of Campbell's up-for-sale assets. Unsurprisingly, Campbell did not identify which companies had expressed interest but McLoughlin said: "There has been very strong initial interest from a range of potential strategic and financial buyers for these assets, because both are solid businesses made up of great brands. We continue to expect to announce buyers for these businesses before the end of the fiscal 2019 but our overwriting goal remains to run a highly disciplined process on a time-line that will achieve the maximum value for these attractive assets."
Much of the headlines in the weeks ahead will focus on those disposals. In the shorter term, there will also be a lot of attention Campbell's ongoing tussle with Third Point ahead of the company's AGM later this month.
But, in the meantime, Campbell's management are continuing to try to position the business for growth. The company has already described fiscal 2019 as a "transition year", forecasting what is essentially flat adjusted EBIT at best, amid a rise in sales on a reported basis due to recent M&A – but a decline in its top line on an organic basis.
Central to that will be US soup and we should expect the questions to continue to be asked of Campbell's plans for what will become an ever-more important division in the months ahead.