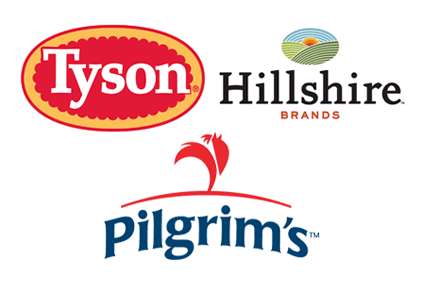 Tyson Foods entered fray today (29 May) when it issued a fresh bid for Hillshire Brands, trumping an earlier offer from Pilgrim's Pride. Like Pilgrim's, Tyson stressed the strategic merits of taking control of the Jimmy Dean-to-State Fair meats manufacturer. Tyson is clearly prepared to pay a premium price for Hillshire – but will another bid be forthcoming? Katy Askew reports.
Tyson Foods has topped the Pilgrim's Pride offer for Hillshire Brands, with a US$50-a-share cash bid that comes in ahead of Pilgrim's earlier offer of $45 per share. The company has already secured a bridge loan to fund the transaction and, like Pilgrim's, the only stipulation attached to the deal is Hillshire needs to withdraw from its previously-agreed acquisition of Pinnacle Foods.
Speaking to analysts during a conference call today, Tyson flagged the strategic benefits it believes Hillshire's business would bring the enlarged group. The company has identified three areas in which it wants to accelerate growth between now and 2020 to drive value for shareholders, management said. Tyson hopes to expand prepared poultry, international and prepared foods.
The acquisition of Hillshire would provide a significant boost to Tyson's prepared foods unit, raising its contribution to group sales from 9% today to 18%. The combined business would see prepared foods contribute 20% of operating profit, compared to the current 5%.
The deal would shift Tyson's prepared foods business towards branded sales and fill in some of the blanks in the group's prepared foods portfolio – notably in breakfast. This, Tyson suggested, would enable the group to better serve its customer base by providing it with market-leading brands.
Increasing the proportion of Tyson's branded sales would provide an immediate boon to margins, management argued. Tyson's prepared business operates at a 2.2% margin, while Hillshire's margin stands at 9.4%. By combining the businesses, the group would lift its operating margin 3.1% to 5.3% of sales on a pro-forma basis.
In addition, Tyson believes it would be able to work through further margin-enhancing initiatives derived from its vertically integrated supply chain.
"We do believe there are some synergies for our pork business and… whole carcass utilisation. We believe that will be accretive to our pork business," CEO Donnie Smith argued. "I can't over-emphasise our ability to optimise the raw materials from our pork segment with this branded presence that Hillshire has…This acquisition would certainly help us sell the hog better in balance which would provide a lot of margin opportunity for our business."
Tyson sees further efficiency improvements across purchasing, logistics and manufacturing. The company expects that "most synergies" can be realised in a two-to-three year time frame, with a "meaningful number" delivered upon in year one.
To Tyson, the strategic rational underpinning the offer is so clear the company is prepared to pay a handsome premium for Hillshire. The proposal carries a hefty price tag, valuing Hillshire at $6.8bn or 13.4x EBITDA.
Tyson insisted the price is an "attractive valuation" and stressed the group expects to maintain its investment grade rating. However, at this multiple, management conceded it would take some time for the company to reach its targeted 20% ROIC.
Smith said: "It will certainly take our return on invested capital down with the transaction. But I would fully expect to back to 20% ROIC in three-to-five years or so."
The market seems to have got behind the arguments supporting Tyson's bid, with shares in the group rising around 5% in pre-market trade versus a 1.7% drop in the share price of bidding war foe Pilgrim's Pride.
However, it would seem there are also some investors willing to bet the bidding frenzy will not stop here – with Hillshire shares gaining almost 16% to $51.97.
All eyes are now back on Pilgrim's. Will the company be prepared to raise its bid price? With the potential of financial backing from majority shareholder JBS it is certainly a possibility.
Or perhaps a third party will be prepared to throw its hat in the ring. As we reported yesterday, a number of other groups have been touted as potential suitors – from Hormel Foods to Kellogg.