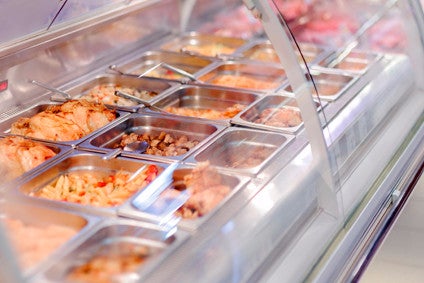 Improving the diet of employees can boost productivity, morale and staff retention, making workplace nutrition an increasing priority for any company. But, Ben Cooper writes, the nutritional value of workplace catering at a food company is likely to be more closely scrutinised than at other companies, while the food sector has a unique contribution to make in improving workplace nutrition at large.
As concerns about diet and health grow, and promoting healthy diets becomes an ever increasing preventive health issue, increasing attention is being paid to nutrition in the workplace.
It is estimated typically people consume around a third of their daily calorie intake at work. According to the British Dietetic Association (BDA), supporting regular eating patterns and a quality diet for workers can improve overall health, boosting productivity and reducing absenteeism.
According to the UK's National Institute for Health and Care Excellence (NICE), obese people on average take four extra sick days per year which, NICE has calculated, for a company with 1,000 employees, equates to more than GBP126,000 a year in lost productivity. Providing better food choices can also improve morale and staff retention.
Meanwhile, the public health benefits of improving the nutritional value of food in the workplace have been recognised by health agencies, with workplace programmes included in public health initiatives, such as the UK's Public Health Responsibility Deal.
In that context, improving the quality and nutritional value of food available in the workplace can be seen as vital to all employers. However, responding to – or perhaps even leading – this trend is of particular significance to food companies, as workplace nutrition sits at an intersection of two sustainability priorities, employee welfare and promoting healthier eating.
Among the food manufacturers prioritising workplace nutrition is Mars Inc, which included improving the diets of its employees as one of the five pillars in its Global Health and Wellbeing Ambition healthy eating strategy launched in April. "For everyone, health and wellbeing starts at home, and for us that's our associates," says Zelda Gray, vice president of people and organization in the company's Mars Global Food, Drinks & Multisales division. "It was very important to us that any global health and wellbeing ambition include a set of commitments to improve associate health. We must "walk the talk" and ensure that we are just as focused on offering our associates better options for improved nutrition and fitness as we are on offering our consumers healthier products."
By the same token, food manufacturers run the risk of undermining their efforts to promote healthier eating generally if rates of obesity and dietary ill-health among their employees are higher than the norm.
Food manufacturers have as much to gain as any in terms of benefits to morale, employee health, staff retention and productivity, but arguably have additional reputational risk in play, making it particularly important that their employees both eat healthily and understand what constitutes a healthy diet.
It is no surprise therefore to find workplace nutrition has been an area of focus for the Food and Drink Federation, which represents UK food and soft drinks manufacturers, for some years.
The FDF launched a major push on workplace wellbeing as far back as 2004, and in 2012 published its first toolkit for member companies on the topic, which includes a section on healthy food choices. According to FDF, the workplace wellbeing toolkit has been downloaded 7,000 times since its launch, with the organisation citing work by Unilever, Danone, Mondelez International, Nestle and ingredients supplier Carbery as examples of leadership in this area.
"FDF members have long recognised the importance of workplace wellbeing, stretching far beyond health and safety into nutrition, physical activity and increasingly an awareness of mental health," an FDF spokesperson tells just-food. "Companies continue to actively engage with ongoing pilot initiatives and research to drive forward the industry's knowledge and understanding of what really makes a difference in a working environment."
The UK's Public Health Responsibility Deal includes a pledge to provide healthier food in the workplace. The fact only 183 companies, out of the more than 5m enterprises in the UK, have signed this pledge may underline an inherent weakness in the concept of the deal but it should nonetheless be noted that almost 30% of those companies are from food and beverage sectors.
Sustainability thinktank Forum for the Future (FFTF) has recently made workplace nutrition an area of focus within its overall drive towards a more sustainable food supply. In May, FFTF hosted a seminar on workplace nutrition with the Soil Association, the UK's organic trade body, aimed at raising awareness in the UK corporate sector and among caterers.
No food manufacturing companies were present at the Soil Association/FFTF event, though with the organisers placing a strong emphasis on raising awareness among catering companies, there was a healthy turnout from the foodservice sector.
The Soil Association's Food for Life scheme aims to improve sustainability standards of the food on offer in schools, hospitals and workplaces. The primary emphasis in the scheme, particularly for its basic Bronze standard, is on environmental criteria but in promoting more fresh food, the scheme automatically raises the nutritional quality of food being served. The higher Silver and Gold Standards incorporate more health criteria. Progress for the Food for Life Catering Mark has so far been strongest in nurseries, schools and hospitals and the Soil Association is keen to boost uptake in companies.
Mark Driscoll, head of food at FFTF, says nutrition at work has "a huge economic impact on business performance and efficiency", and there is "a real business case" in raising nutritional standards, relating to a host of areas including sickness and workplace stress.
However, while Geraldine Gilbert, principal sustainability advisor at FFTF, believes more companies are thinking about staff health and wellbeing, the specific links between diet and employee wellness are less widely appreciated. "I think more companies in general are thinking about staff health and wellbeing but I'm not sure that they've connected it through to diet and food," Gilbert says.
Like Driscoll, Gilbert could not say for certain whether food and drink companies were performing any worse or better than other industry sectors but both said there was a particular onus on food companies to engage in the area of workplace nutrition.
The Soil Association and FFTF have identified the need to build more evidence around the benefits of improving workplace nutrition and expand knowledge sharing among companies. There has been considerable research into the business benefits of workplace wellness programmes but more research is clearly needed into the particular role nutrition plays.
A joint study currently underway by the Institute of Grocery Distribution (IGD) and the Behaviour and Health Research Unit (BHRU) at Cambridge University aims to identify the most effective interventions to help employees make healthier food and drink choices at their place of work. While the learnings from this study could be valuable to all employers, it is interesting to note the IGD and BHRU have chosen to conduct their research in food and grocery companies. "The food and grocery sector is a great test bed due to the wide range of working environments and variety of employee demographics working within them," IGD says.
More than offering that broad range of environments, the food sector intrinsically has a valuable contribution to make in expanding the knowledge base around workplace nutrition. They have the same interest in having a healthy and productive workforce as all companies, but food and nutrition is their stock in trade and major food companies in particular have considerable research resources in the dietary health field they can apply to questions around workplace nutrition. "Food is in our DNA," says Gray. "We are experts in taste, convenience and nutrition and we want to use this expertise to benefit our consumers and our associates."
For example, prior to launching its health and wellbeing ambition, Mars piloted some of the workplace nutrition initiatives at its site in Australia, and observed a 40% reduction in obesity and 75% reduction in reported depression, along with considerable reductions in injuries and absenteeism.
As Mars rolls out its workplace initiatives globally, including incorporating kitchens where employees can prepare food at all its sites, providing nutrition education and healthier choices in canteens, companies within and without the food sector will be keen to learn more about what the company is doing and the impact it is having.
As well as improving their own employees' health, with all the benefits that brings, sharing their insights on workplace nutrition could be a particularly telling facet of food companies' broader engagement on diet and health.