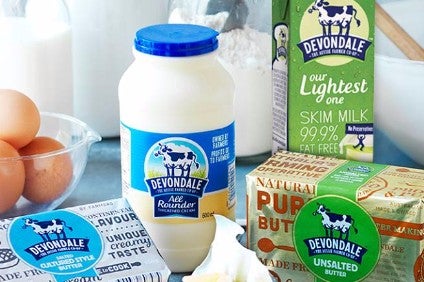 just-food's index of mergers and acquisitions in the international packaged food sector highlights the volume of deals being announced, as company strategists look to M&A to gain an edge on their competition.
Our index of food-industry M&A centres on deals involving an at least majority shareholding being taken in a company, as well as including the sale of subsidiaries, divisions and brands.
The index also centres on deals involving packaged food manufacturers and excludes those between suppliers into the sector and those including drinks companies.
April saw 24 such deals announced, level with the 24 unveiled in March but down on the 25 set out in February – and below the first-quarter average of 26.
In April 2017, 30 transactions were announced.
Another month, another deal for acquisitive Canadian supplier Premium Brands Holdings. The company struck a deal for US meat snacks business Oberto Brands, a transaction coming just days after it announced the purchase of four businesses in Canada.
Premium Brands also increased its investment in Vancouver-based McLean Meats to 66.2% from the previous 36.2%. It said the Oberto and McLean Meats deals combined cost it CAD237m.
Europe threw up some notable transactions in April. France-based food group Fleury Michon, which has seen its sales come under pressure in recent quarters, swooped for local aperitif snacks specialist Paso-Traiteur to diversify its product offering.
The same week, France-based poultry giant LDC said it had bought local duck supplier Marcel Favreau – and is in discussions over the acquisition of two more businesses in the field.
Could another deal be in the offing for LDC this month? LDC is part of a consortium looking to buy distressed French poultry business Groupe Doux. The consortium, which also features Doux shareholder Terrena and Saudi group Al-Munajem, is one of a number of bidders, with Ukraine-based poultry supplier MHP also in the running. A commercial court in Rennes will decide on the bids on 18 May.
Meanwhile, over the border in Switzerland, Bell Food Group continued its acquisition activity with the purchase of with the purchase of local salad, vegetable and fruit business Sylvain & Co.
The deal followed Bell's move to buy fellow Swiss food manufacturer Hügli at the start of the year.
In recent years, Bell, itself majority-owned by Swiss retailer Coop, has sought to broaden its range, still supplying its traditional range of meat, charcuterie and seafood – and still acquiring in those areas, too – but also a basket of convenience foods. Vaud-based Sylvain specialises in fresh and ready-to-eat produce.
just-food's Deal of the Month – Saputo gets green light to buy Australian dairy group Murray Goulburn
It was a transaction unveiled last autumn but, given Saputo's existing presence in Australia, there was a question mark over whether the Canadian group's latest move in the country would get competition clearance.
In the end, Saputo got the deal through after agreeing to sell Murray Goulburn's Koroit milk powder plant, removing a barrier that had threatened to block the deal.
In October, Saputo agreed to purchase Murray Goulburn's operating assets and operating liabilities, including milk supply commitments. But the Australian Competition and Consumer Association (ACCC) flagged concerns that competition for the purchase of raw milk would be reduced given that Saputo already owned two plants near Warrnambool, including the Koroit plant.
It has been a problematic couple of years for Murray Goulburn, a business that once had designs on being at the forefront of capturing the growing dairy and infant-formula consumption in Asia.
However, that Murray Goulburn's fortunes had turned sour became clear in April 2016 on the tumultuous day the company, pointing to weak dairy commodity prices, issued a profit warning, cut the price it pays farmers for milk and announced the departure of its MD and CFO.
The co-op then had eight months without a permanent CEO until former SABMiller executive Ari Mervis was appointed in December 2016 and it was he who, in June last year, launched a "comprehensive" review the business said will look at "all aspects" of its strategy and corporate structure.
Saputo apparently beat the likes of Australian dairy group Bega Cheese and Chinese giant Yili to strike a deal with Murray Goulburn. Despite Murray Goulburn's recent problems – and there will be plenty of work to be done to improve the performance of the acquired business – the purchase gives Saputo further scale and a robust Asia export presence to add its own Australian operations.
From Saputo's perspective, despite the price it has paid, despite the recent problems at Murray Goulburn and despite the challenges the Canadian company will face in improving the new asset's performance, especially in the face of stiff competition, the deal, industry watchers agree, gives the Quebec-based group a chance of carving out a robust foothold in one of the world's most attractive dairy markets.