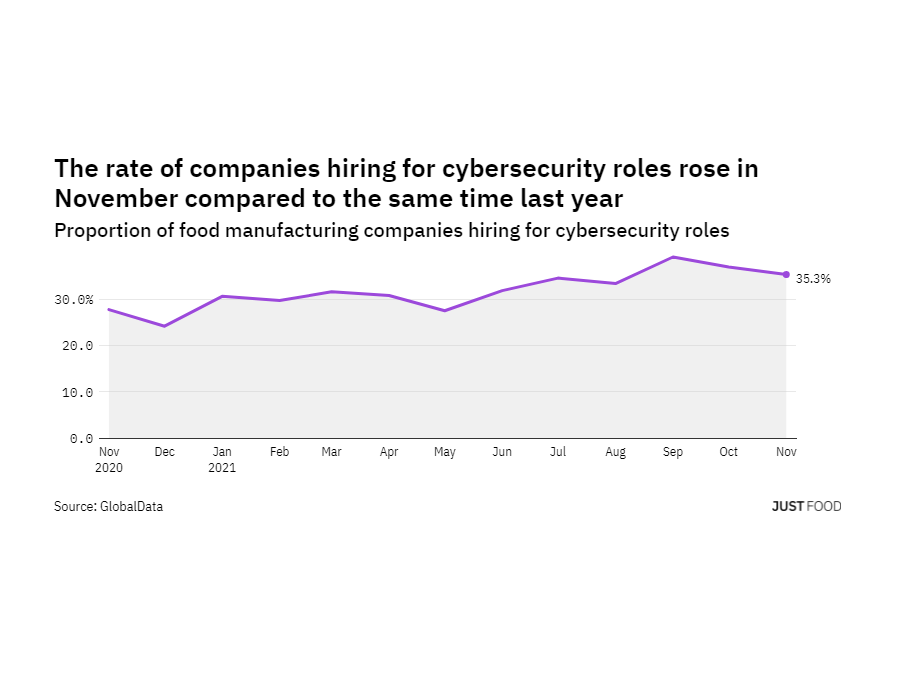 The proportion of food manufacturers hiring for cybersecurity-related positions rose in November compared with the equivalent month last year, with 35.3% of the companies included in our analysis recruiting for at least one such position.
This latest figure, sourced from Just Food parent GlobalData, was higher than the 27.7% of companies who were hiring for cybersecurity-related jobs a year ago, although it was down on the figure of 36.9% in October 2021.
When it came to the rate of all job openings that were linked to cybersecurity in November 2021, 0.9% of newly-posted job advertisements were linked to the topic.
This latest figure was an increase compared to the 0.6% of newly-advertised jobs in the equivalent month a year ago.
Cybersecurity is one of the topics that GlobalData has identified as being a disruptive force facing business in the coming years. Companies that excel and invest in these areas now are thought to be better prepared for the future business landscape and better equipped to survive unforeseen challenges.
Our analysis of the data shows that food manufacturers are hiring for cybersecurity jobs at a rate lower than the average for all companies within GlobalData's job analytics database. The average among all companies stood at 2.5% in November 2021.
GlobalData's job analytics database tracks the daily hiring patterns of thousands of companies across the world, drawing in jobs as they're posted and tagging them with additional layers of data on everything from the seniority of each position to whether a job is linked to wider industry trends.
A cyberattack on one of the world's largest food companies earlier this year highlighted how big business can be open to breaches and the industry appears to be looking to hire accordingly.
At the end of May, Brazil-based meat giant JBS saw its servers supporting the company's North American and Australian IT systems targeted by what the company called "an organised cybersecurity attack".
Within four days, JBS announced a "resolution" to the breach, stating its factories were "fully operational". The company said it paid "the equivalent" of US$11m to the hackers – said by the FBI to be REvil, a Russia cyber-criminal group also known as Sodinokibi – after consulting with "internal IT professionals and third-party cybersecurity experts".
The affair, following similar incidents in recent years on US brewer Molson Coors Beverage Co., snacks group Mondelez International and fast-food chain Wendy's, only underlines the importance boardrooms should place on the issue.
For more GlobalData research in the area of cyber jobs: