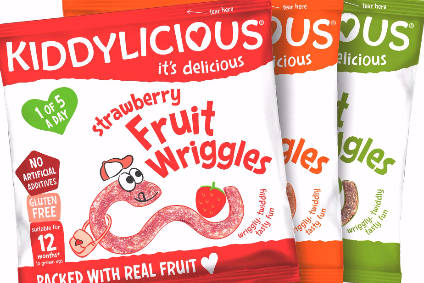 As company strategists look to M&A to gain an edge on their competition, just-food's index of mergers and acquisitions in the international packaged food sector highlights the volume of deals being announced.
Our index of food-industry M&A centres on deals involving an at least majority shareholding being taken in a company, as well as including the sale of subsidiaries, divisions and brands.
The index also focuses on deals involving packaged food manufacturers, excluding those between suppliers into the sector and those including drinks companies.
July saw 30 such transactions, up from the 29 seen in the same month of 2017 and the 29 announced in June this year.
The 30 unveiled in July took the number announced in 2018 so far to 183, surpassing last year's 177 and is the highest seven-month figure since just-food started collecting the data.
Looking at the deals published in July, a common theme that emerged was moves by US-based majors to offload assets no longer deemed core to their ongoing business.
On 10 July, J.M. Smucker, the US coffee and pet food supplier that counts brands such as Smucker's jam and Sahale snacks among its consumer-food assets, sold a clutch of bakery brands in its domestic market.
Private-equity firm Brynwood Partners snapped up brands including Pillsbury, Martha White and Hungry Jack for US$375m. J.M. Smucker's US bakery business had generated net sales of around $370m in the year to the end of April.
Mark Smucker, J.M. Smucker's president and CEO, said: "The divestiture reflects our strategy to further focus our portfolio and develop a stronger presence in pet food, coffee, and snacking – all large, growing categories with sustainable growth projections."
J.M. Smucker is eyeing acquisitions in food. It had been looking to buy the Wesson oil brand from Conagra Brands in March but the companies called off the deal after the US Federal Trade Commission challenged the proposed transaction.
However, its major M&A move this year has been in pet food, when it chased down US-based business Ainsworth Pet Nutrition for around $1.7bn.
A week later, TreeHouse Foods, the US manufacturer battling to get its core private-label operations back on-track, sold McCann's Irish Oatmeal to local peer B&G Foods.
A small brand in a stable of assets predominantly focused on own label, McCann's Irish Oatmeal was acquired when TreeHouse bought US business Sturm Foods in 2010.
Focus was again the watchword, with TreeHouse CEO Steve Oakland, installed earlier this year, said the sale"supports our efforts to simplify and streamline our business and concentrate our efforts on private-label categories that support our customers' corporate brand initiatives".
In the last week of July, another notable disposal by a leading player in the US came when Hershey revealed it had sold Chinese subsidiary Shanghai Golden Monkey after what had been four years of at times challenging ownership.
Hershey insisted China remained "one of the most important markets" for the US confectionery giant and said it was "evolving" its business in the market.
It was in December 2013 when Hershey struck a deal to buy an 80% in Shanghai Golden Monkey, a move that doubled the size of the US confectioner's then business in China. At the time, Hershey was holding up China as its "primary international market".
Within 18 months, Hershey was moderating its expectations for the performance of its new Chinese asset. In August 2015, Hershey booked an impairment charge of US$100m on the business amid "disappointing" results.
In February 2016, Hershey acquired Shanghai Golden Monkey outright. However, Hershey made four downgrades to its sales forecasts throughout 2016 and China was a central factor for both internal reasons and challenges in the wider market.
Elsewhere in the US in July, the closure – and then subsequent sale – of meal-kit supplier Chef'd emphasised the problems some of the companies are facing in a niche market that has captured the imagination in recent years.
Chef'd was sold to True Food Innovations, a consultancy based in California, a week after it ceased operations last week, citing financial issues. In Chef'd three years of doing business, the company has attracted investment from Campbell Soup Co. and US meat giant Smithfield Foods but the company appears to have found the business of selling directly to consumers tough and, under its new owners, will focus on selling through mainstream retail.
And, north of the border in Canada, Premium Brands Holdings made yet another acquisition in July, buying a majority stake in Yorkshire Valley Farms, a processor of organic chicken products in Ontario, in a bid to tap into the growth in demand for organic protein products domestically and with an eye on the market in the US.
In Europe, two deals in Spain stood out. On 19 July, just-food reported on a combination between Anglo-French snacks supplier Europe Snacks Kolak and Spanish peer Grupo Ibersnacks.
The merger of two own-suppliers will create one of the largest in that part of the market, turning over around EUR350m (US$405.7m) a year. The new group will have eight plants – two of them in Spain, four in France and two in the UK.
On the penultimate day of July, we covered the acquisition of Spanish biscuit maker Arluy by pan-European peer Biscuit International.
Financial details were not disclosed but the move saw Biscuit International add Spain to its roster of international markets. Biscuit International, owned by French private-equity firm Qualium Investissement, has assets including France's Groupe Poult, Dutch biscuit maker Banketgroep, A&W Feinbackwaren in Germany and UK supplier Northumbrian Fine Foods.
Deal of the Month – Belgium's Lotus Bakeries again looks across the English Channel
July saw Lotus Bakeries, the Belgian business home to Lotus Biscoff biscuits and spreads, continue its acquisition spree in the UK, announcing it had bought baby-and-toddler food business Kiddylicious.
The purchase of Kiddlyicious marked Lotus Bakeries third acquisition in the UK in three years, with the company having snapped up a majority stake in UK firm Natural Balance Foods in 2015 and 100% of another, Urban Fresh Foods, the same year.
Lotus Bakeries said it had paid "circa two times" Kiddylicious' forecast sales for 2018, which are expected to hit "at least" GBP21m (US$27.5m).
In 2017, Kiddylicious saw its sales jump 89%, reaching GBP16m. Its net profit was GBP1.2m.
Speaking to just-food in April, Sally Preston, the former Marks and Spencer food scientist who set up Lotus Bakeries in 2009, said, by 2021, she saw the business' overall annual sales more than trebling to GBP53m, with markets outside the UK accounting for the majority of revenue.
Announcing the sale to Lotus Bakeries, Preston, who will continue to run the business, said: "In order to take the brand to the next level we needed a strategic partner who shares our unique, innovative culture and has the capability to support us in accessing and developing our domestic and international markets."
Kiddylicious has been growing rapidly in the UK and been steadily building a presence in select international markets. Lotus Bakeries' UK presence, through Lotus Biscoff and recently-acquired brands like Nakd and Trek, should give Kiddylicious a strong backer domestically. The Belgian group's position in the US was also likely an attraction for Kiddylicious.
just-food interview from April 2018: Kiddylicious CEO Sally Preston eyes home, abroad to power growth of UK baby-snacks firm