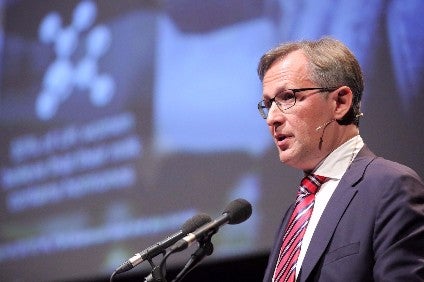 The volatility in commodity prices, the rise of plant-based alternatives, Brexit, Trump – there was plenty for delegates who headed to Belfast last week for the International Dairy Federation's annual World Dairy Summit to chew over. just-food deputy editor Andy Coyne gives us a flavour of the event.
The International Dairy Federation's latest World Dairy Summit, held last week in Belfast, can be summed up in two words: threats and opportunities.
With threats including – inevitably – Brexit, the US government pulling up the drawbridge and tearing up trade agreements and younger generations seemingly turning their back on traditional dairy products, there was plenty for the conference's delegates to fret about when they returned to their hotels after the sessions.
But there was also much to be encouraged by, including the potential of emerging markets and new technology, early studies suggesting dairy can play an important role in countering some of the factors that lead to dementia and the continued growth of the sports/nutrition segment.
A key takeaway from the event was that, while this was no time for resting on laurels, there is no overriding spirit of doom and gloom. As Barry Irvin, executive chairman of Australia's Bega Cheese, put it: "I'm very confident about the future of this industry."
THREATS
That B word
Brexit, as it so often is at business events, was the elephant in the room in Belfast and not just for UK and European delegates.
It was perhaps inevitable the UK's departure from the European Union and what it will mean to dairy businesses in the UK, Ireland, continental Europe, and further afield, would be the subject of much debate at the summit.
Tomas Pietrangeli, the managing director for Arla Foods' operations in the UK warned the dairy industry was facing "the biggest seismic change in the political and financial landscape in our lifetime".
He said: "The end of free trade is a major risk. In order to protect the health of the dairy industry in the UK we need to have tariff-free and barrier free trading conditions. We are a business and an industry that make a significant contribution to the dairy industry and the wider UK economy."
Pietrangeli called on the UK government to publish its future plans for domestic agriculture through a parliamentary bill "at the earliest opportunity early next year", adding any delay would be detrimental to the dairy sector.
He also highlighted the need for access to non-UK labour, citing the fact 56% of farms, 41% of processing business and 60-80% of third party logistics business had employed non-UK nationals in the last five years.
Pietrangeli's gaze also looked out across the English Channel. "We need to have the best possible trading conditions with the EU. We need to get Brexit right," he said. "Trade with the EU is the most important market for UK dairy businesses and UK dairy should be recognised as a key player in Brexit negotiations. We do not want to see a situation where dairy businesses come under pressure because of restrictions on trading conditions."
The UK government should, Pietrangeli argued, deliver a transitional period until 2022, with no import/export tariffs,
More encouragingly from a UK perspective, Dr David Walker, New Zealand's ambassador to the World Trade Organization said in the event of the UK leaving the EU, a deal could be arranged between New Zealand and the UK. New Zealand is keen to have as many trade deals as possible.
"Trade policy is a key priority for us," he said. "The 'EU28' is our third-largest export destination. If the UK pulls out of the EU, we would like to do a deal with the UK as quickly as possible."
Of course, whether such a trade deal would benefit UK or New Zealand dairy producers more is a matter of debate.
Trouble with trade
Putting aside the uncertainty surrounding Brexit, another big threat to international trade appears to be Donald Trump.
The US President is pursuing an 'America first' agenda and is no fan of multilateral trade deals. He has already pulled the US out of the Trans-Pacific Partnership and threatened to the future status of the North American Free Trade Agreement.
Dr Michael Dykes, president and CEO of The International Dairy Foods Association (IDFA), the lobby body for the dairy sector in the US, said: "We have significant uncertainty. We don't know from one day to the next what our policy will be. Trump said we would do bi-lateral agreements but none have been negotiated."
Dr Dykes said the dairy industry fears the US will withdraw from NAFTA, which has allowed for free trade between the US, Canada and Mexico since 1994.
"At the IDFA we have been campaigning aggressively for trade," he said. "The world population is growing and 95% of consumers are outside US borders. A proactive trade policy is crucial for US dairy."
What the US does or does not do on trade deals has a marked impact on the industries of other countries, of course, including the dairy sector.
Take the case of New Zealand. It produces just 3% of the world's dairy products and has punched above its weight in agreeing deals to help its dairy businesses ship their products overseas.
New Zealand's dairy sector, one of the country's largest industries, did not wholeheartedly welcome the gains the country achieved when the TPP deal was struck in 2015 but it, like its counterparts in 11 other nations, had to go back to the drawing board when Trump pulled the plug on the agreement earlier this year.
The "existential threat" of falling dairy consumption
Arla's Pietrangeli was to the fore again in outlining another threat to the dairy industry – that of being at the wrong end of a consumer trend.
"In the UK, 24% of people say they are cutting down on dairy and 46% of 16-24 year olds claim to have had an adverse reaction to milk. I believe we are facing an existential threat to our industry and we need to act fast," Pietrangeli, who joined Arla in 2014 from Reckitt Benckiser, said.
"The debate is becoming highly emotional and personal and the vegan lobby is out to get dairy. The industry is seen as outdated, industrial, with doubtful health and welfare claims."
Pietrangeli's solution is for the dairy sector to market the positives of milk more proactively, make use of the industry's strengths and to focus on young women who are "key influencers".
He said: "As an industry we need to do much more. I am concerned that as an industry we are not taking threats seriously. The way we communicate to consumers has to change."
Pietrangeli's comments were echoed by some of the other senior executives presenting at the summit. Bega Cheese's Irvin said: "Transparency is important. It is about how you address people. Just telling somebody something is good for you is not enough."
Paul Vernon, who doubles up as the chief executive of the Glanbia Cheese venture between Glanbia and Leprino Foods, as well as the chairman of trade association Dairy UK, said the industry needed to take advantage of what he claimed was dairy's position as a "superfood".
He said: "The world and the dairy sector has changed massively over the past 30 years and the way we are communicating with consumers has changed too. Dairy is a superfood and we need to ensure that message is heard loud and clear by consumers who are under a constant barrage of misleading and ill-informed messages about dairy."
Dr Judith
"The industry must be committed to highlighting the nutritional benefits of dairy and confronting the many myths that are peddled by the anti-dairy lobby"
Bryans, president of the sector's global lobby group The International Dairy Federation, warned dairy manufacturers had to take on the "myths" put forward by rivals. "The message from across the global sector is quite clear – the industry must be committed to highlighting the nutritional benefits of dairy and confronting the many myths that are peddled by the anti-dairy lobby. It is a major challenge but one that dairy can rise to."
An immediate challenge may be to confront the risk of protein becoming the next battle in the nutrition debate. Animal or animal-derived protein is often characterised as being high in saturated fat and cholesterol whereas plant protein – from nuts, seeds and some grains, for example – is seen as being higher in fibre and potassium and lower in saturated fat and cholesterol. It is a debate which the dairy industry is keen to win.
Dr Jaap Evers, global standards leader at the IDF, said: "Dairy protein is a natural, high-quality protein. It is imperative that we get the message to consumers that it is an integral part of a sustainable diet. We do not want to reach a stage where consumers are given the message that from an environmental perspective there is 'green' i.e. good protein and 'red' i.e. bad protein and that dairy is somehow a 'red' protein. There is a wealth of scientific research that should strengthen dairy's role as an integral element of healthy consumers' diets."
OPPORTUNITIES
The feel-good factor
Against the backdrop of the sales pressure from alternatives to dairy, the nutritional and health-giving qualities of milk – with the science to back up the claims made – was a running theme at the summit.
Milk and dairy foods are a vital source of iodine, a nutrient of particular concern to pregnant women, the conference heard.

Professor Margaret Rayman, professor of nutritional medicine at the University of Surrey, said mild-to-moderate iodine deficiency is present among many pregnant women in the UK.

She said: "This is of considerable concern as iodine is required for the synthesis of the thyroid hormones that are crucial for brain and psychomotor development of the baby. Milk-alternative drinks tend to have very low levels of iodine. Pregnant women in particular need to be careful when switching to milk-alternatives to ensure they're not missing out on key nutrients that they would otherwise get from cow's milk."
The biggest sources of iodine in the diet are milk, yogurt and goat's cheese – and delegates were told to step up their marketing efforts in this area.

IDF president Dr Bryans, said: "Iodine is an important micronutrient that is often overlooked by consumers. It is vital that the dairy industry fills the knowledge gap and continues to educates consumers about the nutritional benefits of dairy foods."
Dairy was also highlighted as a key food for those consumers participating in exercise and in sports.

Dr Sharon Madigan, head of performance nutrition at Sport Ireland Institute, told delegates a good nutritional strategy before, during and after training can profoundly affect sports performance.

She said: "Milk and dairy foods can actually kill three birds in one stone when it comes to athlete nutrition – it assists in refuelling energy stores, it promotes rehydration to get the fluid balance right, and also helps to repair lean muscle mass. Research has shown that water or commercially available sports drinks aren't as effective as milk in promoting muscle recovery.

"People are often afraid of calories but energy balance is key. We need to look at the whole food, as opposed to single nutrients, to properly understand its effect on our bodies. The protein and carbohydrates found in milk and dairy provides a good balance of micronutrients, vitamins, minerals and probiotics, all of which work together to provide an excellent nutrition source for athletes."
The fight against dementia
Arguably the most intriguing session of the summit was the one that focused on dairy potentially making a difference to healthy ageing.
Dr Constance Gayet-Boyer of the French dairy board – the Centre Interprofessional de L'Economie Laitiere – said that, while there is a need for more data, nascent research shows "quite promising results" in linking dairy intake to reducing the risk factors linked to dementia.
Outlining the scale of the problem worldwide, she said: "The number of people over 65 will triple in the next 30 years. That means we will develop more age-related diseases. By 2050 the number of people with Alzheimer's-type of dementia will more than triple. But if we work on it early we can definitely slow it down."
Dr Gayet-Boyer said the risk factors in the onset of Alzheimer's-type of dementia include high blood pressure, high cholesterol, obesity and diabetes.
"Dairy products act against these risk factors," she claimed, also quoting research showing high milk consumption means people are 28% less likely to get cognitive disorders.
"The nutrition in dairy benefits cognition," she said.
Dr Gayet-Boyer said dairy intake may also increase glutathione, a powerful cerebral antioxidant.
The appliance of science and the power of tech
The dairy industry is at the vanguard of commercialising research and development initiatives that will drive innovation, delegates at the conference were told. Many of the technological advances are linked to sustainability.

In a session chaired by Dr Jeremy Hill, chief science and technology officer of New Zealand dairy business Fonterra, those working in the field of research and development in the sector provided insight into how scientific breakthroughs will drive innovation and help define the industry's vision for the future.

Dr Margrethe Jonkman, corporate director of research and development at Dutch dairy giant FrieslandCampina, said: "Innovation is fundamental to the on-going success of our industry and ensuring that dairy remains relevant in the long term. The current focus on sustainability must continue if the sector is to reduce its environmental footprint. More than ever, it is vitally important that innovation adds value not only to the producer but also to the consumer."

Dr Alexander Tolkach, vice-president of cheese applications at Canada's Saputo, told the audience: "Sustainability will remain an essential consideration in the drive to commercialise science in the dairy industry. The significant investment underway globally in research and development across the value chain should produce a range of positive technological, food safety and nutritional outcomes."

The rapid development of technology and major advances in so-called 'big data' – data sets that are so large or complex that traditional data processing application software is inadequate to deal with them – will also have significant effects on the dairy industry, delegates were told.
The seminar identified eight innovative technologies – including drones, sensors, 3D printing and blockchain – that could "positively disrupt" the dairy industry.

Delegates heard how big data and new technologies are becoming increasingly affordable and are on the brink of revolutionising the feeding of dairy cows around the world. Also under discussion was how the adoption of the latest technology and getting the most out of big data would ensure operational consistency and drive increased efficiency and productivity.

The seminar affirmed new technology and big data must add value across the dairy supply chain, especially at farm level, and that on a practical level, the technology must be intuitive and allow the farmer to make better management decisions.

The IDF's Bryans said: "The speed of technological advances is rapidly changing the farming landscape and we as a sector are committed to embracing the opportunities that this progress presents."
The potential of emerging markets
For the food industry as a whole, there have been plenty of questions in recent years about the economic performance of some of the world's major emerging markets.
China's rampant economic growth eased in 2015 and 2016, with GDP growth of north of 6% – still robust by western standards but enough to slow consumption.
Brazil's economy has struggled in recent years, with two years of recession, though, based on GDP figures at least, that period ended in the second quarter of this year. Similarly, Russia's economy contracted in 2016, although its numbers for the second quarter of 2017 showed also GDP growth, even if growth in wages remains muted.
Nevertheless, dairy industry leaders at the World Dairy Summit sought to highlight the continued growth of the sector in emerging markets
Michael Hanley, group chief executive of Ireland-based Lakeland Dairies, said: "A substantial proportion of our revenues are generated from exports with over 200 of our products being exported to over 80 countries. A host of opportunities exist for dairy businesses in global emerging markets.
"By 2050, three out of four people will either live in Africa of Asia. It is vital for dairy businesses in developed markets to invest time and resources in building a presence to ensure dairy remains an integral part of consumers' diets in these markets."
The South American dairy industry was also highlighted at the conference.
Monica Ganley, principal of strategic agricultural advisory firm Quarterra, said: "The long-held view of the South American dairy sector is that it is full of potential and always will be. This in my view is wrong. Lucrative opportunities exist for dairy companies in this vibrant and rapidly developing market.
"Recent cross-border M&A activity and consolidation of the industry in the region indicates that the future is bright. Politically and economically, I believe that South America is a tipping point and that the recent high growth in the dairy sector is the beginning of an exciting journey for the industry."