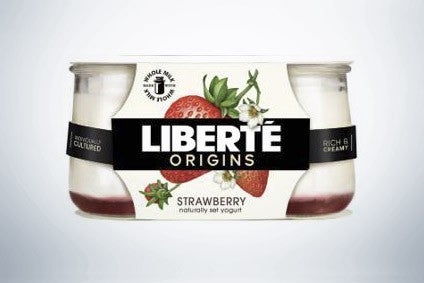 In General Mills' most recent financial year, the Cheerios-to-Yoplait owner saw its net sales tumble 4% on an organic basis – and that decline followed two successive years of its sales by that metric being flat. However, company veteran and now CEO Jeff Harmening believes General Mills can get back to growth and, at this year's Consumer Analyst Group of New York conference, outlined why. Here are the top takeaways from the group's presentation.
General Mills upgrades sales forecast for current financial year
With around four months left in General Mills' current fiscal period, the US giant, ahead of its presentation at the Consumer Analyst Group of New York conference on Tuesday (20 February), narrowed upwards the forecast for its annual net sales on an organic basis.
General Mills, which usually announces its annual financial results in late June, now expects its organic net sales to be "in line with last year", a forecast it added was "at the high end of the previous range of flat to down 1%".
The company, which has a range of brands that includes Yoplait yogurt and Old El Paso Mexican-style foods, said it "continues to see broad-based improvement in top-line momentum, including in the US".
General Mills CEO Jeff Harmening, who was promoted from COO in June, told the CAGNY conference the business was growing across each of its four operating segments – the combined convenience and foodservice; Europe and Australia; Asia and Latin America; and, notably, North America Retail, the majority of the group's sales and a division the company has struggled for growth for a number of years.
"Our results in all four segments have improved as the year has gone on but probably none more so than our US retail business. If you look at our nine top categories, which represent about 80% of our sales in the US, we are growing in the absolute and seven of those nine categories and we have improved our performance in eight of the nine categories and so we're really pleased with the progress that we've made. There is more work to do. There was no question about that, but we made good progress."
"Competing effectively can get us growing"
For all General Mills' recent challenges on sales, Harmening's presentation was upbeat and suggested the company could turn the corner in relatively short order – not without effort but without significant, strategic initiatives.
"We can get back to growth by doing nothing more than competing effectively and we're well on our way to doing that," Harmening told CAGNY.
Harmening's comments about General Mills becoming more "effective" revealed a notable change in the company's internal lexicon. In recent years, General Mills has divided its brands into two buckets – "growth" businesses that received greater investment and "foundation" brands, businesses to essentially be used as cash generators to fund investment in growth spaces.
"We intend to compete effectively across every geography and every category. We've talked about growth and foundation brands. You're not going to hear us talk about that anymore. We're going to talk about competing every week where we exist," Harmening said.
The General Mills chief said improving the company's "execution" and its innovation would be central to this desire to compete more effectively. On innovation, Harmening, pointing to the US, claimed General Mills had "the top new item in cereal this year, the top new item in yogurt this year and the top new items in snack bars this year", adding: "We were very pleased with our innovation is working. In fact, innovation in the US is up 50% from where it was a year ago and so that's going to be important."
"We can get back to low single-digit growth"
Harmening does have an eye on a faster rate of growth – and he used CAGNY to outline how he believes General Mills can improve its sales trajectory.
The General Mills boss pointed to four assets he described as "our differential growth platforms" – Haagen-Dazs ice cream, the company's portfolio of snack bars, Mexican-style foods brand Old El Paso, plus the group's natural and organic division, which includes brands like Annie's and Cascadian Farm.
Harmening said the four businesses accounted for US$4bn in the company's sales – around a quarter of its revenue. "We're going to be increasing investment behind these accelerators. And our intent is to grow mid single digits and then in few years get to $5bn in sales," he said.
On top of General Mills' efforts to invest in those four businesses, the company, Harmening said, wants to "reshape" its portfolio, moves that are set to involve acquisitions and disposals.
General Mills has been prominent among the growing number of companies using an in-house, venture capital-style arm to invest in fledgling firms, predominantly in the US. However, it has been less active in outright acquisitions. The last such deal was in January 2016; a number of its peers in the US have been more prepared to get out their chequebooks in recent months.
"Reshaping our portfolio is something that we intend to continue to do and will probably accelerate," Harmening told his audience in Boca Raton, Florida. "We're going to continue to look for bolt-on acquisitions both in North America and Europe."
Harmening also suggested more disposals were in the offing. "We divested Green Giant in fiscal '16 as we decided we were not going to invest in that business anymore. As we look ahead, we're looking at businesses with roughly about 5% of our sales that probably don't fit in our portfolio as well now as they did a few years ago. We will look to divest some of those businesses that are slower growth and lower margin."
He added: "I'm not going to give a timetable for that today but clearly we think we could benefit by focusing and having a few businesses that probably belong better in somebody else's hands because they're willing to invest in them more than we are."
Analyst reaction mixed
2017 saw a number of US-based food majors announce a change in CEO, with General Mills joining the likes of Mondelez International and Hormel Foods seeing new executives at the helm.
Harmening is a General Mills veteran. Before becoming General Mills' president and COO, Harmening had been COO of General Mills' largest business, its US retail unit, for three years. He has worked for the company for over 20 years with a career that includes a stint as CEO of Cereal Partners Worldwide, General Mills' international cereal joint venture with Nestle.
An argument could be made that an internal promotion could be less likely to revitalise a stagnant top line. However, Harmening's presentation at CAGNY was upbeat and he was optimistic about the growth opportunities that he said lay before the company, ranging from yogurt in China to the e-commerce channel domestically and internationally.
Moreover, General Mills is a company that has been accused in recent years of being too focused on margins and less so on sales growth. It was refreshing to hear the business outline ways it believes it can see its top line improve.
Analyst reaction, however, was mixed. "We believe the recent uptick in organic sales growth should be sustainable beyond FY18, when it is benefitting from some easier YAG comps and some additional marketing spend," Barclays analyst Andrew Lazar wrote.
Sanford Bernstein analyst Alexia Howard had concerns. "The company has been pedaling hard for flat top line growth this year with product innovation and pricing concessions, which calls into question how easy longer-term top line growth will be achieved and sustained," Howard wrote from CAGNY. The latest Nielsen data also suggests that the company is making notable pricing concessions in the cereal category to gain market share, although management did not directly comment on their pricing strategy despite multiple investor questions during the breakout session."
Howard concurred at the positivity in Harmening's address but added: "Over the long term, we remain skeptical about General Mills' ability to bring back low-single-digit top line growth given structural headwinds in its core categories (e.g., ready-to-eat cereal) as consumers shift to healthier, fresher food options."