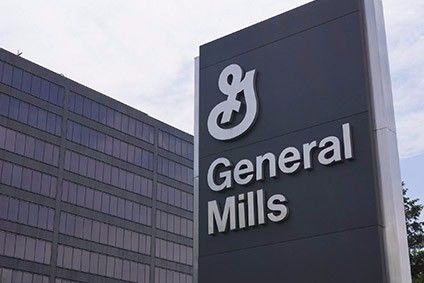 General Mills is one of a clutch of US-centric businesses that have been under sales pressure for some time. In the 12 months to 28 May, the YOPLAIT maker's annual net sales fell 6% – the third successive year in which its top line contracted. Last week (12 July), the US food giant held its annual investor day to set out its plans for the new financial year, a chance for recently-installed CEO Jeff Harmening to outline how he believes the company can improve its performance. Here are the top takeaways from the event.
A more international lens at General Mills
Among some industry watchers in the US, General Mills, with the bulk of its sales generated in North America, has long been considered a business that needed to broaden its horizons geographically.
General Mills does have a notable presence in markets like the UK, France and Australia, while it has been investing in building its operations in China.
However, General Mills has made just two acquisitions outside North America in the last five years – and both of those were in Brazil. And a quick look at General Mills' most recent annual results shows its North America retail unit still accounts for almost two-thirds of its sales and 78% of its segment operating profit. Given the challenges of operating in the North American market at the moment, General Mills still looks a business in need of spreading its wings.
That said, there were indications at General Mills' latest annual investor day, held last week, the company, under new CEO Jeff Harmening, is becoming more international in its outlook.
Asked what he would do differently to his predecessor Ken Powell given General Mills' performance over the past year and the evolving dynamics in the grocery market, notably in the US, Harmening pointed to the organisational revamp the company announced in December, changes he as COO announced.
"We're structured more globally and now our priorities are being expressed globally," Harmening said. "The fact we have fewer layers and now have an organisation that's more global first of all helps us transfer the best ideas globally and, secondly, makes the leadership team talk about whether having a distribution capability for Yoplait in China is a better idea than advertising Haagen-Dazs in France or is a better idea than doing something here in the US. Our ability to look globally because of structure change has made a big impact."
General Mills' most recent financial results highlight it remains a business anchored in North America. It will take time for that impact Harmening touts to show itself. However, the company appears more ready to look at its business through a more international lens.
An easing off on margins to come
Part-way through General Mills' last financial year, the Cheerios-to-Yoplait owner lowered what was already a weak forecast for annual sales, prompting suggestions from some in the investment community the company's focus on improving margins had hampered its growth.
General Mills brushed off the idea, pointing instead to mistakes made in how it priced soup, baked goods and yogurt, while admitting it had been "out-innovated" on the latter.
That said, the new financial year, which began on 29 May, will be 12 months in which General Mills – one of a number of US-based food companies to have worked hard on improving its margins in recent years, perhaps in part due to the rise of 3G Capital in the sector – will moderate the pace at which it would look to increase its margins as it invests in trying to restore its top-line growth.
The tweak to that equation will likely please those on Wall Street concerned about General Mills' sales performance. However, equity analysts covering General Mills still used the company's investor day to try to pin down how its management sees margins developing over the longer term.
Citi analyst David Driscoll highlighted a target General Mills had a year ago to hit an operating profit margin of 20% by 2018, an aim he said had "fallen out almost of the different metrics the company came up with" at the CAGNY investment conference in February – a week after the business cut its sales forecast. "Philosophically, no time-frame to this, can General Mills run at a 20% operating margin?" Driscoll asked. "Should it?"
General Mills CFO Don Mulligan insisted there was "nothing in our portfolio that's incompatible with a 20% margin" but he pointed to "a couple of things" that have "clearly changed" since the company was publishing the target last year.
"One, the volume impact of F17 was more than we anticipated so we needed to reinvest in '18 to start changing that momentum. And, second, the pricing environment isn't as robust as a year ago and that takes away some flexibility from a margin standpoint," Mulligan said.
Driscoll, pointing to the higher margins enjoyed by the 3G Capital-backed Kraft Heinz, a company sometimes used by analysts to quiz other US food makers about their margin profiles, wondered if General Mills' cost structure meant it would not be able to reach the levels of the ketchup and baked beans group.
Mulligan replied: "We have increased our margins by 200 basis points over the past two years. It's not that we haven't made a pretty significant move in our margins. As we look at the investment and the capabilities that are needed to drive growth in our industry, we think they're incompatible with that level of margin."
Not everyone convinced by General Mills' plans to improve sales
Harmening set out four "priorities" for the US food group as it tries to improve its "top-line growth trends" in its new financial year.
Three of the four priorities fall into the three-quarters of General Mills' portfolio it characterises as "growth" categories globally. One, the company is looking to grow its cereal business, including its Cereal Partners Worldwide venture with Nestle, globally. Two, it is trying to use innovation to "improve" its US yogurt business. And, three, General Mills is to invest in what it calls "differential growth opportunities" – businesses that include Mexican-style brand Old El Paso, the company's snack bars and its natural and organic businesses.
Harmening said General Mills wanted to build on the pockets of growth it had seen from its cereal business in its last financial year and added: "We don't expect cereal to lead our growth but even a little growth on such a large and profitable category will certainly go a long way."
On General Mills' US yogurt business, Harmening repeated the company's recent admission of missteps in the sector. "We have a long history of growth in this category but clearly recently we've seen declines as we've been late to adapt changing consumer interest. Our focus is getting back to leading, fundamental innovation in the category," he said.
And on the "differential growth" parts of the General Mills portfolio, he added: "We like these platforms because we have strong brands and strong market share positions. We also have good margins and we have a track record of solid growth."
The fourth of General Mills' priorities in the company's new fiscal year is to manage its "foundation businesses", which include refrigerated dough and soup, with "appropriate investment". Harmening explained: "Foundation brands … also play an important role, providing strong, consistent profit and cash generation but their growth prospects are not as strong. We'll make selective investments in these businesses where we see compelling returns."
Focusing more of General Mills' investment on the 75% of the company's portfolio its management deems to be in growth categories looks a wise move. However, in a note to clients issued after the investor day, Susquehanna International Group analyst Pablo Zuanic questioned how attractive the categories General Mills described as "growth" are in the US, a market dominating the company's sales and EBIT. He also suggested General Mills had "under-performed" some of those growth categories – in cereal, snacks and yogurt – although the company's Old El Paso brand had grown faster than the broader meals category.
Mulligan said much of the pressure on General Mills' performance in those growth categories had come from its US yogurt business. He added General Mills believed it would ride the wave of growth seen in the categories, although he gave an indication of the importance the company was placing on growth outside US. "Our key platforms all have low- to mid-single-digit long-term growth projections – externally projected long-term growth. When we look at our brand positions and capabilities, we have every expectation we're going to take our fair share of that growth and continue to do it essentially internationally because we're clearly so under-represented and that gives us an incremental opportunity."
In Zuanic's note to clients, he commented: "We would not minimize the company's international expansion opportunities – North America is 90% of EBIT – but lack of scale versus peers there is a concern. The cereal business under CPW is run separately."
General Mills another to eye e-commerce
Growing consumer interest in e-commerce is becoming one of the key battlegrounds of the industry's major manufacturers, be it in the more developed markets for online grocery like the UK and France or in a market where the development of the channel has been slower, like the US.
Shawn O'Grady, a General Mills executive that doubles up as president of the company's business with convenience stores and foodservice operators, as well as being its senior vice president of global revenue development, gave a presentation at the investor day on the Annie's owner's plans for e-commerce. He described the channel as "a global phenomenon that is truly mission-critical for the food industry over the next five and certainly ten years" and added: "The players who get it right early will be the players who have the best chance to maintain a competitive advantage over time."
Focusing on the development of e-commerce in the US, O'Grady said General Mills already enjoyed "the strongest competitive advantage". He said: "Our categories are more likely to be purchased online versus in-store and, within our categories, we are more advantaged online. Our market share online is 20% higher than it is in a physical store. This means, as more shoppers transition online, we're in an advantaged position."
General Mills, O'Grady claimed, had seen its e-commerce sales in the US jump 60% in the company's last fiscal year, a result he said was "20 points faster than the growth in online food today". The relatively small size of that part of General Mills' US business will account for some of that quantum of growth but O'Grady insisted its performance had been "achieved off a significant base" and added: "We continue to see strong double-digit growth ahead for our global e-commerce business, largely led by the US."
E-commerce represents roughly 1.5% of General Mills' total sales in the US but the company said it expects that chunk to grow to 5% by 2020.
A number of General Mills' US peers have similar ambitions in e-commerce; the likes of Mondelez International and Campbell Soup Co. have publicly stated sales targets. And some industry watchers, noting Amazon's interest in grocery, its dabbling in own-label and acquisition of Whole Foods Market, are questioning the manufacturers about whether their performance in e-commerce will meet those ambitions.
Harmening pointed to General Mills' record in the UK's online grocery market. "In the UK, we over-index online and it happens to be one of the highest private-label penetration markets in the world. I read a lot about battles and wars and private label winning and Amazon coming in and Whole Foods and what we've experienced is, in one of the highest private-label markets in the world, our brands actually index really well online."