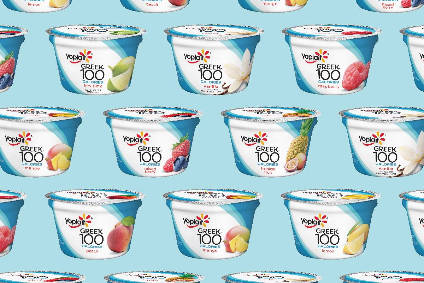 General Mills booked a 7% drop in first-quarter net sales last week, with sales down 4% on an organic basis. The US company has repeatedly insisted it is taking action to address problem areas in its portfolio, such as yogurt and cereal. But this latest set of numbers underline the challenges the group faces. Here are just-food's key takeaway's from General Mills' first-quarter results.
Domestic difficulties drive decline
General Mills continued to struggle in its largest market, the US. The Cheerios maker revealed total domestic sales fell 8% in the quarter to 28 August, the first of the US company's financial year. This consisted of a 5% decline in organic sales and the impact of the sale of the Green Giant brand to B&G Foods.
Speaking during a conference call with analysts to discuss the results, chairman and CEO Ken Powell put the decline in the context of a "slow" US food and beverage market. Overall, Powell said unit sales in the sector have "held stable" but net price appreciation has decelerated from adding "two points of growth" a year ago to "less than 50 basis points of growth" in the quarter under review.
On pricing, Powell noted: "Nielsen data shows deflation in certain sections on the perimeter of the store, including dairy and meat, but we are seeing good price discipline in the vast majority of our categories where average unit prices are up a little more than 2%."
Within its portfolio, Powell flagged a "slower start than planned" for Yoplait, Fiber One bars and General Mills' cereal brands.
US yoghurt remains tough
For successive quarters now, General Mills has outlined plans to return its US yogurt business to growth. The company has been forced to respond to a number of competitive threats: from the rise of the Greek yogurt sector led by Chobani to increased competitive activity from Danone. An ongoing theme appears to be General Mills has remained on the back-foot in the market.
This latest quarter is no exception. Powell conceded General Mills witnessed "significant" declines from its Yoplait Light and Greek 100 product lines. Yoplait Light has been hit by consumers increasingly looking to high-protein items, such as Greek. However, General Mills indicated it will continue to offer a Light option. "There are a number of deeply loyal consumers who are committed to this segment and to our products, so we plan to continue serving these loyal consumers and will leverage our category management efforts to ensure that Yoplait Light remains the leading option within the light segment of the shelf," Powell said.
Powell added Yoplait Greek 100 has struggled with "significant competition", resulting in its products becoming "less differentiated".
He did offer a way forward: "We're looking to change that by rolling out a significant product improvement over the next few months. Our reformulated line of Yoplait Greek 100 products will contain up to 40% more protein but are still only 100 calories and contain just nine grams of sugar, and we have dramatically improved the taste of these products while adding more protein, which is not an easy thing to do. Our new Yoplait Greek 100 products will be on-shelf in time for weight management season in January."
The company also has plans to make changes to the rest of its portfolio and, by the end of the year, 60% of its yogurts will be updated.
Meanwhile, General Mills is targeting the three fastest-growing areas of US yogurt – organic, beverages and Greek – with innovation. It entered the organic segment with its Annie's and Liberte brands in the first quarter, introduced Yoplait Licuado and smoothies in beverages, and rolled out "more indulgent, higher calorie" Greek Whips during the three months.
"We're highly focused on improving our US yogurt performance, and we believe that renovation and innovation are the keys to getting this business back to growth," Powell insisted.
Sanford Bernstein analyst Alexia Howard was less convinced. "US yogurt stands out as a large and consistent under-performer. Management offered a fairly detailed plan to address the weakness in this unit, but given that they have repeatedly tried and failed to stave off this category's decline for several years, we prefer to wait and see before assuming any improvement here."
Cereal and snack bars also challenging
Management revealed a 4% decline in its US cereal sales. However, Powell was keen to emphasise the positive, pointing to a "marked improvement" from the trends General Mills was seeing a year ago. "When looking at our cereal performance on a rolling 12-month basis, we've seen marked improvement from our trends a year ago with our latest 12-month retail sales down just under 1%. When we include non-measured channels, we'd estimate that performance would be closer to flat. We think we can continue to drive improvement in our cereal business by putting the consumer first and consistently delivering on their needs with innovation and renovation, just as we've been doing," he stressed.
General Mills has been "encouraged" by the performance of its two largest changes: the removal of artificial colours and flavours from certain cereals, of which sales increased 3%, and the introduction of gluten-free Cheerios, of which sales rose 2%.
Another bright spot in US cereal was the introduction of organic items under the Annie's brand. "We're getting good feedback from consumers so far, and retailer acceptance has been excellent. We expect Annie's cereal sales will build throughout the year as we grow distribution and get these products in front of more consumers," Powell revealed.
General Mills' snack bars – sold under the Nature Valley and Fiber One brands – have also witnessed "challenging trends" in the first quarter. The company has again focused its efforts on brand renovation. Powell stressed General Mills has met some success here: "easier to bite" Nature Valley Crunchy bar sales were up 2% and Nature Valley gluten-free protein bars saw sales rise 5% year-on-year.
"In fiscal '17, we're looking to build on the initiatives that have been driving growth for Nature Valley grain snacks. We're bringing back a successful media campaign reminding consumers that our Nature Valley products contain no artificial flavours and colours, and we'll expand our Nature Valley Nut Butter Biscuit line by introducing a cocoa almond butter variety to round out our current line-up of flavours," Powell said.
He also revealed General Mills is attempting to "stabilise" Fibre One sales, which have been in decline. The company is investing in new media this year to "drive home our key message of superior taste with the added benefit of fibre". New products are in the pipeline: in January the company is launching salted caramel chocolate chunk and double chocolate almond. And General Mills is also removing artificial flavours, colours and sweeteners from its brownie and "largest chewy bar" varieties.
Progresso in the soup?
General Mills said its so-called "foundation businesses" – refrigerated dough, soup and baking mixes in US retail – performed to plan, with a reduction of SKUs to optimise spending resulting in the loss of some volume.
The company did, however, point to ongoing declines at its Progresso soup business as a key reason for its overall sales slump in its quarterly report. Underlining the depth of the problems at Progresso, General Mills confirmed that it is looking at closing a soup making plant in Vineland, New Jersey, earlier in the month.
In a bid to make Progresso more relevant to consumers, the company announced plans to transition Progresso to antibiotic-free chicken. "We're transitioning our entire line of soup to antibiotic-free chicken, a first for a mainstream soup brand. More than 50% of Progresso soups contain chicken, so this is a significant initiative for the brand," Powell said.
As Progresso enters the "key" winter season for soup sales, where it generates a large share of its revenue and profit for the year, General Mills is "confident that our plans will yield good results", Powell said.
However, it is perhaps interesting to note that General Mills' latest product launch in the soup sector – GMO-free Good Natured Soup – downplays its link to Progresso. Does the company believe US soup eaters are also moving away from legacy brands to embrace new players in the space? If so, this could spell more trouble ahead for Progresso sales.
Natural and organic remains a bright spot
General Mills' sales of natural and organic brands continued to outshine the group's other businesses. The company's nine natural and organic brands posted US retail sales growth of 12% in the period. Powell said that Annie's and Larabar have been "leading our growth so far this year".
Sales of products Annie's made at the time it was acquired by General Mills have increased by 20% thanks to increased distribution and General Mills' drive to move Annie's into the "main aisle". Meanwhile, category expansions into yogurt, cereal, baked goods, snack bars and soup are "building distribution and helping grow household penetration". Total Annie's sales increased by 28% in the quarter, General Mills revealed.
While Larabar has "consistently grown double-digits" since it was acquired by General Mills in 2008, Powell said the brand has seen a "step change" over the past six months, with retail sales up more than 40%. The chief executive attributed growth to a new advertising campaign, "solid" distribution expansion and "excellent" in-store merchandising support.
International a mixed bag
General Mills' international businesses reported a mixed result in the first quarter. At a regional level, constant-currency net sales in Latin America grew 3% driven by strong snacks performance in Brazil and benefits from pricing. Net sales in the Asia Pacific region increased 1% at constant currency, reflecting low-single-digit growth in China. Canada sales were down 2% at constant currency but excluding the Green Giant divestiture, net sales in Canada were up low-single digits.
The picture in Europe was decidedly less rosy. Sales in the region were down 6%. Management attributed the drop to tough comps, as the company lapped 7% growth in last year's first quarter behind the Haagen Dazs stick bar launch.
On an organic basis, first-quarter international segment net sales declined 1%.
Margin expansion
While General Mills undoubtedly struggled to generate top-line growth, the company was able to report positive news on its margin initiatives. For the first quarter, adjusted operating profit margin expanded 80 basis points to 19.2%.
CFO Doug Mulligan stressed General Mills continues to "make progress on our margin expansion goal".
He continued: "In July, we announced a number of new restructuring actions that will further support this effort. We plan to close our soup factory in Vineland, New Jersey in order to eliminate excess capacity in our US retail supply chain. We expect this action will be completed by the end of fiscal '19.
"Additionally, we are eliminating excess capacity and exiting unprofitable businesses in our international segment. In Brazil, we'll close one of our snacks manufacturing facilities and we'll cease production operations on certain snacks and meals products at another facility. We're also restructuring our snacks business in China and have plans to stop production on certain under-performing products in that market. We expect these actions to be completed by the end of fiscal '17."
General Mills has initiated a process of zero-based budgeting, which it says is delivering savings, as well as advancing its existing holistic margin management (HMM) model.
"Our progress on margin expansion in the first quarter gives us increased confidence that we can achieve our goal of 20% adjusted operating profit margin by fiscal '18," Mulligan said.
But streamlining its operations is not the only lever General Mills is utilising to strengthen margins. During the first quarter, the company cut controllable costs to inflate profits – including a double-digit decrease in marketing behind foundation businesses and US yogurt. The risk here being that General Mills' lower media spend will further dampen the company's ability to deliver sales growth in businesses that are already struggling to expand. In effect, General Mills risks robbing Peter to pay Paul.
As Morgan Stanley Research analysts note: "The company's planned double-digit reduction in media spend could represent a mid-term headwind as the company seeks to moderate sales declines across both its growth [and] foundation brands and support improved retail takeaway."
Growth needs to accelerate
General Mills has a target for its annual net sales, on an organic basis, to be in a range of flat year-on-year to down 2%. After the first quarter, General Mills actually needs to see revenue expansion accelerate to hit that target. Management believes this is feasible.
"We expect our sales growth to improve in the balance of the year as we see continued growth in certain businesses and as we execute a number of consumer first actions across our portfolio. We'll also lap easier net sales comps in the remainder of the year," Mulligan noted.
Powell elaborated there are a "number" of reasons organic sales will improve. He highlighted softer comparisons, starting in the second quarter, improved pricing and the company's efforts on innovation and renovation.
All eyes will be on General Mills' second-quarter underlying sales performance to see if management's expectations play out.