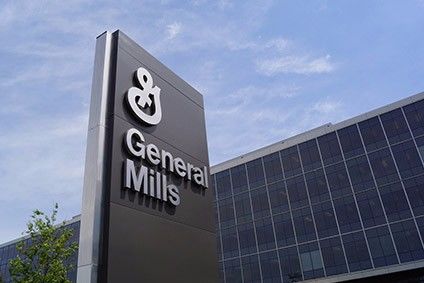 General Mills last week lowered its already weak forecast for its annual sales due to lower-tha-expected sales in US yogurt and soup. Unsurprisingly, then, the US food giant's efforts to reinvigorate its top line were the primary focus of its presentation at this week's Consumer Analyst Group of New York investor conference. Here are just-food's key takeaways from the event.
Cash and margin has been the recent focus
Addressing the investment community at the Consumer Analyst Group of New York investment conference in Florida this week, General Mills' management detailed the company's understanding of the four "value creation levers" at its disposal.
"Our company's long history of strong returns has been driven by a focus on four key components, or levers, that make up our shareholder return model. Growing sales, expanding margins, converting earnings to cash and returning that cash to shareholders," General Mills CEO Ken Powell explained.
While Powell believes that sales growth is the "most fundamental" lever to generate sustainable value, he also stressed the importance of responding to operational realities. "In the current environment, where top-line growth has been difficult to come by for us and our industry, we placed more emphasis on the margin and cash levers," he explained.
Between 2015 and 2017, General Mills will deliver a "more than" 200 basis point expansion in adjusted margins, Powell forecast, thanks to initiatives such as its "holistic margin management" (HMM) programme, the streamlining of its supply chain, zero-based budgeting and the restructuring of global operations.
"We have heightened our focus on cash flow and cash generation and we have remained disciplined in returning cash to shareholders," he insisted.
But sales are falling
While General Mills was keen to stress the progress the group has made in strengthening profitability, the Progresso-to-Häagen-Dazs maker conceded sales – and operating profits – have suffered over the past year.
Although the company expects to increase its operating margin to 18% "or higher" in its 2017 fiscal year, Powell confirmed General Mills anticipates a 4% fall in net sales. This, he forecast, will mean operating profit will be in a range of down 1% to up 1%, reflecting lower sales and incremental spending in the fourth quarter.
COO Jeff Harmening was keen to stress the sales slowdown was not a direct consequence of General Mills' cuts. "HMM we have been doing for a decade. That certainly hasn't had a negative impact on sales. Our supply chain restructuring has gone at least as well as we had hoped, maybe better. And our reductions in our administrative costs I think are actually going to make us better, even what I see already our new global organisation is more efficient and it will be faster and more agile and able to share better. So those things I don't think have had an impact," he explained.
Why are sales down?
If General Mills hasn't hampered its growth by cutting too deeply, why has the company been forced to lower sales expectations?
According to Harmening's assessment, revenue has been hit because General Mills "took too much pricing this year" in three categories: soup, refrigerated baked goods and yogurt.
Additionally, Harmening suggested, the company has been "out-innovated" in the North American yogurt category. General Mills suggested the category as a whole was suffering from a lack of product news, with sector sales declining by 3% year-on-year. Data provided by General Mills revealed that, historically, 5-6% of yogurt sales have come from new products, but this has more recently dropped to only 1-2%.
Nevertheless, a renewed focus on top-line growth
General Mills recognises the need to improve its top-line trends. As Powell suggested: "We are determined to get our business back on track to the kind of performance that has consistently delivered top tier returns for our shareholders over the long term…. While our progress on the margin and cash levers has been important we know returning our business to sustainable sales growth is critical to delivering long-term shareholder returns."
As Barclays analyst Andrew Lazar notes, while General Mills can lean on any one of its levers more heavily in any single year, the company is now placing increased focus on lifting sales. "General Mills' presentation emphasised the company's focus on returning to growth moving forward. That is, while General Mills' path to reaching its long-term algorithm can rely more on top-line growth or margin expansion in a given year due to a variety of factors at play – moving forward, management believes that it needs to weight more towards top-line growth (versus its margin expansion focus in the recent couple of years)."
How does General Mills hope to achieve this?
It is one thing to recognise the need to improve sales trends. But, in a consumer environment that remains challenged and an intensely competitive environment, it is another thing to deliver on this ambition.
Powell believes General Mills can leverage a number of strengths to gain a competitive advantage in this scenario.
"We see three fundamental keys to restoring top-line growth. The first is to recognise and respond to consumer trends – that is the essence of our 'consumer first' strategy. The second is investing in our global platforms where we see the most attractive growth opportunities. The third is leveraging our global scale to generate growth in dynamic markets around the world," he suggested.
In terms of the consumer, General Mills identified two key trends – convenience and wellness – that it believes will shape the future of global demand.
The company has also signalled its intention to concentrate its efforts on five platforms. Powell revealed the group is prioritising growth in global cereals, snack bars, convenient meals, yogurt and ice cream.
And, finally, General Mills believes its recent reorganisation into a segmented global structure should provide it with the organisational support needed to deliver growth and bring it closer to local consumers.
Turning around US yogurt
Yogurt sales in the US have represented a weak spot for General Mills for a number of years. The company found itself struggling with the emergent Greek segment and despite innovation in this area behind Yoplait, the group continued to see competitors such as Chobani and Danone gain share.
While category retail sales are down about 3%, General Mills conceded its own yogurt brands are down in the "high teens" in the year-to-date.
Turning around US yogurt sales is a priority for General Mills and the company believes it has hit on an innovative idea that will bring its Yoplait brand ahead of the curve.
General Mills renovated more than half of its yogurt portfolio in 2017 to bring it into faster-growing, premium segments. The company introduced snacking products, custard yogurt and yogurt beverages as well as bringing its natural and organic brands Annie's and Liberte into the sector.
General Mills is also planning it hopes will be game-changing innovation, to be rolled out this summer.
Harmening revealed: "We see the opportunity to reinvigorate growth in the category by building new segments. We are seeing consumer expanding out from Greek to more simple better tasting yogurts that feel more crafted and artisanal. We call this emerging segment 'simply better' and this summer we are launching an innovative new line in this segment that leverages our French heritage and global expertise to bring an entirely new yogurt taste and texture to the US market."
Strengthening trends in China
General Mills has seen sales trends in China slow over the past two years. Growth in the market has reduced due to a more difficult macroeconomic environment coupled with portfolio decisions that saw General Mills quit the snacks business in the country, management said this week.
When the company revealed plans to prioritise investment behind "growth" areas of its portfolio this summer, the company even conceded its performance in China this year was hampered by lower sales of Häagen-Dazs, which has been a star performer in the market. This more than offset gains supported by the introduction of Yoplait in the country.
General Mills now wants to turn these trends on their head.
Commeting on the group's plans in the country, Harmening said: "We believe our remaining portfolio is well positioned for future growth… Premiumisation is a key growth driver in China and we are capitalising on that throughout our portfolio."
On Häagen-Dazs, Harmening said the company is taking moves to revitalise its store base, and the group is also "bringing innovation to our retail business with new snack bars".
At the same time, General Mills said that there is significant space to grow Yoplait sales in the market. The yogurt brand launched in Shanghai and was then extended to Beijing. There is still space to "extend brand into geographies" and grow penetration in cities where it is already available.
"We are encouraged by our recent trends in China and believe we have a long runway of growth ahead in this important market," Harmening concluded.
Is General Mills abandoning margin goals?
General Mills had previously said it wants to expand its operating profit to 20% by 2018.
According to Lazar, the company's presentation could lead investors to conclude that General Mills is backing away from this goal.
"Management did not explicitly reaffirm this target. While we would not necessarily expect General Mills to provide formal FY18 guidance just yet, given the company had just reaffirmed this target on its F2Q17 conference call, we can understand how some investors could view this lack of reaffirmation as indicative of General Mills taking a step back from this target at this stage," he wrote in a note to investors.
Indeed, when quizzed on the margin goal management responded: "We aren't releasing any additional guidance about fiscal '18 today… what I will tell you is we have a good line of sight on our cost-saving initiatives."
Nevertheless, CFO Don Mulligan stressed the company's commitment to expanding margin whilst also investing in reinvigorating sales. "We are committed to our long-term growth model and have taken aggressive actions on the margin and cash levers… We have taken aggressive actions to improve our cost structure and have identified further opportunities. We have a strong focus on cash … and see opportunities to continue this success going forward."