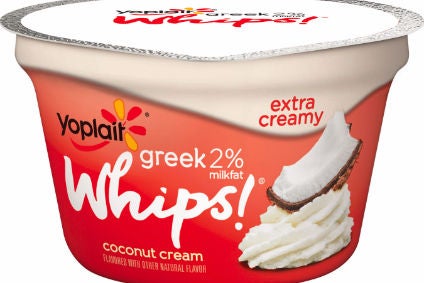 General Mills this week reported another quarter of falling sales, leading industry watchers to wonder if the US food giant will lessen its focus on its margin target but, more critically, whether the company can revitalise its top line. Hannah Abdulla reports.
General Mills yesterday (21 March) booked a seventh consecutive quarter of declining sales, much to the concern of onlooking industry analysts.
The Cheerios and Yoplait owner, battling to eke out some sales growth in North America, its largest market, reported a 5% fall in group sales to US$3.79bn.
On an organic basis, General Mills' sales were down 5%, "primarily", it said, due to falling volumes in its key North America Retail division, which accounts for a majority of its total revenues.
General Mills' reported sales in North America were down 7%, with volumes declining 9%. The company admitted its US yogurt and US meals and baking businesses had seen "double-digit declines" in sales, marking another quarter when those divisions had come under pressure. The Progresso brand is also facing challenges.
The group's profits, meanwhile, were also down year-on-year, with operating profit sliding 7.5% and net profit dipping 1%, due in the main to factors including restructuring and impairment charges. On an adjusted basis, General Mills' operating and net profits grew year-on-year. Over the first nine months of the year, however, while General Mills reported a rise in its net profit on adjusted basis, its operating profit on the same basis was lower.
Investor and analyst expectations about General Mills' third quarter were already muted after February's profit warnings. However, the company's sales results even managed to miss those expectations.
General Mills has suffered, like a number of its major packaged food peers, from evolving trends in the US marketplace, with an increasing number of consumers looking for natural, organic and more simple foods and becoming less interested in products deemed to be overly processed. General Mills has tried to meet that challenge by expanding into these areas with the acquisitions of US natural and organic business Annie's in 2014 and local meat snacks firm Epic Provisions last year. Away from these full-on acquisitions, General Mills' in-house investment fund, 301 Inc, has been busy, backing a number of up-and-coming US businesses deemed to be on-trend.
However, while the likes of Annie's and Epic are growing, they remain a small part of General Mills' US business and a number of its bigger brands, like Yoplait, remain in the doldrums.
Moreover, General Mills, as it has faced pressure on its top line, has, like a number of its US peers, put increased emphasis on protecting margins, using initiatives such as its ongoing "holistic margin management" (HMM) programme, the streamlining of its supply chain, zero-based budgeting and the restructuring of global operations.
However, there have been growing concerns about whether that focus has gone too far, with the company compounding the macro pressure on its sales by, in some areas, supporting its brands less with fewer resources going into advertising and promotions. And those concerns were aired again when General Mills discussed its third-quarter results with analysts yesterday.
"Do you believe that the cost reduction in these programmes are in the whole or in part to blame for the significant revenue problem that the company is having?" Citi analyst David Driscoll asked General Mills' management.
Ken Powell, General Mills' CEO and chairman, acknowledged there had been "a lot of change" at the business and admitted: "We have gone through about as much organizational changes one can go through in the last three years and so you know does that have an impact, I suppose it does."
However, Powell insisted: "I really don't think that's been the primary driver of our performance this year. The biggest challenges that we've had this year with our retail sales have been two-fold and it really has been the pricing and the price discrepancies we've had in our biggest categories, as well as our innovation on yogurt and we need to get back to fundamentally strong levels of innovation."
He added: "Most of the big supply chain restructurings we have are behind us now. We've already implemented ZBB. The cost savings initiatives that we've seen in front of us, things like going to global sourcing and things like that, aren't going to have an impact on how we execute in the marketplace. And so whatever I say a lot of the big organizational changes that we think could have an impact commercially we're not going to see going forward."
Not all of General Mills' businesses in North America are struggling. Its natural and organic divisions, for example, are brighter spots. However, focusing on the performance of two General Mills' problem areas – refrigerated baked goods and Progresso soups – Jeff Harmening, the company's set out what had been behind the declining performances of the businessses.
"With refrigerated baked goods, we took a significant amount of pricing and we've paid the price for taking more than we should have. Refrigerated baked goods really is getting back to being price competitive, we think we'll have a much better year next year than we had in 2017," Harmening said. "Our Progresso … price points weren't particularly good and we didn't probably execute the way that we wanted to. There is nothing wrong with either of those brands although I can understand how you would think that given the volume decline but it really is transitory, they are both great brands and we think we can improve performance on both of them."
On General Mills' yogurt business in the US, Harmening admitted the company "has work to do to reposition" the business and plans to focus on "faster-growing, more premium yogurt segments".
Harmening said: "We'll do that through core renovation on our existing lines and innovating on emerging segments in the yogurt category. We've recently renovated a significant portion of our core yogurt business. On the innovation front, we're capitalising on increased consumer interest in snacking with the recent launches of Yoplait Dippers, Yoplait Custard, and a new regional yoghurt drink that gets us into the fast growing beverage segment," explained Harmening. "And we're starting to see consumers looking for more simple, better tasting yoghurts that feel more are seasonal. This summer we'll launch a new line here that leverages our French heritage to bring an entirely new yoghurt taste and texture to the US market."
More broadly speaking, in a bid to support its brands in the US, Harmening said General Mills would "get sharper on price" and put "an increase in media" behind its "growth businesses".
However, General Mills' plans to put more support back behind its brands in North America has not won over all industry watchers, some of whom remain concerned about the trajectory of the company's performance.
Alexia Howard, an analyst at US investment bank Sanford Bernstein, said it is "hard" to believe adding back promotional dollars and launching on-trend yoghurt SKUs would resolve General Mills' top-line issues.
"It was only a quarter ago that management was touting its plans to cut back on promotional spending that wasn't working. The fact they're course-correcting so quickly leads us to believe that they don't fully understand what is working and what isn't in their particular categories," she asserted. "In particular, their sole focus on price is worrisome, as by itself it's typically the least effective promotional tactic. We are also afraid that retailers are using this gap to push their private label offerings".
Reflecting on General Mills' US yogurt business, Howard noted General Mills has "lost share…consistently over the past seven years" and questions whether Yoplait's brand equity "hasn't been permanently impaired".
More broadly, Howard said General Mills' management "doesn't seem to show the level of concern that we feel is warranted for a situation like this". She added: "The bottom line is that General Mills' business is shrinking at a mid-single digit rate, among the fastest in our coverage. We don't think there is anything non-recurring about this, and are sceptical of the company's ability to reverse it. Operating leverage tells us that sales declines of this magnitude should lead to double-digit operating income declines, which obviously aren't baked in the current valuation."
And, of course, with General Mills' top line continuing to be under pressure, analysts are wondering what could be the longer-term impact on its profitability.
Barclays analyst Andrew Lazar said General Mills management had "noted prominently in its release a balance of sales growth and margin is needed", which, he said, "continues to suggest General Mills' initial FY18 margin target of 20% is likely to be less of a focus".
Pablo Zuanic, an analyst at US investment and trading firm Susquehanna International Group, argued part of the savings General Mills had accrued would need to be invested in bolstering its top line and added: "We worry that FY18 guidance – to be issued in June after 4Q results – will disappoint, as we estimate the company will need to reinvest part of its recent savings to bolster the top line."
And Howard warned: "This year, the company will be able to keep its operating income stable through greater efficiency and reduced spending in incentives and media, but this isn't a sustainable course."