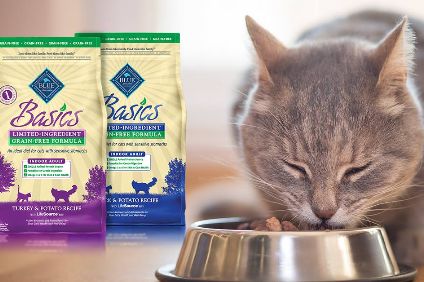 Three days after signalling more M&A was likely, General Mills on Friday announced a move into pet food with the acquisition of US firm Blue Buffalo Pet Products. The US$8bn deal appears pricey but should give General Mills' top line a boost and the company is confident its new asset can continue to grow. Some in the market, however, raised questions. Dean Best reports.
Last week, General Mills CEO Jeff Harmening told an audience of investors and analysts in the US the "reshaping" of the company's portfolio would be central to improving the growth profile of the business – and involve M&A and disposals. On Friday (23 February), the company made a significant move on that front.
The owner of brands including Old El Paso Mexican-style foods and Nature Valley snack bars has decided to move into pet food.
General Mills said on Friday it has agreed to pay around US$8bn for US-based Blue Buffalo Pet Products, which the US food giant says makes "natural foods and treats for dogs and cats" under the Blue brand.
The pet food market in the US is worth $30bn and generating "consistent 3-4% growth", General Mills said. And it insisted pet food is "highly attractive for retailers based on continued market growth, premiumisation and subscription-like purchase patterns that drive traffic and repeat purchases".
Compared to much of packaged food, pet food – and particularly the segments perceived to be more premium – does appear to be growing nicely.
And, speaking to analysts on Friday – some of whom were still at the CAGNY conference – Harmening sought to talk up the credentials of the pet-food sector, the category in which Blue Buffalo majors and the prospective new asset itself.
"[Pet food] is one of the largest categories in the store with nearly $30bn an annual US sales. But it's not only big, it's a consistent grower, with retail sales increasing between 3% and 4% in recent years and up at a 5% compound rate over the past ten-year time-frame, according to Euromonitor," Harmening explained.
"The growth in the wholesome natural category where Blue Buffalo is exclusively positioned is even stronger. In fact, it is the fastest growing category within the broader pet food market. A lot of that has to do with the fact there's a great deal of emotional appeal in the industry. Pets are beloved members of the family and consumers want the best for them.
"Blue Buffalo is four times larger than the next competitor in this wholesome natural category. This leadership position is driven in part by strong presence across important channels. They are the number one selling pet food brand online. In addition, Blue Buffalo is a leader in the speciality channel."
Blue Buffalo, set up by co-founder and CEO Billy Bishop in 2002 and floated three years ago, last year sought to broaden its presence in the US with a launch to mainstream retailers, or what the company and General Mills called on Friday the "food, drug and mass" channel.
Bishop, who will continue to lead Blue Buffalo and report to Harmening, said the company was "off to a good start" in FDM channel and had become either the number one or two brand at its four largest retail customers. "We continue to believe FDM represents a considerable growth area for a business in the coming years," he told analysts on the call.
And, as well as the growth Blue Buffalo has seen, Harmening and Bishop outlined why they think the business can expand further under new ownership.
"The consumer shift toward wholesome natural is transforming pet food in the US and we're still in the early innings of that transformation. In fact, the wholesome natural category has just 10% household penetration among US. pet owners with considerable growth ahead," Harmening said.
And Bishop insisted Blue Buffalo's aim to grow its market share would "greatly be enhanced by our ability to leverage General Mills scale and capabilities in sales, marketing, advertising, supply chain, R&D and innovation".
The risk of a new category
However, moving into a new industry is not without an element of jeopardy for General Mills. "The deal strikes us as strategically sound, as it stands to improve General Mills' growth trajectory without compromising its ongoing efforts to enhance its bottom line," Morningstar analyst Sonia Vora wrote on Friday.
Nevertheless, pointing to General Mills' plan to follow a similar path to recent acquisitions in human food, Vora added: "We expect General Mills' approach to integrating Blue Buffalo to be similar to its prior deals with brands like Annie's and Epic, allowing the pet food unit to leverage its supply chain and distribution capabilities while keeping the acquired firm's operating model – and consequently brand equity – intact. However, we note the risk inherent with this structure, as General Mills will be entering a new category in which it has limited experience, versus its acquisition of Annie's, for example, where it was able to expand the brand into categories, like yogurt and cereal, in which it already held leading brands."
The potential risk of entering a new sector was put directly to Harmening on the analyst call on Friday. The General Mills chief executive raised a number of counter-arguments. "We enter this new category we're doing so with the leadership team led by Billy and his family but also many others who have been quite successful over time," Harmening said.
Frankly, this is a larger scale version of what we've done with Annie's and Lärabar and Epic and others
"[Pet] is seeing a lot of the same consumer trends that we see in our human food businesses. We feel great about our track record in natural and organic. Frankly, this is a larger scale version of what we've done with Annie's and Lärabar and Epic and others. Some of those were not in categories that we currently participated and even though they were human food. Our experience advancing fast growth emerging brands like Annie's, Lärabar and Epic, helping them to expand their presence, gives us confidence that our thoughts for approach to integration will enable us to do the same with Blue Buffalo.
"A lot of the underlying technologies [Blue Buffalo] use are very similar to what we have here. In terms of how the brand behaves, it's actually fairly similar to Haagen-Dazs, in that it's a premium position product in a big, profitable, attractive category with lots of different avenues for innovation."
The price tag for Blue Buffalo
The amount General Mills agreed to pay for Blue Buffalo provoked comment. General Mills said the $8bn price tag equates to a "2017 adjusted EBITDA multiple of 22 times, including synergies".
Alexia Howard, an analyst at Sanford Bernstein, said that multiple represented a multiple of approximately 25 times before synergies, a level she described as "meaningfully higher than the average deal multiple of circa 16.5x in recent years".
She added: "General Mills appears to have a track record of paying for growth, evidenced by the 27.9x deal multiple it paid to acquire Annie's Homegrown in 2014."
General Mills' swoop for Blue Buffalo put the cat among the pigeons in parts of the market on Friday. The previous day, the company's shares closed at $54.95; on Friday, the stock had reached $52.98 (and had fallen further to $51.42 when the closing bell rung in New York yesterday).
The risk to the company, which is still looking to get its core US food business back on-track of branching out, the tasty deal multiple and having to wait until fiscal 2020 for the acquisition to be accretive could have weighed on market sentiment.
Should General Mills be looking elsewhere?
And were some investors expecting General Mills' portfolio reshaping to be more likely see it going deeper in certain parts of human food? Or striking another deal in emerging markets? Chris Growe, an analyst at Stifel Nicolaus, told Harmening on Friday General Mills' own CAGNY presentation earlier in the week had led him to think an acquisition in emerging markets was more likely.
Harmening underlined General Mills believes the "consumer trends" and "channel shift" in pet food were "coming into our wheelhouse" and the company felt it could "add value".
On General Mills' broader strategy of changing the look of its portfolio through M&A, Harmening suggested the thrust of the company's inorganic activity would be made in the US, with its overseas businesses being principally boosted by existing assets like Old El Paso and Haagen-Dazs.
"The platforms we are looking at – Haagen-Dazs, snack bars, Old El Paso and natural/organic – the majority of that acceleration will occur outside the US. Organically, we plan to grow more quickly outside the US and we feel like we have a long runway both in terms of expansion to new markets, but also expanding channels within the current markets we're in outside the US. On our portfolio shaping, both through acquisitions and to some extent divestitures, we'll more focused on the US business but not exclusively."
He added: "With this acquisition, it brings us back to growth in the US – and growth on a consistent basis."
Blue Buffalo set to get General Mills back to growth in US
Pablo Zuanic, an analyst at US investment and trading firm Susquehanna International Group, was a supporter of the Blue Buffalo acquisition, saying the deal "makes sense" for General Mills.
"What is the problem with slow-growth CPG companies transforming the growth profile of their portfolios with acquisitions – with deals that leave upside and make financial sense – and divestitures?" he wrote in a note to clients yesterday.
"Yes, the integration could be choppy, as the Blue Buffalo operational risks remain an issue: backlash from speciality stores as Blue Buffalo keeps expanding in FDM; continued weakness in superstore traffic; a crowded e-commerce pet food space.
"Net, over time, General Mills will make the Blue Buffalo story probably more sustainable and the deal helps General Mills have both a better sales growth profile and also better margin structure."
General Mills will not be the only human-food major in pet. It is set to join the likes of J.M. Smucker, Mars and Nestle in the US pet-food market. Indeed, Nestle has included pet products as one of four "high-growth food and beverage categories" to which it plans to direct its capital investment.
And the Blue Buffalo deal has got Zuanic pondering. "Although we would not want to speculate on Nestle's future moves (certainly a company trying to make up its mind where it is going), does Blue Buffalo make General Mills more appetising to Nestle?" he said yesterday.
In the meantime, for all the market anxiety about risk and value, Harmening will be hoping he can prove his new asset is the cat's whiskers.