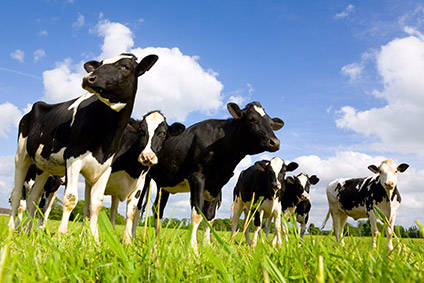 In the first part of a two part feature looking at the German dairy sector, Andy Coyne focuses on the make-up of the market and the pressures weighing on its growth prospects.
Finding a path to meaningful growth in a dairy market as mature as Germany's is no mean feat.
And when that market is dominated by large supermarket groups – including Aldi and Lidl – a price-driven trading environment adds to the degree of difficulty.
Which leaves the leading dairy providers in Germany – domestic and foreign – seeking to find an edge through product innovation and strategic alliances (more of which in part two of this feature).
But the sheer size of the market makes it a worthwhile venture.
Germany is the largest dairy market in Europe, accounting for 16.8% of its overall value in 2017, according to research and analysis organisation GlobalData.
Its latest Dairy in Germany report, published in June 2018, revealed "moderate" compound annual growth rate of 1.4% between 2013 and 2017 with the 2017 figure being 1.1%.
GlobalData points out the market growth was primarily driven by the country's favourable economic conditions during the review period, which strengthened consumer purchasing power.
The researchers at GlobalData expect growth to accelerate over its forecast period of 2017 to 2022, with anticipated growth of 2.3% for the five year period.
However, the report stresses "the main dairy products, such as desserts, cream, condensed milk, fromage frais and quark have a long tradition in Germany [and] therefore, it is difficult to produce substantial growth in the mature market".
It adds: "Growth in the German dairy market is primarily driven by slight increases in unit prices."
The size of the market is impressive, though. It had total revenues of US$27.11bn in 2017 (compared to a French dairy market of $23.16bn and a UK market of $16.5bn).
This is expected to grow to $30.42bn by the end of 2022.
Market consumption volume increased between 2013 and 2017, to reach a total of 8.65bn kgs in 2017. The market's volume is expected to rise to 8.69bn kgs by the end of 2022, GlobalData says.
Cheese sales accounted for the highest value in the German dairy market in 2017, with total sales of $7.87bn, equivalent to 29% of the market's overall value. In comparison, sales of milk reached a value of $4.4bn, equating to 16.2% of the total market value. Yogurt was third with sales of $4.2bn, a 15.5% market share.
The largest dairy player in Germany is the domestic player Muller with a 6% market share, followed by FrieslandCampina of the Netherlands at 5.8%.
But dairy businesses are not exactly spoilt for choice when it comes to retail distribution channels with 90.9% of dairy products sold through hypermarkets and supermarkets, according to GlobalData's research.
Market watchers are well aware of both the market's size and the struggle for growth.
Consultant Preben Mikkelsen, chief executive officer of Denmark-based PM Food & Dairy Consulting, said: "A large part of the growth is because companies are investing in foodservice, canteens etc. In Germany, this is a sector growing more than household consumption. To an extent the foodservice segment is keeping up market growth."
However, Mikkelsen says in that part of the market the "risk is the economy," suggesting people would start spending less on going out of there is a downturn.
And, all the while, he highlights the problem dairy groups have on the retail front. "The discounters are pushing the price all the time. It is a very difficult situation in which to launch brands as they have their own brands," he says. "They [the retailers] use dairy firms to produce their own products."
On a brighter note, dairy companies are not fighting a rearguard action against plant-based alternative protein providers to the degree in which they are in the UK and the US, for example.
"The vegetarian market has entered Germany as well but not so much as in other markets because Germans are very conservative when it comes to dairy," Mikkelsen says.
Fellow market analyst Mark Voorbergen, of Netherlands-based Claassen, Molenbeek & Partners, believes the problems the industry faces are to do with both competition and distribution.
"Germany's dairy sector has too many people making the same products"
He said: "The obvious comment is that it is still an industry that is quite fragmented so that makes it hard to extract decent margin levels. It has too many people making the same products.
"And it's all about the retailers. People are saying 'they squeeze us too tightly and there are hardly any margins left'. When there are so many options in terms of supply it makes life quite easy for the retailers and wholesalers to go for the cheapest offer."
Voorbergen believes a number of suppliers are operating in a comfort zone.
"There are quite a lot of companies who are by no means dominant in any way but have a strong product," he says.
"Within that landscape, quite a lot of companies are doing fine. They are well managed and they have found a niche but they don't have different offers, different models."
Voorbergen agrees with Mikkelsen about growth coming from the foodservice channel.
"It is to do with where people are consuming dairy. It is about trying to track the consumer on-the-go and at home," he says.
And he concurs with Mikkelsen's assessment of the threat from plant-based dairy alternatives. "There is slower change in this area compared to the UK and the US," he says. "I can't see plant-based taking a, say, 20% share of the dairy market but it makes sense to take alternatives seriously."
Voorbergen is no means despondent about the German dairy market's prospects more generally.
"It's a big market and there are still some opportunities for growth. That's no longer the case in the Netherlands, for example, which is why companies there are looking at this market," he says.
It is a point not lost on Denmark-based dairy cooperative Arla Foods, which has a large presence in Germany.
A spokesperson for Arla's business in Germany says: "Germany is a highly competitive market with a broad range of dairies. In essence, it's a market that is very price-focused.
"But it's a very big market. There is relatively low single-digit growth so it's about fighting for the bits and pieces. It's about looking to broaden the category."
He takes the point about the strength of the retailers in Germany making it difficult to grow brands.
"In Germany, the branded share is relatively lower. We see opportunities to grow but it is tough," he says. "We are joining up with retailers and developing together. When private label has a huge share you have to work closely with retailers. There is common interest in that."
Jan Kruise, managing director of FrieslandCampina's operations in Germany, takes a similarly pragmatic view to Arla about the make-up of the market.
"This is a very fragmented market but it is the biggest in Europe so fragmentation is not seen as a big issue. There is enough to take a share from," he says. "The market can be characterised as having a limited number of customers and many suppliers – roughly 100 suppliers."
On pressure from retailers over pricing, Kruise says: "It is a fact that there are pressures on margins on the supplier side. But as a category we have a job to do there. As a co-op we discuss fair prices. We need fair prices to enable our farmers to take good care of their cows and for sustainability etc. and so they can innovate to follow consumer needs. That means benefits to the whole industry, including our customers."
FrieslandCampina, a cooperative with 19,000 farmers, is so embedded in Germany it talks about the country being one of its three home markets, alongside the Netherlands and Belgium.
Kruise says FrieslandCampina has made a decision to concentrate solely on dairy, despite the trend – stronger elsewhere than in Germany, admittedly – towards alternative sources of protein.
"Dairy consumption has been there for 6,000 years and it is extremely nutritious," he says.
"You have to add a lot of elements to plant-based to get to the same nutritional value as dairy.
"We have decided to fully focus on dairy. There is so much to do in dairy and so many opportunities."
The dairy fightback – in part two of this feature we look at the strategies dairy companies operating in the German market are employing as they search for growth.