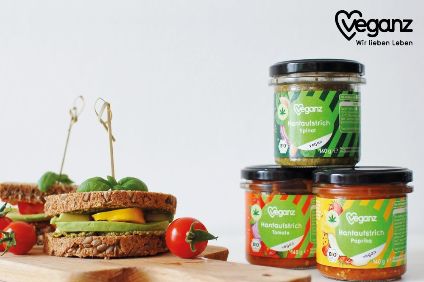 In the first part of a two-part feature, Andy Coyne looks at the German packaged vegan food market and at how the country's culture and its retail make-up have aided the category's growth.
Germany has become the poster child for the world's vegan food movement and it is tempting to think what is happening in the market there today – in terms of consumer trends and producer and retailer activity – will be duplicated elsewhere in the world.
Vegan food, in this argument, apes the way Germany has led the field in environmental issues – the Green movement started there, of course.
But, when it comes to the sale of packaged vegan food in Germany that argument is too simplistic. There are country-specific factors at play that make Germany a unique proposition for those selling plant-based and meat-alternative products.
The size of the vegan food market in the country is impressive.
Euromonitor International research shows the vegan packaged food market in Germany is growing steadily. It is worth US$1.96bn already in 2018 compared to $1.94bn for the whole of 2017 and $1.92bn for 2016.
Findings from fellow research business Mintel reveal 15% of the new vegan food and drink products launched between July 2017 and June 2018 were in Germany, the largest percentage of any country.
Katya Witham, global food and drink analyst at Mintel, suggests the rapid growth of vegan products in Germany reflects both the growth of flexitarianism – meat-eating vegan tourists in effect – and ethical consumerism, especially among younger consumers.
"The spirit of flexitarianism seems to resonate in Germany: 20% of 16- to 24-year-old Germans had purchased meat alternatives in the three months before taking part in Mintel's survey in 2017, and half of all German consumers (50%) believe plant proteins are just as nutritious as animal proteins. In fact, nearly one in five (17%) think that plant protein tastes better than animal protein," she says.
Much of what has happened in Germany from a vegan perspective has originated, and still originates, in Berlin.
The German city has claims on the being the counter-culture capital of Europe and it is the centre of the vegan universe.
Berlin is home to nearly 200 vegetarian/vegan restaurants and is also the base of ProVeg, formerly known as the Vegetarian Federation of Germany.
ProVeg is establishing an incubator to help brands developing innovative vegan/vegetarian products. Sebastian Joy, CEO and founder of ProVeg, and vegan leaders in Germany, including Jan Bredack, founder of the vegan supermarket chain Veganz, will be among the mentors.
The ProVeg Incubator is intended to support start-up companies in developing their products and to achieve a successful market entry process.
There is likely to be no shortage of takers.
Amarjit Sahota, founder of research business Ecovia Intelligence, which has reported on vegan food's growth, says: "A lot of plant-based food companies are based there. They're ahead of the trend.
"When it comes to general health and wellness and organic food and dairy alternatives Germany is the biggest market."
There are perhaps two main contributors to the 'perfect storm' conditions that have allowed packaged vegan food to take off the way it has in Germany.
The first is the aforementioned counter-culture which grew up in the country from the 1970s onward, centred around Berlin.
Manon Littek, the CEO of Katjesgreenfood, a fund set up by German confectioner Katjes Group to invest in fast growing, on-trend companies in categories such as vegan food, says: "There was a big movement in Germany in the '80s and '90s, more of a 'hippy style.' That was the beginning of it.
"People became aware of animal welfare and became more health conscious and we have now become ethical consumers, worried about CO2 emissions etc."
That movement Littek describes gave the vegetarian/vegan food movement a platform on which to build in Germany and that has ratcheted up in recent years with the non-German specific trends of flexitarianism and ethical consumerism.
Littek says: "There has been a big rise in flexitarianism in Germany with 50% of the people saying they have reduced their meat intake."
This is important because many observers stress that the vegan food 'revolution' in Germany is very much consumer-led.
"For me, it comes from the customer side not the offer side," Littek says.
Sahota at Ecovia agrees and adds: "The trend driving the market is not that consumers are cutting out meat and dairy from their diet entirely but reducing the amount that they eat.
"Millennials have more influence. They are more information-savvy and are asking questions about the products they buy whether they are organic, Fairtrade etc."
But the other reason for the growth of the German packaged vegan food sector is its retail structure.
While the market is dominated by a small number of supermarket giants – including Edeka, Rewe, Aldi and Lidl – there is a small (in market share terms) but influential independent and alternative retail sector.
Sahota at Ecovia says: "There are lots of independents and chains that specialise in health and well-being. Denn's Biomarkt is a discounter, a bit like an organic Aldi or Lidl, whereas Alnatura is more of a big chain with 125 food stores.
"There are 1,000 health food/vegan supermarkets in Germany whereas there are probably 20/25 in the UK."
The aforementioned vegan supermarket chain Veganz – in which Katjesgreenfood has a stake – is also interesting.
As well as being a retailer it has around 200 branded products of its own – including vegan pizza, nuggets and dressings – which it distributes to other retailers including Edeka. It also exports to France and eastern Europe.
But the market in Germany is becoming increasingly competitive and, while there is a willing consumer base and a supportive retail market, shelf space is at a premium.
Kay Uplegger of the company Uplegger, which distributes vegan food products in Germany, says: "The number of new products is not always comparable with the number of products which appear on the shelves and which are really successful in the medium term.
"Some years ago it was difficult to place products due to the fact that they were not yet known at the buyers and at the consumers. Today this has changed completely and the number of new appearing products makes it very competitive to get a space on the shelf."
Uplegger believes the large retail players will continue to dominate.
"I think the large number of independent and vegetarian retailers is a good way for these products to get the market but I am pretty sure that in the long term these specialised retailers will get into trouble because the big retailers like Edeka, Rewe and others will take over this segment, will have a bigger turnover and more freshness and at the end the better price," she says.
"This already happened with organic products and will be the same game for vegan and vegetarian products."
And she points out it is flexitarians who are the real target for food producers and retailers alike.
"Vegetarians and vegans are together not more than 5% maximum of the consumers. This segment would be not big enough to be successful," she says.
In part two of this feature, we look at the response of Big Food and the meat industry to the growth of vegan products in Germany and at the opportunities ahead.
Read: Katjesgreenfood CEO Manon Littek on the "food revolution" and why the German confectioner has formed division to back upstarts – interview