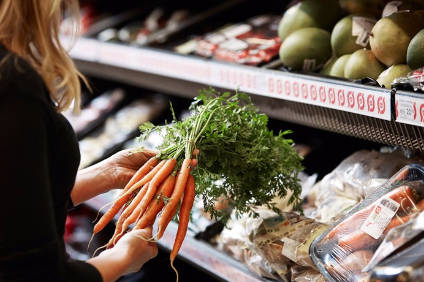 Continued progress in the US organic market seems inevitable, Victor Martino writes, but there could be some bumps in the road ahead. In his latest column for just-food, Martino looks at how we got here and at where the category is likely to go next.
Has organic become mainstream in the US? The answer depends on how one defines mainstream.
Defining mainstream in the food and grocery industry back in the day used to be fairly simple.
For example, If a product category – bread, dairy, condiments, cereal – was something found in nearly every kitchen in America, was on the shelves of nearly every supermarket, and had steady rather than declining sales, it was considered mainstream.
But those are the old rules from the days when conventionally-grown food products were about all that existed. Uniformity. No "natural." No "free-from." No "gluten-free." No "artisan." And little or no organic.
(The fact I and most others feel comfortable not using quotation marks around organic like I did and do with the other product descriptor terms is in and of itself an indicator of just how much widespread acceptance organic has today).
My first involvement with the organic products segment came in the mid-1980s. Back then organic products were primarily manufactured and marketed by countercultural-oriented entrepreneurial food companies and sold in natural foods stores.
Those supermarkets that did carry organic products merchandised them "over-the-freezer" – the old-style coffin-case freezers had shelves above which were most often used to merchandise slow-moving speciality products, which were even given the nickname "over-the-freezer-items" – and in 4ft (and sometimes larger) segregated "natural and organic foods sections" on standard gondolas in the centre of the store.
Organic was not mainstream then.
New rules
Around the late 1980s-to-early 1990s the ground rolled, the organic foods entrepreneur started to occasionally wear a suit and tie, the grocery gondolas rocked, and the organic paradigm started its shift towards mainstream.
Major food companies like General Mills got into organic with acquisitions – Muir Glen and Cascadian Farms specifically.
The big merger between Hain and Celestial Seasonings happened, a seminal event in the corportisation of organic.
Grocery retailers got excited about organic after seeing how much volume the new natural foods supermarkets were doing, along with seeing organic, with some significant convincing from distributors who saw supermarkets as a new organic sales channel with huge potential, as a competitive point of differentiation.
The popular press, including the then "must-read" Wednesday newspaper food sections, discovered organic too – and that it made good press – which in-turn created added awareness among the consuming public, which was craving something new, different and possibly better than what mom and dad had.
It was off to the organic races.
Going mainstream
A mere 25 or so years later, organic is mainstream in America in every way except as a significant percentage of total US annual grocery sales.
According to USDA and other sources, organic foods account for between 4%-5% of total US grocery sales.
But percentage of annual sales – remember the rules are different today – isn't the sole indicator of mainstream.
For example, nearly three out of four conventional grocery stores in the US carry organic products. And around 20,000 natural foods stores exist in the US, all of which carry organic products.
Many convenience stores, once the home of only belly-filler junk food, carry organic products, particularly snack foods.
The nation's two major drug chains, Walgreen and CVS, and nearly all the others, sell organic products.
And you'll find organic products at mom and pop grocery markets in big cities like New York, at airport kiosks, and at farm stands in parts of rural America.
Organic is mainstream today. But it's still priced at too high a premium to be purchased regularly by mainstream America.
This too is changing though. But the primary agents of change this time around – I call it the "new store brand organics paradigm" – are grocery retailers.
Kroger, Costco, Walmart, Amazon-Whole Foods, Albertsons, Aldi, Lidl and others are democratising organic products with their store brands, undercutting the prices on comparable manufacturer brands at every turn.
Walmart's own-brand organic cheese
Where this will lead is hard to predict. But here's something to ponder: at US$2bn in annual sales (and growing rapidly), Kroger's Simple Truth organic products brand has higher annual sales than any manufacturer brand as of 2018.
A turning point
Like the late 1980s-1990s period I described above was, I suggest 2018 also marks another turning point or paradigm shift for organic.
I see three key issues the organic products industry needs to collectively address starting this year to help ensure a smooth glide-path to continued growth.
The price of manufacturer organic products and the rise of store brand organics
Just like organic versions of like conventional products are eating into sales of those brands (Annie's Organic Mac and Cheese vs. Kraft conventional, for example), so too are retailer-brand organic products eating into sales of manufacturer-brand organic products (Simple Truth Almond Milk vs. Blue Diamond brand, for example.) This trend will continue to grow.
The organic premium on manufacturer-branded products is simply too high – retailers are a big part of this equation because they use branded manufacturer organic products as a margin enhancer – to allow the average consumer to be a regular buyer, which is why organics are only 4-5% of total US grocery sales.
The three-tier distribution system – unlike conventional grocery products which big retailers buy direct from manufacturers, organic products go through distributors, who obviously have to take a margin, which adds to the retail price – also plays a big role in the organic price premium.
The solution, however, is not as simple as eliminating distributors, that third-tier.
But in this era of food and grocery industry disruption, the three-tier distribution system in natural-organic is one that is ripe to disrupt. A successful disruptor can expect to earn a nice premium of its own.
The organic industry, led by CPG companies, needs to start discussing the pricing issue because retailers are on the march with their store-brand organics. They will continue marching on, disrupting the pricing status quo.
Dissent in the ranks
One of the foundations enabling the mainstreaming of organics has been relatively strong inner-industry cooperation, combined with a relatively stable and uniform organic certification and product labelling programme certified by the USDA.
Fissures are opening however. For example, the Rodale Institute is rolling out a new regenerative organic certification scheme and label that intended to or not will compete with the current system.
Additionally, a group of "rebel farmers" in Vermont said this week they are launching their own organic label.
San Francisco-based organic industry veteran Matt Levine, an independent industry researcher and producer of the industry-focused 'Cornucopia Show' podcast, told me he believes that "the current move to add additional organic labels will create added confusion among consumers and further limit their understanding about the meaning of the USDA Organic label, the current standard, and the benefits of organic products un general."
If Levine, who's been a natural products retailer, has worked on the distribution side of the industry, and spent many years with industry research firm SPINS, is even half right, the alternative labelling movement should be a serious cause for concern among CPG companies with brands in the organic products sector.
The farmer-industry disconnect
Organic started out as a farm-based movement in the US. Over its decades of growth its become an industry-led movement.
Increasingly, consumers are taking the lead, which if it progresses will be the best thing for both the industry and farmers because they not only are the ultimate customer, consumers also can be a unifying force. Give the consumer what he or she wants is a pretty strong mantra and rallying cry.
Today, however, the reality is most of those involved in the key senior positions at organic CPG companies as well as retailers seldom spend time with the farmers who grow the crops they put in their products or sell in their stores.
Joe Del Bosque, a major and innovative organic grower in California's San Joaquin Valley, took it even a step further in a conversation I had with him this week, saying, in speaking to both what he sees as an industry-farmer and a farmer-consumer disconnect: "There's still a disconnect between most farmers and customers. That gap is starting to be filled now by many fruit and vegetable farmers. Customers who buy organic (and some who buy non-organic) today take more interest in the source of their food and how it's grown. Younger people show more interest than older generations. I think the retail segment and the processors are still the murky area, and I think they prefer it that way."
Del Bosque regularly brings organic industry people, consumers and elected officials – he's the California farmer who brought President Obama out to his farm during the severe drought in 2014 to show him the severe devastation caused to the valley's crops – for tours and discussions as a way to bridge this disconnect and to start what he hopes will be a long-term dialogue.
Generation mainstream
The biggest growth opportunity for organic products resides in the most basic of human and societal realities – time and generational change.
Millennials and Generation Z take organic as a given, and purchase organic products at a greater per-capita percentage rate than do baby boomers, who commercialised and popularised organics – and who collectively hold much more wealth than the other two generations do combined.
Organic farmer Del Bosque, who sells many of his organic crops to Whole Foods Market, made this same point to me in our conversation this week, saying: "Organic is definitely mainstream. It may not be a large part of the market, but it's there, and growing. And it's not just in top-tier stores any more. And It seems to be becoming more and more prevalent in younger people, not just affluent people. I even see more organic in Mexico where it was rare before."
I see the trajectory for organic going straight up, 8% to 10% annual growth for the next five years, unless one or all of the three factors I note above, or something unforeseen, causes a major bump in the road to further growth, which is possible.
'Big Food' and 'Big Retail,' the dual engines of growth for any product segment, are bullish on organic in a big way. Committed. Excited.
Additionally, the most vibrant entrepreneurial organic brand and product creation environment and movement, backed by venture capitalists and more recently Big Food itself, in the history of the US organic products' industry is happening right now.
The future for organic products is bright. But it's not certain.
It's up to the industry to increase that certainty throughout the supply chain and, most importantly, with consumers.
just-food columnist Victor Martino is a California-based strategic marketing and business development consultant, analyst, entrepreneur and writer, specialising in the food and grocery industry. He is available for consultation at: victormartino415@gmail.com and www.twitter.com/nsfoodsmemo.