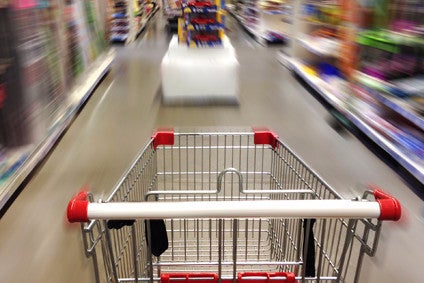 Researchers at IRI have studied promotions in seven major European markets and say their data shows the use of offers is easing. Tim Eales, strategic insight director for IRI's UK business, looks at the numbers.
In recent months, a number of major FMCG manufacturers have been voicing their concern about the efficacy of price promotions as marketing funds come under ever more pressure to show that they are working.
For example, in Mondelez International's last earnings call, the snacks giant said it would be putting more emphasis on consumer advertising rather than promotions for its key "power" brands.
It is perhaps no surprise then new data from IRI highlights the first serious pause in the use of price promotions by European FMCG manufacturers and retailers that we have seen since 2012. We think the data indicates a tipping point across the region in the use of promotions. Looking at seven markets in Europe – the UK, the Netherlands, Germany, France, Spain, Italy and Greece – food manufacturers and retailers reduced promotions by 0.8 percentage points in the 52 weeks to the end of August.
More than a quarter (27.7%) of food products are still being bought on promotion. The fact is food suppliers are incredibly reliant on promotions to aid sales amid intense competition across many food categories and the increasingly smart use of marketing by the discounters on their premium food products.
The promotions mechanic is particularly well used by food manufacturers in the UK, where half of all food products are bought on deal, even after a decrease of 3.4 points. Manufacturers in France and Germany followed the UK's lead for reducing volumes of goods sold on promotion this year, while those in the Netherlands, Italy and Greece increased promotional volumes slightly.
However, some promotions, such as multi-buys, have become unfashionable. In the UK, grocery retailer Sainsbury's was the first to announce it would discontinue multi-buy deals in its stores claiming they were "out of step" with today's shoppers whose main priorities are cutting back on waste and staying healthy.
IRI's report shows multi-buys such as BOGOF (Buy One Get One Free) offers dropped from 15% to 12% of all UK FMCG products sold in the last year. Some retailers continue to provide BOGOF offers to shoppers but they must be alert to the detrimental impact that running these promotions continuously can have on their brands.
Off-shelf displays, popular in the UK and France, have increased. They now account for 14.5% of all volume sales in the UK and 11.3% in France. Sales can increase substantially when they are adopted, making it popular for confectionery suppliers, who are the most frequent users of off-shelf displays.
Nevertheless, in the wake of decreasing margins, the cost versus gain of promotions will come under increasing scrutiny. We have conducted a number of studies on the effectiveness of promotions and the outcome is that they often fail to ignite category value sales for retailers.
Consumers are trained to look for deals in-store and concentrate their purchasing around promotional events. As a result, for some products almost nothing is sold in-store when there is no promotion running, suggesting using offers cannibalises sales rather than creating new sales.
Over the next year, we expect to see more food brands move marketing spend from consumer promotion to activities that communicate brand benefits such as advertising, as well as new product development.
Advanced predictive analytics will guide manufacturers into which promotions are most effective at driving sales growth. Our own studies show us that it is not all doom and gloom when it comes to promotions.
Successful promotions are those that have a clear objective, such as for a new product launch, and are delivered at the right time and in the right way. We may be at a tipping point but relevant promotions executed at the right time and in the right place can still excite the shopper and help to grow sales.
How do you see 2017 panning out for your business? – take the just-food Confidence Survey now