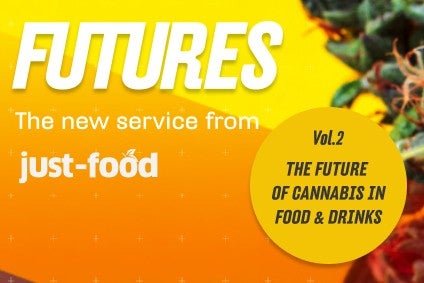 Click here for full details of just-food FUTURES – a series of reports available to download free of charge
The future of cannabis in the food and beverage industry will be worth billions. In fact, the continued legalisation of the drug for recreational use marks a defining point in the history of both sectors. This report offers a detailed look at what the market might look like, who the players and consumers will be – and what food and drinks companies need to do now.
It is, in the words of one beverage executive, "a major milestone in our history… similar to the end of Prohibition for alcohol, but with much more far-reaching ramifications into healthcare, science and biotechnology".
Beyond its inhalable base, the nascent cannabis industry has the potential to touch on a broad range of product categories – not least health and personal care – but it will undoubtedly have a major impact on the beverage and food sectors, becoming a multi-billion-dollar industry, centred initially on North America, within a matter of years.
Cannabis products are set to transcend their association with high-inducing inhalables, with food and beverage products set to contain both psychoactive ingredient THC (tetrahydrocannabinol) and CBD (cannabidiol), which is nonpsychoactive but is claimed to have anti-inflammatory and analgesic properties.
Let's take a look at the current landscape: several multinational drinks companies have made moves into the cannabis space. The biggest came from Constellation Brands – to date, the company has spent US$4.2bn on a 38% stake in Canadian cannabis firm Canopy Growth, establishing the latter as its exclusive global cannabis partner. The two companies now aim to develop a range of non-alcoholic, cannabis-based drinks.
In August 2018, Molson Coors agreed on a joint venture with cannabis producer The Hydropothecary Corporation (Hexo), with Molson Coors Canada taking a 57.5% stake in the "stand-alone start-up", which will develop non-alcoholic, cannabis-infused beverages. The JV, called Truss, will focus exclusively on Canada, says Scott Cooper, head of global innovation at Molson Coors, with the aim of having products ready to launch "on day one", once cannabis-infused beverages and edibles are legalised in 2019.
Heineken's craft subsidiary Lagunitas Brewing Co launched a THC-infused cannabis sparkling water, Hi-Fi Hops, in June this year, with two variants – one with 10mg of THC and one with 5mg of THC and 5mg of CBD.
In food, the activity has predominantly been among smaller manufacturers.
Nutritional foods manufacturer Gabriella's Kitchen (GK) followed up its debut on the Canadian Stock Exchange in September with the acquisition of California-based cannabis company The Oil Plant. The deal gives GK a manufacturing licence and a cannabis extraction and infusion facility in northern California.
US snacks business NightFood Holdings is to launch cannabis-infused cookies in January 2019. The Tarrytown, New York-based company, is rolling out the Half-Baked brand of cannabis-infused edibles in California through its subsidiary MJ Munchies after announcing a partnership with cannabis industry veteran Brian Edwards.
"With edibles and beverages clearly emerging as the highest-growth segments of the cannabis market, having a valuable, established, and trusted brand in that space is a high-value asset," NightFood founder and CEO Sean Folkson said.
And Colorado-based Weller, a maker of CBD-infused food and beverage products, has launched CBD Coconut Bites, which are infused with 5mg of CBD (cannabidiol) from full-spectrum hemp extract.
Deals are not limited to beer and food businesses. Canada's Hill Street Beverage Co is planning to sell a range of cannabis-infused beverages after signing an agreement with Vancouver-based drug technology company Lexaria Corp. Hill Street chairman and CEO Terry Donnelly says the tie-up will bring a "full portfolio" of infused wine, beer and RTD cocktail products to market in October 2019, "with no taste or aroma of cannabis".
Elsewhere, rumours surround some of the world's largest companies. In June this year, Anheuser-Busch InBev CEO Carlos Brito said the brewer is monitoring cannabis, but felt no need to take action yet. Then in August, Diageo declined to comment on a Bloomberg report that it was in talks with "at least three" cannabis companies in Canada. Though reports in September linked The Coca-Cola Co to a cannabis company, the CEO at the end of October said the group has no plans "at this stage" to get into cannabis.
Megatrends
From health and wellness to shifting consumer perceptions, there are several wider trends propelling the rise of cannabis. And when it comes to the user demographic, consumers will come from places you might not expect.
Mindful drinking
"Demographics across the board, but particularly Millennial and Gen-Z consumers, are increasingly moving away from alcohol or drinking less," says Spiros Malandrakis, head of alcoholic drinks research at Euromonitor International. This has led to the rise of low- and no-alcohol products.
Changing consumer perceptions
Attitudes towards alcohol and cannabis are moving in opposite directions, particularly among younger consumers, with growing numbers perceiving cannabis as less harmful and toxic than alcohol. In the US, approval ratings for cannabis legalisation are in the high 60s or low 70s in percentage terms across a wide range of demographic groups.
Health and wellness
Cannabis gives food and beverage companies a "new toolbox for product development", says Linda Gilbert, MD of consumer insights at BDS Analytics. "Consumers are looking at this as part of their wellness lifestyle." Beyond beverage alcohol, it has potential for sports drinks, snacks, sweets, bedtime and breakfast food and drink – "the opportunities are endless". According to Euromonitor International, the global market for health and wellness is expected to be worth US$815bn by 2021.
Road blocks
The challenges with cannabis products are not limited to legislation and regulation. The development of cannabis-infused food and drinks is still in its infancy and cracking the technology to get the drug to work in a way that fits myriad consumer occasions will be key.
Legalisation
There is uncertainty as to how quickly and how widely the legal picture will change, crucially with regard to federal legalisation in the US – without which, says Euromonitor's Malandrakis, companies cannot enter the banking system or create mass-produced products, selling only on a state-by-state basis.
Product availability
Where will cannabis-infused beverages and edibles be sold? In Canada – which has a famously complicated model for selling alcohol – the approach will vary hugely by province; for instance, exclusively online in Ontario, and only in a few dozen retail stores in Québec. Meanwhile, California has only a handful of cities so far with approved cannabis lounges. This will certainly expand and evolve over the next five years, but the speed at which it does so will be a vital factor in market development.
Supply and demand
"The biggest challenge [in the US] isn't so much federal legislation, it's when it becomes federally legal, are you going to have a supply for the demand, bringing products to market?" says BDS Analytics' Gilbert. Experience from other agri-sectors suggests that it could be three years or more before supply expands enough to meet projected demand.
Persistent stigma
High approval ratings for legalisation can conceal an underlying stigma surrounding cannabis use for many people, which will take time to fully erode. "It's not like flicking a light switch," says one drinks executive, predicting that it could be five to ten years before attitudes are "fully normalised".
Product development/technology
For cannabis-infused products, the effects can be typically felt two to three hours later, says Malandrakis, adding: "Clearly that's not ideal for a social occasion, and that doesn't translate into great sales." However, he believes the discovery of a technical solution to this is imminent.
Good science
Cannabis is an industry in development, with science and technology continually evolving in areas such as consistency of dose. Early edibles, such as candy, too often mimic "Goldilocks" in their variability, says Gilbert: "One does nothing, one gets you too high, the next one is just right."
Product regulation
Students in food science and food processing need to be trained in cannabis now, so that they're ready to help develop new products in five years' time, says Gilbert. More broadly, a number of regulatory questions persist: "How do we standardise products? How do we test products? If it's a CBD product, how do we make sure it's not contaminated with THC?"
The big questions
How much will the industry be worth?
The legal cannabis market will be worth US$32bn worldwide in 2022, according to the State of Legal Marijuana Markets, 6th Edition, from Arcview Market Research in partnership with BDS Analytics. Breaking that down, the US is predicted to be generate US$23.4bn, Canada $5.5bn and the rest of the world $3.1bn. This, says Gilbert, is a "conservative estimate".
Elsewhere, Cowen Equity Research had forecast a total US cannabis market of US$50bn by 2026, but revised that figure up earlier this year as "new forecasts suggest that the market is already that size". Now, based on a reported 35m annual cannabis consumers, Cowen expects sales of US$75bn by 2030.
Estimates change when you move from the simple cannabis market to the ancillary market, including beverages and edibles, says Hill Street CEO Donnelly. He cites figures suggesting that, while the North American cannabis market is projected to be worth US$55bn by 2020, ancillaries could be worth two to three times that figure.
In the longer term, the global "addressable market" – covering the 21 countries where cannabis is either already legal or trending towards legalisation – could be worth US$231bn within 15 years, according to figures released by Constellation following its investment in Canopy Growth. This comprises Canada ($11bn), the US ($100bn) and the rest of the world ($120bn).
However, not everyone wants to put a figure on the future of cannabis. "I wouldn't want to throw a number out there," says Malandrakis. "This is largely estimates upon estimates. What I can say is that it will definitely easily rival the size of the wine and beer industries, and will move into food, personal care, etc. It could become one of the biggest industries out there. [In alcohol] it will make 'craft' look like a playground scuffle."
Where will consumers come from?
A broader demographic
Take-up might begin with the 20-35 age cohort, but it will quickly expand much further than that. Already, Baby Boomers are one of the fastest growing segments in the US, points out Gilbert. "Maybe they used [cannabis] in the past in college, but now they're coming back to it or looking at it for the first time in terms of pain management or sleep management. It's not about getting high or inebriated – they just don't want to be in pain."
According to Pew Research Center, the number of Baby Boomers in the US is expected to be 72m in 2019. By then, the demographic, born between 1946- 1964 will be 55-73 years old.
Prescription drugs
More than 40% of North Americans are on a prescription drug regimen that is contraindicated to alcohol, says Donnelly, contrasting this with the small number of contraindications associated with cannabis. Similarly, Gilbert believes serial users of pain medications such as ibuprofen and oxycodone will be drawn to CBD infused products as "they don't want to be taking that stuff".
What will be the legislative environment in five years' time?
While individual US states may continue to legalise cannabis following a referendum, the key to opening up the market is legalisation on a federal basis – which is harder to predict given the contradictory messages coming from the Trump administration. However, there were positive signs in November's mid-term elections, as Michigan became the tenth state to legalise recreational marijuana, while Missouri and Utah voted in favour of medicinal use. North Dakota, meanwhile, voted against legalising the drug for recreational use, though it is already legal for medicinal purposes in the state.
Growing consumer support for legal cannabis, plus increased access, is driving "meaningful change" at state level, says Cowen Equity Research. Illinois could be the next state to legalise cannabis for adult use, with New Jersey likely to follow in 2019 and, Cowen adds: "Expanded access to Maine, Massachusetts and New Jersey could prompt other states in the Northeast to make changes."
Looking outside of the US and "Europe," predicts Malandrakis, "will be the next epicentre of the cannabis market." The progression is likely to start with medical use (as in the US) over the next two to three years, softening negative attitudes, with recreational use legalised two to three years later. "It will be extraordinarily difficult to go back to people and say that what's allowed as a medicine should not be consumed on a recreational basis."
The future for food & drinks companies
While initial products on the market will range from mood-altering THC food and drinks to brands containing health-related CBD, there are a vast array of other cannabinoids that are yet to be explored.
In five years' time, many of the leading players are likely to come from Canada, given their obvious early advantage in terms of product development and sales. "But at the moment they're burning a lot of money on production and building the branding," points out Malandrakis.
Early adopters – most notably Constellation with its US$4.2bn investment in Canopy Growth – will also have an advantage. Constellation believes a single global cannabis platform to address all markets and categories "is essential to win in the category".
Wins will also come from companies with the power to acquire. The problem with such a young industry is that there aren't too many major cannabis companies, they are mainly concentrated in Canada, and they're not really making a profit yet. "If someone wants to buy one of these, then they don't have much choice and they'll have to move fast," says Malandrakis.
The products
The main areas of cannabis-infused food and beverage products are those related to mood alteration, containing cannabis' psychoactive THC ingredient – these will play in occasions similar to alcohol; and those related to health and wellness, containing non-psychoactive CBD compounds.
The latter crosses over into medicinal use. The possibilities for cannabis-infused beverages and edibles are far-reaching, with a vast range of minor cannabinoids having different properties and potential effects that are still being explored.
As the industry evolves, an increasingly sophisticated range of products will serve different demographic groups and need states. The market is expected to swiftly mature and fragment into lifestyle brands. Meanwhile, the involvement of larger corporations will be central to the development of reliable products that have the same effect time after time. "We're very focused on delivering consistent, predictable products that consumers can trust," says Cooper of Molson Coors.
Holistic future
When it comes the effect of a burgeoning cannabis market on food and drinks companies, a total solution approach could be the answer. "My vision is of the transition of alcohol companies into holistic responsible intoxication companies," says Malandrakis. "It's a paradigm shift, incorporating cannabis into their offering, not just alcoholic drinks, and taking a responsible approach, using their distribution networks. That's the end game."
There are also signs that cannabis could take share from alcohol. Cowen Equity Research highlights historic data suggesting "substitution cycles" between alcohol and cannabis – ie, when consumption of the former falls, use of the latter tends to rise. Based on that, says the company: "We believe alcohol could be under pressure for the next decade." This trend is likely to be led by younger consumers.
What do you need to know now?
From exploring target consumers to finding a suitable partner with skills in the industry, the time to get ahead is right now.
Don't do nothing
Any food/beverage company of any size should at least be looking at cannabis as an alternative revenue stream or arena for new product development. "What they shouldn't be doing is complacently sitting on the fence," says Malandrakis.
Take a symbiotic approach
"If Millennials and Gen-Z consumers perceive the alcohol industry as an antagonist of cannabis, the only loser will be alcohol, not cannabis," says Malandrakis. He counsels a "symbiotic" approach, highlighting "wine and weed" tours in California. "It's not 'either/or'," he adds. "Cannabis has the potential to disrupt so many industries, from sex aids to eczema creams and dog foods. But alcohol is perfectly positioned to support that."
Best practice
"I think companies need to focus on what are going to be the best practices that bring safe, reliable, consistent products to market," says Gilbert. "We have to make sure as an industry that we're not setting up different requirements for how products are tested in Colorado, California or Pennsylvania."
Do your homework
"It's important to read, learn and absorb what is happening, and fasten your seat belts for the pace of change and evolution in the sector," says Hill Street's Donnelly. "Decisions are being made daily that have dramatic impact on the future of the sector, especially in the area of government regulations."
Partner up
"If you are a food or beverage company, the first thing would be to find a partner who is further ahead of you, whose skills you can leverage," says Donnelly. "The security and compliance requirements are definitely not for the faint of heart. We are essentially building a pharmaceutical-grade compliance regime in a winery and brewery. "This is an industry that typically has a brewmaster or winemaker in rubber boots, stained pants, and a couple of steel tanks with lots of spillage. We have all of that, plus lab coats and detailed security reports on every single milligram of cannabis used.
"It's a brave new world."
TO READ OUR LATEST FUTURES REPORT INTO THE FEASIBILITY OF A PLASTIC-FREE FUTURE, CLICK HERE