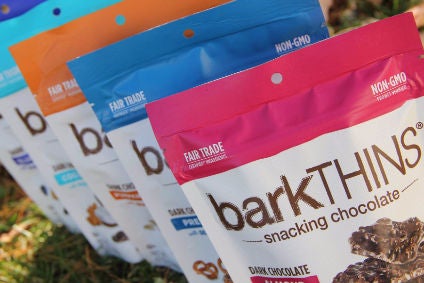 Hershey's first-quarter results contained a triple whammy yesterday (26 April) as the confectioner reported falling sales and earnings, cuts to forecasts for 2016 and upped its cost savings targets from 2017. The company's results were hit by continued pressure in China and challenges in North America. Hershey, however, announced the acquisition of snacks brand BarkThins and, on a conference call with investors, the Reese's owner appeared confident it was taking the right steps to improve its performance.
Hershey's outlook less rosy
It was a negative note from Hershey as it announced its first quarter results, the company lowering its forecasts for 2016 underlying net sales and earnings per share.The Reese's maker expects its net sales to grow by around 2.5% on a constant-currency basis, down from "around 3%" forecast back in January.
Earnings per share are expected to grow to US$4.24-4.28, around 3-4%, again down from a January forecast of "about 6%".
The downgrades came after a challenging first quarter. Hershey reported a "modest non-seasonal candy, mint, gum category", which had led to a fall in first-quarter consolidated net sales of 5.6% to US$1.83bn and decline in net income decline from US$244.7m in last year's first quarter to US$229.8m.
However, Hershey assured the challenges it was experiencing were part of a "cycle" and insisted eventually it would overcome the negative curve with the steps it is taking to cater to changing consumer preferences and market trends.
"From time-to-time, there are different confluences in the marketplace that can impact snacks and CMG growth," said CEO and chairman J.P. Bilbrey. "Hershey has always navigated and invested in its core CMG business throughout these cycles, and has always ended up in a more solid position. We are a consumer-centric, brand-building company focused on innovation and growth in every category where we participate, especially confectionery, and we want to satisfy the needs of our retail customers and new and existing consumers. We take a long-term focus, and continue to believe that investing in our business will benefit the company this year and well into the future."
Problems could continue in China
Unsurprisingly, China continued to prove problematic for Hershey in the first quarter. Sales fell again, tumbling by around 35%, though Hershey insisted it had been prepared for the results, as it lapped the slowdown that occurred after the 2015 Chinese New Year.
However, Hershey said the "contraction" in China's chocolate sector had been more significant than it had expected.
Hershey's operations in China have weighed on the business in recent quarters. The 2013 investment in local business Shanghai Golden Monkey was designed to boost Hershey's operations in the country but the performance of the asset has been below expectations. Last year, Hershey booked an impairment charge on Shanghai Golden Monkey, while having to downgrade its sales forecasts for the business part-way through the year.
As CFO Patricia Little yesterday, "there were clearly some disappointments in our acquisition of Golden Monkey". However, she added: "The fundamentals of why we bought it are still there."
Bilbrey said Shanghai Golden Monkey had "got off to a good start" in 2016. Sales were down year-on-year but in line with plans and expectations.
Nevertheless, Little added: "Our updated forecast for the year reflects a return to growth, albeit at a lower level. If the broader economy doesn't improve, there could be further risk to our full year china chocolate and Golden Monkey sales forecast."
The plan for recovery in China
In a step to improve its performance in China, Hershey has merged the two teams it has had following the Shanghai Golden Monkey deal into what Bilbrey called "one united organisation" with an aim to "balance its business model in China versus its opportunities" and ultimately, capitalise on cost savings.
Hershey's first-quarter results featured US$54.4m in pre-tax charges, which included US$14.4m in "business realigment" costs. During the quarter, Hershey started "optimising" its business and workforce in China, where sales have been under pressure in recent quarters.
CFO Little added: "The team there has done a nice job of bringing that together. While that's generated some cost savings and, frankly, we're still looking and I think we'll find some more, I think the really important thing is bringing the two businesses together to exploit the strengths that they each individually have," she added.
Meanwhile, Hershey's e-commerce business in China has continued to perform well with e-commerce retail takeaway increasing by 45%, driven by Chinese New Year gifting sales.
The company is also now looking to innovate in the better-for-you segment. Protein-based snacks will be concentrated on additional bean curd flavours and the introduction of a vegan and soy sausage.
Reflecting on China more broadly, Bilbrey said: "We believe in an emerging middle class. We believe in urbanisation. We think these are markets that, over time, we want to be in. So from a quarter-to-quarter basis, it may be tough to make some of those strategic decisions. If we execute well, results come. And we'll be able to then do the things that we do well and grow our brands in the market and grow with the category and overcome some of these, what I would believe are more short-term challenges."
Meanwhile, challenges in North America
Hershey's first-quarter net sales in North America fell 4.3% to US$1.63bn.
The company outlined plans to invest in North America, which include new products, advertising and increased levels of merchandising and display, which the group said accelerates in the second quarter and over the remainder of the year. Bilbrey said Hershey is focused on organic growth, as well as acquisitions that meet the needs of the "candy loyalist – CMG's variety-seeking consumers who like to try new things and consumers looking for better-for-you reassurance".
Hershey has added to its KitKat, Reese's Snack Mix and Hershey's Snack Bites ranges and said they were off to a "fast start with industry-leading innovation velocities".
In the second half of the year Hershey will also begin to communicate its simple ingredients message that will focus on its namesake bars and Kisses milk chocolate.
Bilbrey did appear more optimistic on Hershey's prospects in North America as the company moves through 2016. "If you look at our plans in North America, they really do accelerate in the second half of the year, so a number of the investments that we've made really against a combination of innovation and advertising should begin to show up there, lots of solid in-store merchandising. So I think that's why we're optimistic on the second half of the year".
Commenting on the North America results, Alexia Howard, analyst at Bernstein Research, wondered whether Hershey's chocolate portfolio "could see a new era of somewhat slower growth" as consumers become increasingly concerned about health and wellness, the premiumisation of the chocolate category in the US and share encroachment from other snacking categories, or whether Hershey's innovation pipeline could counter its expectation that chocolate category growth would be slower in 2016.
"The next US growth theme is likely to be acquiring premium products in snack categories, including [the] acquisition of Ripple Brand Collective, the owner of Barkthins, a premium, clean-label chocolate snacking brand with projected sales of $65-$75 million for FY16," she said.
Cost savings initiatives
Cost savings are going to play a role Hershey's plans to improve its bottom line. The company yesterday announced it is upping its annual cost savings in a bid to be able to invest in its brands while achieving its targets on earnings. From next year and to 2019, Hershey will have a target of saving "about US$100m" through the initiatives. Hershey had been targeting savings of around US$50-70m a year. The company expects being able to save an extra US$10-15m on top of that target in 2016.
"We are off to a good start…Programme savings will be generated from cost optimisation across all segments of the business," Bilbrey said.
Hershey said it was looking to replicate the success of a productivity programme in its supply chain, across the rest of the business.
"In general, we're focusing on taking that discipline and continuous improvement mindset that the supply chain guys have done so well, and really migrating that over to all of our corporate functions, to help them and help all of us, offset the inflation the same way that the supply chain guys have done. I would say that that absolutely gives us the fuel to have those marketing and other advertising expenses that we need to ignite the market and push that second half growth that we're looking towards this year," Little added.
The acquisition of BarkThins owner Ripple Brand Collective
Hershey also announced the acquisition of US snack maker Ripple Brand Collective, the owner of the BarkThins brand. The non-GMO snacks are chocolate thins that use fair trade cocoa and are free from any artificial flavours and preservatives.
Bilbrey said: "This acquisition builds on our snack strategy and complements our strong core confectionery portfolio, the heart of our company. And it adds strength and diversification to our offerings that allows Hershey to satisfy more consumer needs. Customers and consumers, especially high-income consumers, are increasingly looking for snacking alternatives; however, confection remains one of the top-selling snacking categories, with household penetration of 94%."
When asked what the opportunity was in BarkThins and how big it could actually become, Michele Buck, president of Hershey's business in North America, said it was a "very viable consumer proposition that's grounded in the very on-trend area of clean label and fully sustainable profile".
Buck added: "We think we have the opportunity to take a great proposition and leverage our Hershey muscle and scale to expand distribution to make it more available, and also to increase brand awareness. I would liken it somewhat to Brookside, and what we did with Brookside when we purchased that. It allows us strategically to expand into mass premium, to have a product that is very well-liked by millennials, and to capture that opportunity to just expand beyond that."
Hershey aims to grow in "snackfection"
After last year's surprise acquisition of US jerky firm Krave Pure Foods, one could be forgiven for thinking Hershey was putting more of its focus outside its candy, mint and gum portfolio (CMG), which for some time has been vulnerable to the economic slowdown in China and also a growing consumer shift towards healthier, better-for-you ranges. That's not so, the Reese's owner insisted. Bilbrey pointed out the US$25bn CMG category is the largest segment of the US$85bn US snacks market, and Hershey has no plans to trade confection for snacks.
"I think there's been some confusion around when we talk about snacking as if it's something different than confection," asserted Bilbrey. "Confection has always been snacking with the biggest part of the snack wheel.
"We are very focused against our core, innovating around our core and executing against the fundamentals in a very competitive and changing snacking environment, but we really see an immediate opportunity in this area of snackfection for the company. And then, as you look at how consumers' relationship with food has changed, we recognise that the snacking continuum has grown. And so products like Krave, which we're learning a lot from will always be part of our test and learn and grow strategies. But it doesn't take away from our core focus".