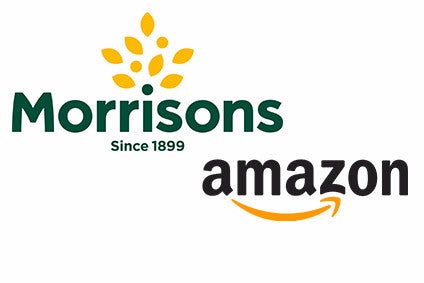 The tie-up between Morrisons, the UK's fourth-largest food retailer, and online giant Amazon has raised eyebrows across the sector. Glynn Davis looks what the deal could mean for Morrisons' manufacturing base.
It was certainly a deal that surprised the market and has given Morrisons' reputation a serious shot in the arm by potentially boosting its manufacturing business and also expanding its reach for selling online.
The tie-up between Morrisons and Amazon will see hundreds of the grocer's products available to Amazon Prime Now and Amazon Pantry customers. Morrisons, the UK's number four food retailer by sales has agreed to provide a wholesale supply service to Amazon on a wide range of its own-label ambient, fresh and frozen products.
Morrisons' manufacturing business is the second largest in the UK – with around GBP2.6bn (US$3.7bn) of annual sales – and it chiefly supplies the retailer's supermarkets. Mike Dennis, managing director of food & general retail at Cantor Fitzgerald, says the retailer has been looking at how it can get more value from the manufacturing side of its business.
"Andy Higginson, chairman of Morrisons, said last year that if they could not 'weaponise' manufacturing then why have it? With a [estimated] value of GBP1.5bn, if it was sold then it could wipe out all Morrisons' debts in one go. So they need to use it or sell it," Dennis suggests.
The deal with Amazon could be the opening gambit in Morrisons cranking up its wholesaling capability. A spokesman for Morrisons says: "It's a unique big strength that Morrisons makes a large proportion of its own fresh foods and clearly it has the capability to do wholesaling to a buyer like Amazon, which is what they are in this case – a buyer of Morrisons goods."
This suggests the company is viewing Amazon not really as a retailer but more as a third-party that can sell its goods – while not necessarily competing with Morrisons the supermarket. At this stage this potential conflict is not really an issue but Daniel Lucht, director of Research Farm, warns that if volumes increase then Morrisons has to be wary of the relationship.
"Short-term it's a great deal but long-term it is an issue. If Morrisons becomes dependent on Amazon then they'll turn the screw. They'll not get any support from Amazon in terms of page rankings [on product searches] and they could end up having to pay to Amazon Media," he explains. "They are really enabling Amazon's online business so this is a massive win for Amazon. In one fell swoop they have a big range of products they can offer."
Clive Black, head of research at Shore Capital, recognises the risks but says it could be a case of deciding "which side of the tent you want to be on – working with Amazon or against them?"
Black views it as a win-win for Morrisons since the deal represents an "opportunity for Morrisons to both leverage its manufacturing and to gain exposure, at low cost, to delivering goods to metropolitan areas including London and Birmingham online [via Amazon's platform]."
On the manufacturing side, Dennis says Morrisons will gain from the cash margin of 13-14% on food production compared with as lesser 7-8% on retail. And, as the group's retail business comes under pressure, especially for larger stores, the manufacturing revenues represent a way to boost overall margins.
Dave Lewis, independent consultant and former executive at Tesco, says: "It's not really a surprise it has used its manufacturing capability as a strategic growth opportunity. It's sensible and it was predicted to do something with it. It will have an impact on the retail business because the revenue it generates can be invested in bricks and mortar – including price and service."
Initially the deal will involve Amazon selling Morrisons goods through Prime Now and Amazon Pantry, which does not involve any central distribution operated by the online giant. However, Keith Anderson, vice president of strategy and insight at e-commerce consultants Profitero, says: "Where Amazon succeeds is when it owns as much of the infrastructure as possible. It then controls the selection, the efficiencies. I'd say the lesson from the US is that it will gradually move to having its own couriers and last mile deliveries for food."
To this end there has been much speculation about whether Amazon would launch Amazon Fresh in the UK. Anderson insists Amazon could simply refine its Prime Now and Pantry to suit the UK market, which could involve Morrisons' food – including temperature-sensitive items – consolidated with items from other suppliers at its own depots without the US group necessarily launching Amazon Fresh.
Dennis reckons Amazon could co-locate its food distribution offer at its nine non-food central depots located around the UK. Lucht also believes this is the way Amazon will go if it wants to scale the business. And he reckons it will prove popular. "There will be a flywheel effect. Morrisons will make money and so other brands will want to get onboard. I can see the SKUs growing rapidly. It will be like a marketplace model with lots of suppliers involved."
If Amazon wants to ultimately add more branded goods, it could place Morrisons in an interesting position, Dennis suggests. "How much of a joint venture does Morrisons want with Amazon? It could supply Amazon with branded goods in the future. This would take its relationship beyond the initial own-label ranges," he suggests.
By taking this route to a broader wholesaling operation Morrisons could put itself in a strong position to become the key supplier to Ocado when, as predicted, Waitrose takes advantage of a break clause in its contract to supply Ocado next year.
Although Ocado will be unhappy with the way Morrisons has just extracted a deal involving taking space in Ocado's new customer fulfilment centre in Erith, and Ocado delivering a store pick solution for Morrisons that leverages Ocado's technology and Morrisons' store assets, it might ultimately find itself in a very close relationship with the pioneering business next year.
There is the potential for a few more surprises to come as a result of the deal between Morrisons and Amazon. Although the ultimate outcomes from many of the manoeuvres we are seeing are unknown, Lewis says, in today's world of ever increasing online sales, action has to be taken because "doing nothing is not an option".