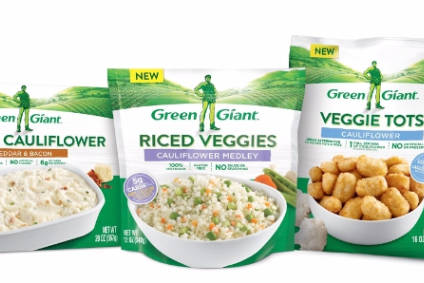 Acquisitions have enabled B&G Foods to rapidly scale up in recent years. The company has grown from sales of around US$600m in 2012 to a forecast of $1.6bn in 2017. Two large-scale deals have boosted B&G: Green Giant in 2015 and ACH Foods last year. However, B&G's underlying sales have not been strong. The group's smaller brands, which generate annual sales in the region of $500m, have struggled. Even Green Giant is a brand that has been in decline for years.  At the ICR investor conference in Florida last week, CEO Bob Cantwell outlined how the company intends to continue to grow in 2017 and beyond. Here are just-food's key takeaways. 
Green Giant turning the corner
Frozen vegetable brand Green Giant is a $500m-plus business that has suffered successive years of decline. And when B&G Foods, as CEO Bob Cantwell said last week, "took the keys" of Green Giant in October, that downward trajectory continued. 
"We've seen a lot of decline and we saw a continuous decline on Green Giant," Cantwell told the ICR investment conference in Florida. "But, as we learned through 2016, there's a real big upside on Green Giant. One of the things we mentioned on our last conference call is some of the challenges we had as we took over the keys in transition from the former owner really effective October 1. We had some very large challenges on Green Giant in October. The real challenge was not running a frozen business it was the inventory we took on when we took the keys over. We probably had about 60% of the frozen inventory needs to sell in the fourth quarter of 2016. It was the wrong time of the year to take over a light inventory – that's part of us and part of the seller. We had to fight our way through that inventory shortage. That was a big bump in the road for Green Giant." 
However, Cantwell insisted B&G is starting to "see the Green Giant turn". 
"November was flat year-on-year and December was a good month for Green Giant," he said. "We are seeing that momentum starting to turn."
Cantwell pointed to the success of products launched in the three-month period to the end of December. These included Veggie Tots and Veggie Rice, which have been well received and "turn on-shelf" as the fourth quarter progressed "really picked up", he claimed. 
Cantwell is confident the period was the beginning of a new growth chapter for the Green Giant business. "Green Giant has a lot of upside, mostly through innovation… The innovation is going to be very meaningful for Green Giant in 2017 – and that is the innovation we have already launched, that is not even the new products we will bring out in the rest of the year."
Spices growth in-line 
Following the acquisition of the spices and seasonings business of ACH Food Companies last autumn in the back half of 2016, B&G has grown its spices business into a $400m revenue generator. 
"We made our second-largest acquisition in the ACH spice business. It puts us in a platform that fits today's consumer. With the spices we were already doing, we had a lot of spices in our portfolio already, plus ACH, we are upwards of $400m in sales on spices," Cantwell said. 
Cantwell sees spices as a "growth" business. "We see a lot of opportunity in spices," he insisted. 
However, Cantwell conceded that the business is "not high-growth". B&G expects to grow its spice sales in-line with broader category trends, which are rising 1-2% in the US. 
"It is a good category to play in… As we look out, we continue to see that as a growth piece of our business. Not high growth but that 1-2% because the whole category is moving that way."
Moreover, there are some formidable competitors, not least Lawry's owner McCormick & Co.
The decline in B&G's core
That 1-2% growth, coupled with expected improvements in Green Giant, should enable B&G to offset the weakness in its "core" or "heritage" brands, as Cantwell termed them last week.
These 45-plus brands include Pirate's Booty, Old London and Smart Puffs, some of which themselves have been acquired by B&G in recent years. However, some struggled with the resurgent issues packaged food makers are witnessing in the centre of the store. "We have struggled in our base business, our 45-plus brands that we have built up over a number of years, from consumer takeaway. It has been a challenging center store environment. We don't have an easy fix today," Cantwell said. 
Cantwell said the company is taking action to try and stem this decline. It has, for instance, reorganised its business to focus on managing groups of products rather than the entire portfolio. 
B&G is also preparing to take the learnings of Green Giant – that on-trend innovation is key – and extend this principle to the rest of its portfolio. "We are going to be much more aggressive with new products and new products that meet consumer needs," Cantwell reveals. "We need to level the playing field on the rest of our dry grocery and flatten out that [negative] consumer trend, which isn't easy because everybody is experiencing that difficulty in the centre-store."
Brands that B&G hopes to turn the tide on in 2017 include: Ortega, Mama Mary's, Pirate's Booty and Bear Creek. 
For the time being, B&G is confident that growth of its Green Giant and spice brands should offset weakness elsewhere. "We are very comfortable with feeling Green Giant will cover the shortfall of the base in 2017. And, hopefully, the base shortfall will shrink closer to zero and then there is some real upside for our business. Looking at the base shortfall, if we can get it hopefully flat but not declining any more than one or 2% then Green Giant will more than offset it."
Looking for more M&A
As B&G works to turn around some of its ailing brands, the company is also on the look out for further M&A opportunities.
The acquisition of Green Giant roughly doubled B&G's corporate infrastructure and paved the way to enable the company to swallow more deals, Cantwell suggested. "My biggest goal as CEO was to be able to structure this company to be ready to go forward, to be able to continue our acquisition growth trajectory. We really needed to build out our infrastructure and support systems. We have had a few bumps in the road over the past year. We are very comfortable that we are there today… We feel very ready to continue the growth pattern as we have built out this acquisition."
The size of potential acquisitions ranges from larger-scale deals to take businesses comparable to Green Giant's $500m-plus revenue, through to smaller acquisitions such as its move in December to take control of US pasta sauce maker Victoria Fine Foods, which generates sales of $40m. 
"We want to be that company that can not only grow Green Giant tomorrow but continue to grow by buying smaller brands like Victoria," Cantwell explained. "We are ready for M&A. We want to absorb what we have [but] if there is an acquisition out there that really fits B&G we are ready for it today."