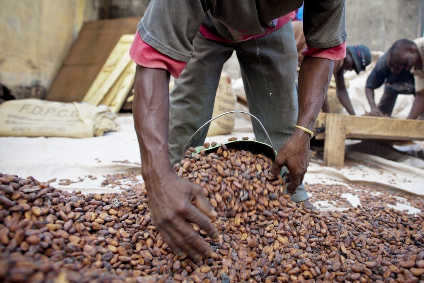 Oxfam's Behind the Brands campaign reflects the increased responsibility global food companies are now expected to assume for working conditions, wages, safety and workers' rights in their agricultural supply chains. Ben Cooper reports.
In Oxfam's latest Behind the Brands scorecard, which evaluates the agricultural sourcing policies of the world's ten largest food and beverage companies, the NGO gives credit for progress made over the three years since its campaign began. However, it also underlines how expectations of food companies are changing, not least regarding the wages, rights and working conditions of those working in its supply chains.
Three of the seven issues by which Oxfam rates food companies – women, farmers and workers – reflect directly how company policies affect the people working in their agricultural supply chains.
The criteria Oxfam is judging – from gender discrimination to child labour and safe working conditions to the living wage – are workplace responsibilities companies have already had to assume for their own workforce. The expectation now is that they have very similar responsibilities for a far larger constituency of workers, employed by entities and in locations well outside their direct control.
Of the seven social and environmental issues assessed on the Behind the Brands scorecard, Oxfam notes the strongest progress has been on land rights, greenhouse gas emissions and gender equality. However, the two areas with most direct relevance to workers and working conditions – farmers and workers – were among the areas of least improvement.
For Erinch Sahan, acting head of the private sector team at Oxfam GB, the lack of progress on issues such as wages and working conditions comes down to the economic power imbalance between the buying companies and farmers. "If the prices that they're paying for commodities don't even allow for living wages to be paid, and there's evidence to say that might be the case in certain commodities, then they're actually making it impossible for people who are working in their supply chains to lift themselves out of poverty," Sahan tells just-food.
In their responses to the Behind the Brands report, the companies stress their commitment to improving working conditions and tackling poverty in their supply chains. No company is going to say it is not interested in doing so. Indeed, there are now international conventions, notably the UN's Guiding Principles on Business and Human Rights, which enshrine these responsibilities. However, the complex structure of global supply chains makes following through on such ideals a far from easy task.
While Unilever, which was the highest performer overall, scored eight out of ten for both farmers and workers, Danone only scored three on both of these issues.
"It's important to acknowledge the complexity of supply chains in general and the difficulties that brands and retailers face in ensuring decent working conditions and wages in the lower levels of their supply chains," says Nick Kightley, food and farming lead at the Ethical Trading Initiative (ETI), the UK multi-stakeholder partnership aimed at improving conditions in agricultural and manufacturing supply chains. "However, brands have a responsibility for ensuring that workers are well treated in all levels of their supply chain and not just the first tier."
Referring to the "growing appetite" for transparency with regard to supply chains, Kightley sees Oxfam's expectations increasingly reflecting general attitudes. "As an NGO with a campaigning remit, Oxfam will certainly push for the highest possible standards, and from experience, we often know that where NGOs lead, the rest of the world almost inevitably follows."
However, while responsibilities for labour issues among employees can be considered to be a direct responsibility for companies, responsibilities in the broader supply chain, particularly highly complex, global supply chains involving multiple operators, are shared with other entities, as Mondelez International points out. "These challenges are complex and require coordinated action by governments, industry and scientific and environmental experts," the Oreo manufacturer states.
Unilever also stresses working in partnership. It says key areas of focus for the future will include "human rights issues beyond first-tier suppliers, working conditions for migrant labour and continuing collaboration with other organisations in order to influence systemic change". The company adds: "We are proud of our achievements but know that there is more to be done. We aim to work in partnership to create wider movement in our industry and beyond."
General Mills, meanwhile, says "respect for human rights is core to our commitment to conduct business in an ethical manner", but the company also stresses the responsibilities of other actors. "We recognise that governments are ultimately responsible for establishing the legal framework to protect human rights within their jurisdictions, but we are part of the broader community wherever we operate. We work within a large, diverse value chain of business partners and stakeholders. We recognise that each entity in this value chain has its own independent duty to respect human rights. We expect them to adhere to ethical business conduct consistent with our own."
The world's largest food manufacturer, Nestle, which came second after Unilever in the overall Oxfam rating, also stresses it shares these responsibilities with others. "Responsibility for ensuring that farmers receive living incomes for their produce is a shared endeavour, and we continue to work with others, including governments, to bring about positive change."
However, Brooke Barton, senior director of the water and food programmes at sustainability think tank Ceres, believes companies ultimately have to accept a defining responsibility, particularly when it comes to more serious abuses. "Governments play a crucial role in legislating and enforcing decent working conditions, but companies implicated in sourcing from suppliers with dubious practices can only point the finger at themselves and must articulate the role they play in driving these conditions and in helping to remedy them."
It should be noted that campaigners spend plenty of energy lobbying governments, but the ten companies being monitored through the Behind the Brands campaign represent a highly effective campaigning target. As the name suggests, the campaign is designed specifically to link what is going on in agricultural supply chains with household names familiar to consumers.
Food companies are both highly visible and extremely powerful. As such, the sort of scrutiny the Behind the Brands campaign represents is a reality of doing business in today's environment.
As Kightley puts it: "Amongst other things, civil society organisations as well as international charities exist to hold the powerful to account on behalf of the poorest. It's their prerogative to choose what and who to target and why."
A further attribute that makes the ten companies effective targets for campaigning, Sahan adds, is their global presence. "The thing that made it particularly powerful for us as a campaign on these ten companies is that they operate everywhere. There's no government that operates everywhere in the same way, there's not even a civil society organisation that operates in any significant capacity the way that these ten companies do," Sahan explains.
"I would say we focus more on influencing governments than individual companies throughout our work in the 93 countries we work in. But with these ten companies we saw an opportunity to do something globally here. We can look at what they're doing at a global level and hold them to account."
That said, what is striking about the Behind the Brands campaign is that it is not fundamentally a name-and-shame initiative. Oxfam quite deliberately highlights where companies have made progress. In their responses, the companies are able to acknowledge and welcome that recognition as well as responding to criticism.
In this sense, the campaign becomes much less the traditional diatribe against corporate greed and instead a driver of improvement. "That was a commitment we made at the beginning," says Sahan. "If we are going to challenge companies to do things, then when they do them we have to celebrate it." Highlighting progress is not only more effective, Sahan continues, but also "helps build a narrative that this is possible".
True to its commitment to acknowledge achievement, Oxfam points out that nine of the ten companies had increased their overall score by at least 10% since 2013. However, the report card also calls for companies to address issues where there has been least progress, the most significant of which is most certainly wage levels and labour conditions among those working in agricultural supply chains. The question remains whether companies can make good on their commitments to improving the lives of the farmers and farm workers who supply them without the "substantial change" to their business models that Oxfam believes is required.
Click here for just-food's rundown of how Oxfam scored food majors including Unilever, Mars Inc and Associated British Foods – and how the companies reacted.