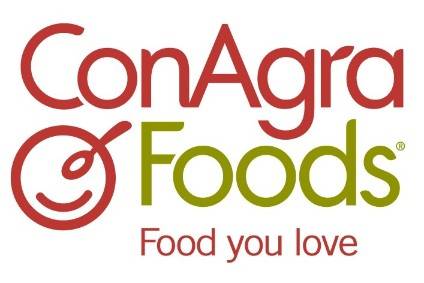 ConAgra Foods will, in a matter of weeks, be no more, with the US group set to split into two companies – the consumer-facing Conagra Brands and the potato products supplier Lamb Weston – before the year is out.
Over the next fortnight, the management teams behind the two new businesses will present their respective strategies to analysts. However, on Thursday (29 September), ConAgra Foods published the financial results for its first quarter to 28 August and CEO Sean Connolly, the man set to be at the helm of the new Conagra Brands, provided some interesting detail of how the branded side of the business is trying to "build a higher-quality revenue base" and improve its profitability.
During what looks set to be the final earnings call before ConAgra Foods finalises its plan to split in two, Connolly said the company's strategy for its brands is to put more emphasis "on volume over value" after being too dependent over the years on promotions, a strategy he believed had led consumers to associate some of its products with deals.
"ConAgra historically prioritised volume over value and, accordingly, we've been overly reliant on deep discounting as our chief demand driver, leading us to under-invest and under-deliver on brand building and innovation. In short, we under-leveraged some of our greatest assets. The result of this behaviour is a revenue base that is over-developed in terms of the presence of low-loyalty, price-focused consumers," Connolly, who joined ConAgra last year, said.
Discussing ConAgra's results for the quarter, Connolly said the company had already started to put its new strategy into practice, which he said during the period had led to a decline in volumes but to improvements in its price/mix metric and better margins.
ConAgra reported its first-quarter results in five segments – grocery and snacks; refrigerated and frozen; international; foodservice; and commercial. (The first four of those segments are what will become Conagra Brands, with commercial making up Lamb Weston). Taking the grocery and snacks business as an example of ConAgra Foods' new strategy on promotions, Connolly said the division's volumes fell 6% during the quarter. A one point improvement in price/mix meant net sales dropped 5%.
However, the grocery and snacks division saw its operating profit jump 29%, in part due to supply chain improvements, but also because of more "disciplined" strategies and pricing and promotions. Connolly pointed to moves to reverse ConAgra's "historical practice of promoting below the $1 price point" on brand including Chef Boyardee and Snack Pack.
Reflecting on ConAgra Foods' total stable of brands in the US, Connolly said 80% of the decline in volumes the company saw in the quarter was down to six brands that have "historically been under-priced and over-promoted". Each of those brands has, Connolly said, "its own story" for why ConAgra Foods is focusing less on volume and more on value but, on the earnings call, he provided more detail on "the biggie" – frozen ready meals brand Banquet.
"The bottom line is locking a brand into a $1 price point for a decade is just not a good business decision because it puts relentless pressure on margins and in turn, food quality," Connolly said. "And at the same time, it retrains our Banquet loyalists to buy on deal. So the change was long overdue. And while the top-line optics can be ugly until you wrap a year later, it's up over 300 basis points, the business and grows margin, which is excellent news.
Analysts on the ConAgra earnings call broadly welcomed the company's efforts to focus less on simply from driving volume. However, Connolly faced a series of questions about the plans, which is unsurprising in a sense, given how central some of these brands (Chef Boyardee, Banquet) are to the group's business and still significant they will be to the new Conagra Brands despite its recent moves to add smaller, faster-growing brands to its stable through M&A.
Credit Suisse analyst Rob Moskow said ConAgra was "trying to get away from the highly price-sensitive consumer", a move he said "makes a lot of sense". However, Moskow put to ConAgra Foods' management there is a "perception" among investors ConAgra Foods still has "a lot of brands targeted towards price-sensitive consumers" and that they are "value" (value in the sense of lower-priced) brands. Moskow wondered if ConAgra Foods had analysed what proportion of those consumers were "really price-sensitive" and which are "very loyal".
Tom McGough, the president of ConAgra Foods' consumer foods business, said the company would provide data on how the company's sales volumes are "split across loyals and switchers" at its investor day on 18 October. He added: "The vast majority of our consumer base are those consumers that are loyal that buy their purchases based on the strength, the benefit, the features of our products. I think what Sean highlighted is that, by focusing on incremental volume to trade promotion, we're subsidizing the purchases of those people that would normally buy us at full retail price. And our focus on trade is trying to improve the return on investment on those merchandising events. So at the end of the day, we will have a stronger consumer base with a higher percentage of loyal consumers, and we will drive margin improvement through the trade productivity that we will invest in those attributes that those consumers are looking for over time."
However, ConAgra Foods' moves to put less emphasis on promotions comes at a time of deflation in the US grocery sector. The US Department of Labor published data last month that prices for "food at home" was down 1.9% in the 12 months to the end of August. Last month also saw Kroger, one of the largest grocery retailers in the US, lower its forecast for full-year earnings per share due to the deflation it is seeing in parts of the grocery sector.
The prices of a number of key commodities have been relatively benign (dairy is an obvious example), which is dampening prices that consumers see when they shop and allowing retailers to move aggressively on price, compounding the deflation.
Speaking to ConAgra Foods' management on the earnings call on Thursday, Alexia Howard, an analyst covering ConAgra Foods for Sanford Bernstein, said the investment bank was "hearing from a number of places that retailers, particularly large retailers, are beginning to demand more reinvestment in price and promotional activity" which, she suggested to the Hunt's ketchup maker, "seems to be the opposite direction from where you're going".
Connolly insisted the picture was different category by category. "On the notion that some retailers may be asking for more promotion, quite frankly, that tends to vary fairly meaningfully by category depending upon what a retailer's objectives are with particular categories," he said. "In general, our customers are asking us for growth and innovation. They want to see us evolve our brand so that we're not competing on price, so that we're competing on quality measures. You see customers giving more and more real state to these challenger brands that have modern food attributes like natural, organic, premium. These are the things that consumers are demanding, and this is what many of our retailers in our categories are prioritising." Those trends, Connolly added, are why ConAgra Foods has, in the last year, moved to buy Mexican and American cuisine business Frontera Foods, as well as organic frozen meal maker Blake's All Natural Foods.
In a note to clients after ConAgra Foods issued its first-quarter numbers, Howard said scanner data had prepared investors for "weak sales" from the company. The question, Howard said, was whether the data was due to retailers moving away from ConAgra Foods' brands or whether it was part of the company's plan to improve the long-term performance of the stable. "We think management made a compelling argument that it was planned, and the
strong adjused EBIT expansion shows it was value accretive, at least in the short term."
All eyes now on the investor day for the new Conagra Brands business on 18 October in Chicago to see what longer-term plans Connolly and the management team of the new Conagra Brands have.