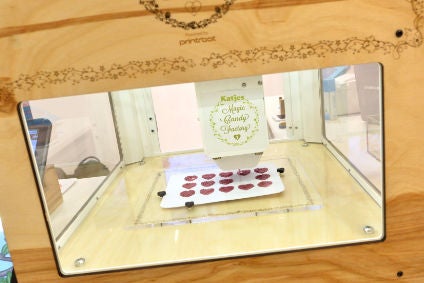 3D printing could prove a transformative technology for the food industry, from meal customisation to aiding with dietary requirements. Deborah Williams explores the current state of the technology and what it could mean for the market.
In an era where food tastes are gearing towards customisation, 3D food printing, the process of preparing a meal or food item by means of an automated additive method, has been touted as a technology that may be able to participate in providing solutions.
And, at a time when consumers' dietary requirements are increasing (and varied), 3D food printing, its proponents suggest, also carries benefits for those, say, with food allergies by allowing meals to be specifically designed not only to the recipient's flavour, style and taste preferences but also to their health conditions.
However, in this nascent stage of the development of 3D food printing, at the moment, the technology is predominately occupied by the idea of creating shapes, using single ingredients or single ingredient mixed products and less about nutrition, ingredients or material content.
Picky eaters versus customisable tastes
According to the latest results from the World Obesity Global Obesity Observatory, 27.4% of men and 30% of women aged 16 and above in England were obese. With options in customisation, industry watchers have discussed whether 3D food printing could be one way of tackling obesity or, at the other end of the spectrum, even world hunger.
"I'm definitely not going to state that 3D printing is going to solve those issues," Daniel van der Linden, business development manager at Netherlands-based research organisation TNO, says. "But what I do see is this technology opening new opportunities, to the food industry and to consumers, to think in a different way on how a food product is made. For example, with 3D food printing, you are able to position ingredients in distinct positions. You can place items, such as salt or sugar on the outside of your food product or even decrease the amount throughout the product. So in that way, it can result in a healthier food product for the consumer and can play a role in tackling the challenge of obesity."
The health benefits do not stop there, proponents argue. Remedy Health, a UK-based 3D printing vitamin supplement company, has a new concept, NOURISH3D, which the firm says offers personalised nutrition, by, co-founder and CEO Melissa Snover explains, "allowing people to create a single chewable daily nutrition pod, with seven different active ingredients, specific to them". Launching in the UK this summer, the firm has claimed a world first for the industry.
Snover's initial launch into 3D food printing was through another UK-based firm, The Magic Candy Factory, which is a co-project with German confectioner Katjes. She says The Magic Candy Factory made her realise that, although consumers loved 3D confectionery, it was not specifically solving a problem. "With NOURISH3D, I think we have now found a very good use case for 3D food printing, which makes a better go-to-market option than what is currently readily available. This new concept actually gets people the exact nutrition supplements they want and need without any extras or wastage. It's a sugar-free, plastic-free, vegan solution."
3D printing is also even touted to be beneficial in areas of health such as, fortification, allergy restrictions and disease prevention.
"In the future, you could, in effect, print French Fries that are made of protein – actually fortifying them with different active ingredients. We are currently working on a project for dementia patients, creating 3D printed candy with a very high water content to help with dehydration. This, in effect, will make it possible for people to have the capability of a factory at their fingertips," Snover says.
"Keeping consumers happy is quite difficult to achieve using traditional food processing methods"
But will all this customisation entertain the picky eaters among us unsure about the technology? Van der Linden believes this may not be the case. "Maybe it will actually be the other way around. In our organisation, we see dramatic changes in the consumer landscape and that really requires us to think of more ways to anticipate this changing consumer behaviour. There's a drive from consumers to get access to healthy, fresh food products that meets their own personal nutritional requirements. Keeping consumers happy is quite difficult to achieve using traditional food processing methods," he says.
"But we really need to start thinking of new technologies that allow us to provide for the consumer of the future – the near future actually – and I firmly believe that 3D printing can be one of the solutions towards that."
Challenges facing 3D food printing
3D printing does not come without its challenges. For companies to effectively advance this technology, they must find the appropriate use case. Companies must understand what the technology allows them to do and how it fits with their current strategy or the strategy they want to develop. Knowing what you are selling is important but knowing how to sell it to the consumer is vital.
Snover explains: "There is so much opportunity but real use cases need to be found, which are better than the current way. It also has to reach the market at a price point that's not ridiculous. Just like TVs – they used to be super expensive when they first came out but now you can get a really decent one for a good price. So that's what tends to happen in a technology curve. As the technology becomes more used and more optimised, it becomes more cost-effective and then becomes mainstream-adapted. That is where we need to push the concept – usability and cost for the consumer."
Another challenge facing 3D food printing is availability. The number of companies which are selling 3D food printers needs to increase, as well as the capabilities of the machines, in order to become more widely used or widely accepted by companies.
The final challenge is the interplay between personalisation and scale. From a technological perspective, the industry must understand how it can increase the complexity of the printed food products and how it can scale up the technology. Making it available at a larger scale is something that will require further attention in the years to come.
Snover says: "If a 3D printer wants to have a place in the kitchen, it needs to be able to make more than one thing. A 3D printer needs to be able to combine different ingredients to create a multitude of different final products in order for it to be successful on a mainstream basis, and that will be a humungous challenge from lots of different angles – not so much the research – but the technical challenge of getting it to work."
So what does the future of 3D food printing look like? Van der Linden suggests using 3D to create different shapes of food is tipped to be at the forefront of this technology and is expected to rise in the next three to five years. He explains companies should use the "technology to provide personalised solutions, in terms of nutritional content, texture and structure in the commercial space. At TNO we are currently looking into various new printing technologies like powder-based printing and how this can be applied for the food industry".
Netherlands-based events business Jakajima, which runs events on tech areas such as The Internet of Things, Vertical Farming and 3D Printing, is hosting a conference in on 3D food printing in June. It says supermarkets are already testing to 3D print customised cakes, while caterers are offering printed desserts. However, they contend much research is required to change "the hype into reality".
Researchers at UK-based data and analytics company GlobalData argue "the disruptive impact" 3D printing can have in food is five to ten years away. "Across all engineering domains, from the automotive to aeronautical sectors, 3D printing is increasingly a normal part of the design and development process. Airbus already uses 3D printing in the manufacture of some highly-specialised – and typically complex – components, and as the range or materials that are available to manufacturers grows, this trend will continue," GlobalData says in 3D Printing in Retail and FMCG, a report from June 2018. "Within the next three to five years 3D printed parts will find their way into toys, automobiles, planes, and buildings. And longer term, the healthcare, food, and logistics industries are likely to be impacted."
3D food printing has been touted to be one of the next technological innovations to change the industry. With companies such as Food INK, the world's first 3D printing restaurant, and Remedy Health on the market – and with major food manufacturers including pasta giant Barilla already using the technology commercially, proponents are looking to the future with optimism. It remains to be seen whether and how long it takes the technology to truly enter the mainstream.
Additional reporting from just-food's Dean Best.
A version of this feature was originally published on just-food sister title Food Processing Technology.