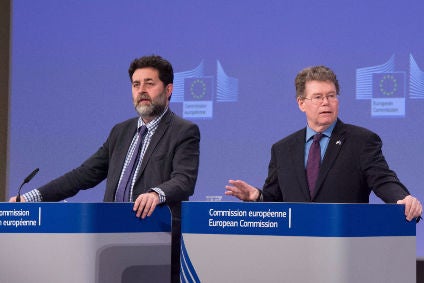 The proposed trade agreement between the EU and the US – dubbed the Transatlantic Trade and Investment Partnership, or TTIP – has proved a source of fierce debate, with supporters seeking to emphasise the economic benefits of a deal but critics claiming it would favour big business, endanger food safety and the environment – and even undermine democracy. In recent weeks, opposition has emerged in political circles, with France's President Hollande insisting he would veto the agreement in its current form. Food and agriculture is at the centre of Hollande's concerns and the sector is among the main points of contention. But what could be the impact of TTIP on food manufacturers? Liz Newmark reports.
Three years on, how do things stand?
It has been over three years since President Obama, in his State of the Union address, said the US and the EU would "launch talks on a comprehensive Transatlantic Trade and Investment Partnership". Speaking in Brussels the following day, then European Commission President Jose Manuel Barroso said a deal would be "a game-changer, giving a strong boost to our economies on both sides of the Atlantic".
However, after 13 rounds of talks between the two markets, it appears unlikely negotiations will be concluded and a deal reached before Obama completes his second and final term in the Oval Office in January. In a speech to the Hannover Messe trade fair in Germany in April, Obama indicated the race is on. "Time is not on our side. If we don't make progress this year, then upcoming political transitions in the United States and Europe will [result] in this agreement not being finished for quite some time."
Last autumn, Hillary Clinton, then the former US Secretary of State but now the US Democratic Party's Presidential nominee, said she opposed TTIP. "As of today, I am not in favour of what I have learned about it," she said. Republican nominee Donald Trump has also expressed reservations.
The 13th round of talks ended in April. Ignacio García Bercero, the EU's chief negotiator for TTIP, said "significant progress" had been made on regulation, with "substantial progress" on the agreement's so-called SME chapter, which seeks to ensure smaller firms can benefit from the deal. The EU remains committed to the agreement and Bercero said there were plans for "another round, before the summer break, most likely in July". However, he added: "On the EU side we are ready to work hard to try to conclude these negotiations in 2016 but only if the substance of the deal is right."
At the start of May, Greenpeace leaked documents relating to the negotiations in a bid to provide what it called "much needed transparency and trigger an informed debate on the treaty". The NGO claimed the material showed "major risks for climate, environment and consumer safety". In Europe, the leak sparked headlines of US negotiators drawing up proposals to try to give their companies a say in the EU regulatory process, leading to fears European standards would be diluted. There were other claims of irreconcilable differencences between the EU and the US.
EU Trade Commissioner Cecilia Malmström responded by saying the media reports had led to "quite a number of misconceptions floating around", adding: "There are areas in the TTIP negotiations where we have come a long way, but in others we are simply not in agreement. I am simply not in the business of lowering standards. No EU trade agreement will ever lower our level of protection of consumers, or food safety, or of the environment. Trade agreements will not change our laws on GMOs, or how to produce safe beef, or how to protect the environment."
Days later, France's President Hollande signalled his opposition to TTIP in its current form. "We will never accept questioning essential principles for our agriculture, our culture and for the reciprocity of access to public [procurement] markets," he was quoted as saying by the Agence France-Presse news agency. In Germany, Chancellor Angela Merkel has reiterated her desire to "do everything to conclude the negotiations", preferably by the end of 2016 – but then faced criticism from vice chancellor and economy minister Sigmar Gabriel, who has voiced concerns over the proposed deal.
There is, as things stand, no guarantee an agreement will be reached. The idea of TTIP 'light', which would focus on cutting tariffs, had emerged as a possible way to get a deal through, although representatives on both sides of the Atlantic appear to have ruled that out. And there is opposition to that idea from food manufacturers operating in the EU and the US.
"Business in general benefits from a comprehensive deal rather than a quick deal. We do not want a TTIP 'light' covering only tariffs. Regulatory negotiations need much time and should not be rushed," Bert de Meester, Nestle's, European affairs manager, says.
Francesco Tramontin, director for European public affairs Europe at Mondelez International, wants an agreement that "strives to eliminate or reduce burdensome and costly non-tariff trade barriers [such as quotas, embargoes and sanctions] while maintaining high safety standards and enhancing the equivalence of future regulations".
However, when weighing up the food and agriculture-related issues under discussion at the TTIP talks, it appears a lot of work needs to be done to find agreement. "In the food area, geographical indications, sanitary and phytosanitary measures are all still on the table," De Meester tells just-food.
Further upstream in the European supply chain, farmers association Copa-Cogeca believes there are a number of points of contention. Pekka Pesonen, the organisation's secretary general, says there are disagreements in areas including controls on growth promoters, biotech and meat inspections. Growth promoters, such as hormones, have been the subject of long-running World Trade Organization disputes, which did not lead to regulatory harmonisation, Pesonen says. "It goes without saying that none of us expected TTIP negotiations to be easy. But I could go as far as saying that this is the first true test of our European standards of agricultural production. Can they stand in an increasingly open trading environment?"
A European Commission spokesperson perhaps indicates the challenge in getting agreement completed by the end of 2016. He tells just-food "negotiators are making good progress in many TTIP chapters" but adds "significant strides remain to be made in some areas to have the main elements of a deal finished this year".
Who in the food industry could gain from TTIP?
With the prospects for an agreement uncertain, it is difficult to assess which parts of the food sector could benefit from a deal. Furthermore, food is one of the industries where the likelihood of a number of sticking points is likely, notably on issues including animal husbandry, Europe's protected geographic indicators or US dairy quotas.
Broadly, not just focusing on the food sector, some critics have argued the deal will benefit big business and small- and medium-sized enterprises will not be able to take advantage of more liberalised trade.
The European food industry is reluctant to say at this stage of the talks which sectors or companies could gain from the TTIP. However, a spokesperson for food manufacturers body FoodDrinkEurope says the chapter in the negotiations dealing with SMEs "is expected to create an SME-friendly trade framework which aims to boost opportunities for smaller companies – and SMEs are 99% of Europe's food and drink industry".
She does cite a study from the London-based Centre for Economic Policy Research, which was funded by the European Commission's trade directorate general, that says potentially with TTIP, "EU exports would increase in almost all sectors, but the boost would be particularly significant in metal products (+12%), processed foods (+9%), chemicals (+9%), other manufactured goods (+6%) and other transport equipment (+6%)".
However, she adds: "On quantitative gains or growth potential, it is very difficult to tell at this stage. Negotiations are still ongoing and one should not speculate."
Denmark's food industry association does put forward some ideas of which types of sectors could benefit, although it is careful to load its comments with caveats. "We would initially be very open to, very positive about trade deals. That's our basic approach," Jan Laustsen, director for trade and market relations at the Danish Agriculture & Food Council tells just-food. "I know this trade deal is somewhat different because it's the two biggest trade blocs in the world trying to set a deal – and that would be more comprehensive but more complicated. We might have the opportunity for having more specialised products from the European Union getting into the US market. If they would like to export some of their meats based on their standards, we might even have the opportunity to market products based on the European Union standards at a higher price at the US market. I wouldn't regard that as a first-day kind of adventure that would be of great benefit but I think we need perhaps to look at opportunities [in the future] because there is a great buying power [and] a lot of segments in the US market that is willing to pay an extra price for certain, high-quality products. I wouldn't regard it as impossible to see an exchange of meat products between the European Union and the US."
The European Commission has singled out EU chocolate and confectionery manufacturers as potential big winners. The Commission spokesperson says: "European producers of food industry products and processed food have a lot to gain. Traditionally, these products represent almost 50% of our export sto the US [including wines and spirits]. Those figures are despite EU producers facing high export tariffs. "For example, producers of chocolates, sugar, confectionery, canned fruit and several food preparations have to pay double-digit tariffs as high as 30% in some cases," the spokesperson adds.
The European Dairy Association, the umbrella body for national dairy organisations in member states, sees opportunities for its members in the US. "The United States, with its 320 million citizens, is a very interesting market for high-quality dairy products made in Europe. European cheeses, for instance, are the global benchmark for quality, taste and food pleasure not only for cheese aficionados," Alexander Anton, secretary general of the EDA, tells just-food. "Our European legal and company standards when it comes to food safety, environment and animal welfare are acknowledged as being the most demanding ones at global level. The growing consumer awareness within the US for food production methods will further propel the demand for European dairy products. US citizens know where a Parmesan or a Feta cheese has to come from. Also, when it comes to the production costs of what some call bulk products like milk powders, we are more than confident to be in a very good position to compete with US producers. The only 'unknown' in this context might be the US dollar to euro exchange rate."
From a US perspective, some notable estimates have come from a UK government study, which predicts that "an ambitious TTIP, including a 100% tariff reduction and 25% non-tariff barrier reductions" could boost US processed food exports to the EU, including shipments of meat, dairy and seafood products, confectionery, preserves and baked goods, by US$5.3bn a year, an increase of almost 102% over 2012 levels.
Dave Shogren, the president of US-based wholesaler International Foods, believes TTIP would be benefit his business. "It makes US exports of packaged food products more competitive in the TTIP countries. Some of these countries already benefit from free trade agreements with each other – such as the Eurozone nations – so the TTIP will help give US exports more of a level playing field."
Shogren says TTIP would help American exporters build on an already positive reputation: "Packaged grocery items, snacks, confectionery and beverage items made in the US are in demand in these TTIP countries because of US brand recognition, US reputation for high quality and high food safety standards. The consumer sees the US brand as an aspirational purchase – a luxury – but something within reach."
A spokesperson for Cargill's operations in Europe, the Middle East and Africa, says the US-based agri-food group is "a long-time proponent of trade expansion" and believes "lowering or stopping trade barriers like sanctions and embargoes and establishing regulatory standards will allow food to move more freely across borders".
Who in the sector could lose from TTIP?
Among Europe's farming and commodity-focused business, there are concerns TTIP could expose them to damaging US competition. And food manufacturers and processors with close links to primary producers, such as traditional meat product makers, have real concerns about competition, given their reliance on local supplies and high-earning export trades.
Last month, Copa-Cogeca highlighted a study from France's livestock institute L'Institut de l'Elevage that claimed TTIP could damage the EU beef sector. In October, the EU and the US exchanged offers of market access that included in a list of so-called sensitive products, which included beef, poultry and pork. Under those proposals, tariff reductions may not be eliminated but remain in a limited form. However, the products may still be subject to regulatory harmonisation or mutual recognition over health controls. Such a scenario could – for instance – impact the EU meat industry from the import of US products processed under different standards.
"The EU has very high standards in loin cuts. Imports to the EU from the US, that has different environmental practices, animal welfare and health standards, do not have to meet [them]," Copa-Cogeca's beef working party chairman Jean-Pierre Fleury said. Calling for the Commission to be prudent in TTIP negotiations, he said: "Without a cautious approach in TTIP, this type of production could be badly hit."
Meanwhile, Copa-Cogeca told just-food if there is a failure within TTIP to secure robust recognition of European geographical indications within the US, it could weaken the position of exporters of traditional products such as Parma ham.
At the Danish Agriculture & Food Council, Laustsen believes the EU will not bend on its own standards but acknowledges Brussels could accept mutual recognition of rules. "It's quite important for the US to have some kind of mutual recognition so the European Union would accept products produced under the US rules being distributed in the European Union market. If that's the case, we need to look at what kind of consumer information we need to handle that part."
Laustsen says the prospect of increased competition from US producers following different standards is "the big headache across all of the European Union food and agricutural sectors." He says: "If we're not allowed to produce in the same standards, we would lose out. [Our members] are afraid about having a distortion of competition because it would allow products into the market that the consumer would not necessarily know of, or even care about, I don't know."
EU dairy producers could be deemed one constituency that may be anxious about competitors from the US gaining access to its 28 member states. However, the European Dairy Association's Anton says: "We see that at milk production level, farmers in the US and in the EU seem to operate about at the same economic performance [as measured by costs per kilogram of milk], despite the higher EU standards when it comes to animal welfare, environment or alike. Costs for production of milk are comparable or at least very close. The US dollar to euro exchange rate variations will play a far more important role than any potential competitive advantages on one or the other side of the Atlantic."
He adds: "The costs for the higher standards in Europe are an incentive for even better process management and a selling argument. We see, for instance on the whey market, big buyers focusing on EU whey powder, because of our higher standards, since we don't use performance enhancers in the EU. Milk in the US is as safe and as nutritious as in Europe."
Anton is quick to underline his belief US standards are different, rather than lower than those in the EU – and argues the two markets should look at some kind of recognition agreement even if the talks on a TTIP fail. "There are also rules in the US which are more stringent than the EU rules – not many, but still. The US standards are different from ours in Europe, since we apply the precautionary principle because we seem to be more risk-averse than the US. The President of the Unites States said that Americans are a nation of risk takers. We Europeans tend to avoid risks. Even if we don't conclude TTIP, we will have to talk about our standards how to deal with the differences: equivalence agreements, mutual recognition, labelling of differences. There are ways to assure both: fair and workable trade conditions and maintaining our respective production standards which are important to our citizens."
Europe's chocolate and sweet bakery sector could lose out if tariffs fall but harmonised standards are not achieved. Different rules applying to confectionery could damage EU-made chocolate and biscuit export sales. The US requires a minimum percentage of cocoa mass in milk chocolate of 10%, which is high for milk chocolate, while whey is completely banned in dark and milk chocolate, according to a Copa-Cogeca briefing note.
The European Commission spokesperson remained on message, however, telling just-food: "We know from EU producers that they also face quite burdensome trade procedures, tests and red tape. That's why we are also working on a chapter on plant and animal health to work out a more trade-friendly procedure for getting and maintaining market access for EU food companies."
What about US dairy producers? Given they operate in a country operating a dairy quota, how they would feel about any opening up of their market to imports from the EU? Dairy is, after all, a sector in which European companies have what Laustsen calls "offensive interests." He says: "In most trade deals, you have offensive and defensive interests. To put it very simply, we would have offensive interests in the dairy sector because of the system of dairy quotas in the US and the lack of a more liberal kind of trade on these dairy products and we would be perhaps more defensive in the meat sector, not just one meat by all meats. And that's the kind of trade-off we need to find also within the agriculture and food sector."
European farming groups have pointed to the difficulties of exporting dairy products to the US. The UK's National Farmers' Union in October noted the "big obstacles" for EU dairy processors in exporting Grade A products to the US. "EU cheeses are denied access to the US market because the label fails to use hairline, bars and bold type in an appropriate format," the NFU wrote in a blog post. "Hard cheeses, semi-soft cheeses and soft ripened cheeses have to wait 60 days before circulating on the US market with the main issue being testing methods that are not the same on both sides of the Atlantic."
Surmounting these obstacles could be problematic – but US dairy organisations argue current trade arrangements between the two markets favour their counterparts in the EU. "The United States runs an annual $1bn-plus dairy trade deficit with the European Union, and it is not because we have inferior products or our suppliers do not know how to export," Tom Suber, the president of the US Dairy Export Council, said this month. "The playing field is decidedly tilted toward the EU. US suppliers to Europe face far greater barriers to trade and risk of requirements shifting than do EU suppliers to the United States, and given the EU's TTIP efforts, the bloc is looking to make it even more lopsided."
Suber expressed concern about a push to conclude negotiations by the end of the year. "It is unclear how the two sides can reach an agreement that satisfactorily addresses the wide range of non-tariff barriers to trade, including the EU's global geographical indications which restrict sales of common food products, in only seven months. US negotiators should not conclude a TTIP agreement without removing the existing barriers to US exports and ensuring that new ones won't immediately spring up to take their place. A bad deal is far worse than no deal at all."
In the US poultry sector, there is some scepticism about whether a TTIP could benefit the industry. The National Chicken Council, the US poultry industry organisation representing companies including Tyson Foods and Pilgrim's Pride, has "serious concerns, even serious doubts" an agreement would "result in real and meaningful access for US poultry exports to the European market".
The US agriculture community is a strong supporter of the efforts of our government to negotiate free trade agreements with other countries and regions such as the EU. The US agriculture community, however, believes that such an important agreement between two major trading partners it must adhere to the longstanding tenet that there will be no exclusions. The US poultry industry shares this position," a spokesperson for the National Chicken Council tells just-food.
"The European Union has for almost 20 years blocked the import of US poultry for reasons NCC believes are not only scientifically invalid, but that violate international trade rules laid out by the World Trade Organization. In fact, a WTO case against the EU is pending that supports the US position. The poultry issue could be a major stumbling block to a successful conclusion of the TTIP negotiations. If the US and the EU cannot come together on such a basic issue as poultry processing, then how will they agree on the myriad other issues that will be on the negotiating table?"
Agreement does appear to remain a way off, with issues related to the food sector one of the main stumbling blocks. The agriculture and food sectors on both sides of the Atlantic will be watching closely.
Additional reporting from Dean Best.