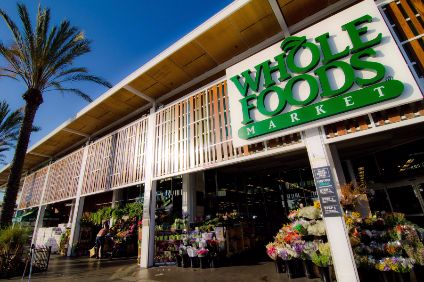 It is the deal that has got the industry talking – Amazon's move to buy Whole Foods Market, hailed by some as a "game-changer" for the sector. just-food's US columnist Victor Martino, who six weeks ago floated the idea of Amazon's Jeff Bezos buying Whole Foods, weighs up how the e-commerce giant's move into physical retail and ownership of the US grocer could affect manufacturers.
On Friday (16 June), after weeks of speculation about their respective futures, Amazon and Whole Foods Market announced the e-commerce giant would buy the US natural and organic retailer for US$13.7bn. News of the deal set social media sites on fire and sparked industry talk of a "game-changing" moment for the sector.
Now, in the aftermath of the announcement, packaged foods manufacturers and marketers are asking themselves and each other lots of questions, the chief one among them sounding something like: "We know this deal must be big but what does it mean for us?"
The best place to start in terms of attempting to answer this big question is with the three-day gathering Amazon held in May in Seattle with food manufacturers like Mondelez International, Unilever, General Mills and others, where it attempted to persuade the packaged foods executives there to focus more on e-commerce.
Little is known about the outcome of the meetings. But the key argument Amazon made to the food manufacturers is e-commerce, particularly via Amazon's online retail marketplace and its delivery service, is the next wave in grocery retailing – and suppliers need to get on-board in a significant way if they want to profit from it and not be left by the wayside.
Fast forward a month and now Amazon is also set to be a key player in brick-and-mortar grocery retailing with its acquisition of Whole Foods. Amazon had already been rising up the agendas of packaged food companies but things are moving fast when it comes to the e-commerce behemoth. Lightning speed, in fact.
The rules for dealing with and doing business with Amazon are going to be rewritten. Amazon is set to be a significant player in grocery retailing as both a physical and e-commerce grocer. This means a clicks-plus-bricks strategy is vital for food manufacturers and marketers.
Big food companies not in the natural and organic spaces need to think seriously about getting in, either via acquisitions or brand creation. The opportunity for both an offline (Whole Foods) and online (Amazon's e-commerce store) strategy is potentially lucrative. Those that play can prosper. Those that don't might lose.
Whole Foods' 400-plus stores and customer base, combined with Amazon's vast shopper database offer food manufacturers a treasure trove of consumer insight that can be applied to brand-building, marketing and targeted sales promotion. It is likely Amazon will reserve this information for those brands that truly partner with the retailer.
Amazon and the food manufacturers that partner with it have a big opportunity to build synergistic sales between the retailer's e-commerce and Whole Foods.
For example, Bryan Gilderberg, head of research at Kantar Retail, shared some of his research with me on Friday. According to Gilderberg, 76% of regular Whole Foods Market shoppers also shop Amazon online. Conversely, only 11% of Amazon shoppers shop Whole Foods. Converting a significant percentage of the existing Amazon shoppers into regular Whole Foods shoppers could pay real sales dividends for manufacturers.
Packaged foods companies do need to think defensively about Amazon's acquisition of Whole Foods. For one, the combined Amazon-Whole Foods is a strong private-label player.
A potential benefit of the tie-up to Amazon and Whole Foods is, if it chooses, Amazon can immediately offer Whole Foods' 365 private brand on Amazon.com. It makes sense for Amazon to add the 365 range to its existing stable of private brands.
There will be fears among some suppliers that, should Amazon decide to put a major emphasis on own label, they could lose out. However, Amazon will not use 365 to cut out manufacturer brands. It is not a limited assortment operator like Aldi, LIDL or Trader Joe's. Amazon.com has unlimited 'shelf space'. That has been its practice – within reason of course – and I do not see that changing. It will use 365 like it uses its existing private brands – to create differentiation, enhance margin.
There has been much speculation in the business press Amazon is going to turn Whole Foods into a natural and organic foods discounter, reducing the retail prices in the stores dramatically.
This is not going to happen, in my analysis. Jeff Bezos and Amazon will, in my analysis, work with Whole Foods' CEO John Mackey to do whatever it takes within reason – reason defined as without harming gross margin too much – to eliminate the grocer's damaging high-price image and less than flattering 'Whole Paycheck' nickname. However, I think it is a mistake to suggest Amazon will slash prices at Whole Foods in order to drive more sales at the expense of margin.
Creating a discounter is not what acquiring Whole Foods is all about for Amazon. If you do not think Bezos loves the fact Whole Foods has historically had the highest margin in the industry for publicly-held grocers, then there is no way I could convince you he wants to be the first entrepreneur to land a spaceship full of astronauts on Mars, which is another one of his side jobs over at Blue Origin, the aerospace startup he founded that is building rockets and sending them up into outer space.